Indigenous leaders from a range of organizations came together to call for help Friday in Prince Albert.
Leaders from the Prince Albert Grand Council (PAGC), Meadow Lake Tribal Council (MLTC) and Métis Nation-Saskatchewan (MN-S) hosted a joint media conference Friday afternoon calling for both the provincial and federal governments to provide them more support to help deal with a range of issues in their communities including crime, addictions and poverty.
Besides leadership from the two tribal councils there were also individual chiefs present representing their nations. One of them was Buffalo River Dene Nation Chief Norma Catarat, who explained her nation has declared a state of emergency on two different occasions, with the most recent being the start of last month. Catarat told the media conference she has contracted a security service to patrol the community to provide extra security. She added she was recently made aware that in Saskatchewan overall rates of crime are higher in the north then in the south, but the southern parts get much more in terms of policing resources.
"Does that make sense, not to me," she said.
Chief Catarat as well said her nation could be helped by providing subsidized Wifi internet so that families can set cameras which broadcast video to wireless devices so families can keep watch on older family members.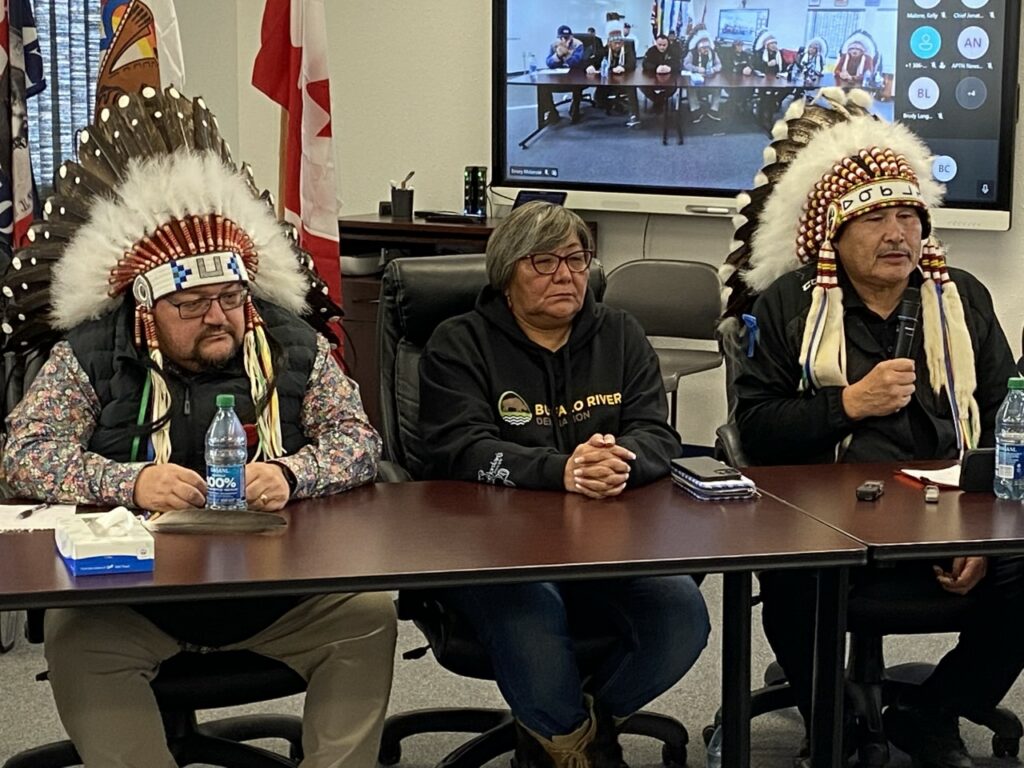 (MLTC Vice Chief Richard Derocher, left, Buffalo River Dene Nation Chief Norma Catarat, PAGC Grand Chief Brian Hardlotte.)
During the media conference the leaders were asked about a recent announcement by the Government of Saskatchewan which promises to create a Saskatchewan Marshal Service to begin operations by 2026. PAGC Vice Chief Joesph Tsannie said he has been trying to get more information about the new law enforcement agency, but has so far not heard anything. MLTC Vice Chief Richard Derocher echoed a similar sentiment adding he didn't see anything in the announcement of the new policing service mentioning First Nation communities.
"We haven't discussed with our MLAs yet, to see what that entails and how its going to affect our First Nation communities in northwest Saskatchewan," he said.
A number of the leaders brought up that providing more enforcement and police resources was an immediate or short term need, adding that to deal with the root causes of many of the issues additional resources are needed for addictions and mental health treatment. Housing was also brought up, with Peter Ballantyne Cree Nation (PBCN) Chief Karen Bird, who joined the media conference virtually, remarking about the large gap in her nation between the amount of housing and the number of members.
"We have 12,000 people in 905 houses," she said.
Teddy Clark, Chief of the Clearwater River Dene Nation as well put out the call for both levels of government to come sit at the table with First Nations leaders to talk about changes in policy. The chief said in many cases policies governing and impacting First Nations are drawn up by the provincial and federal governments with no input from First Nations. He stressed the need for changes to be made in regards to crafting policy and that First Nations need to be part of the process.
"You need to hear us, you need to understand us," he said.
(Top Photo: Chief Teddy Clark speaks at the media conference while fellow leaders look on. Photo by Michael Joel-Hansen.)