Weekends on APTN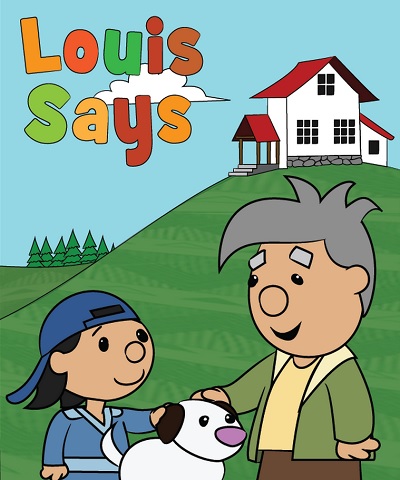 "Louis Says" follows the adventures of a 6-year-old boy named Randy as he helps Louis, an elder, with his work around the community while learning new words in Cree.
MBC TV
MBC TV History

Translation Services

Corporate & Promotional Videos

SAPOH Three-Part Special

AYI Six-Part Series

Jim Brady One Hour Documentary
MBC TV – Y'utthe Askiy Productions Ltd. was founded in 1998 with the objective of enhancing MBC's goal of supporting and improving aboriginal culture and language retention by way of relevant programming. MBC TV is dedicated to the communities of Northern Saskatchewan and strives to enhance and directly support MBC's mandate to promote, preserve and enhance native culture and languages through meaningful and culturally relevant programming addressing the broad spectrum of contemporary issues and ideas affecting and influencing aboriginal peoples daily lives.
MBC TV – Y'utthe Askiy Productions Ltd. produced a multiple part series "Heartbeat of the Earth" starting in 1999 and continued the series for a second season. The documentary series shared the languages, cultures and life styles of the people of Northern Saskatchewan with stories told from the perspectives of the communities that included their particular language and dialect. Since the initial series, MBC TV has produced several other TV series and 'special' programs that address items within the broad mandate of its parent organization Missinipi Broadcasting Corporation.
With support and encouragement of communities, MBC TV has established a presence in the north with provincial and national audiences. Our partners include the Aboriginal Television Network, Saskatchewan Communication Network and Telefilm Canada. Our goal is to continue to tell our stories and to encourage language productions, which honor our people and acknowledge our culture and rich history. Y'utthe Askiy Productions Ltd. will continue to air its productions for Northern audiences as well as for the wider audiences in the province and across Canada.
In addition to sustaining the attention of both young and elderly aboriginal viewers, MBC TV productions serve the function of enlightening the broader non-aboriginal audience. One of the goals of MBC TV and its parent organization is to teach social responsibility, tolerance of and respect for cultural diversity, and non-aggressive traditional means of resolving conflicts.
Since its inception, MBC TV has done extensive research and planning about adding cultural, social and linguistic goals to its productions to be more than just a lip service media production house for a minority group in the larger society.
MBC TV – Y'utthe Askiy Productions Ltd. is determined to follow an elevated vision, and addresses cultural identity and aboriginal people's self-esteem by appropriately addressing these larger elements of aboriginal destiny as required. MBC TV simultaneously strives in its productions to inform while nurturing aboriginal values, and stimulating the viewers inquisitiveness as the more our viewers learn, the more self-confidence they have. We seek to be a part of aboriginal empowerment while being attuned to our larger audience's viewing circumstances and tastes.
MANDATE
To develop, support and promote TV production in and about the lives and activities of Northern Saskatchewan's people and to support dissemination and sustainable broadcast of these activities.
VISION STATEMENT
MBC TV – Y'utthe Askiy Productions Ltd. uses innovative visual media technologies for the production and dissemination of culturally and linguistically relevant community focused broadcast initiatives.
MISSION STATEMENT
The intent of MBC TV – Y'utthe Askiy Productions Ltd. is to address historical and contemporary visual media access issues by developing productions that result in preserved and enhanced Northern aboriginal identity, culture and languages by way of aboriginal participation in all aspects of media arts production and broadcasts.
For program and organization information, please contact Deborah A. Charles

Telephone: (306) 425-4003
FAX: (306) 425-3123
Mail:
Box 1529
La Ronge, Saskatchewan
S0J – 1L0