The family of Happy Charles is getting ready to again raise awareness about her disappearance.
Next week on May 7 in Prince Albert and on May 9 in La Ronge car parades are planned. Charles hasn't been seen since April 3, 2017, she was last seen in Prince Albert.
Carson Poitras, Charles' father explained they usually organize a walk but said this year they are doing a car parade due to the COVID-19 pandemic.
Poitras said this year would have been the fourth year the family walked for Charles and explained in line with ceremonial protocol this year's event will be the last one. He added the family will not be stopping their work to advocate for missing people and for Charles.
"We've done our four year commitment; we will still be raising awareness throughout the year about our missing daughter," he said.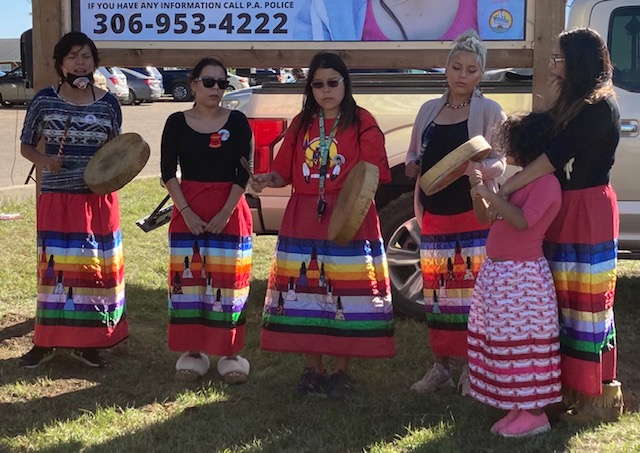 (The New Dawn Drumming and Signing Group was at the official unveiling of the Happy Charles billboard last year. Photos by Fraser Needham.)
The family is also still planning to continue to do searches for Charles. Poitras said due to the pandemic they have not been able to get out and actively search for Charles as they have in the past.
"Last year was kind of tough because of the COVID rules, we couldn't get out at all," he said.
Poitras added the investigator with P.A. police assigned to Charles' case has been good about keeping the family informed about the investigation and the leads that are being followed up.
The parade in Prince Albert is set to get underway at 10:30 a.m. and start at Kinsmen Park, there is no requirement to pre-register. Poitras said they are still working to finalize the route but said they will finish at the Prince Albert Grand Council (PAGC) complex.
"Ending up at the billboard, at PAGC," he said.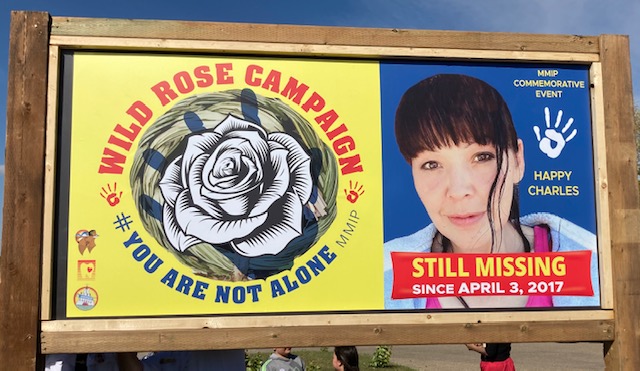 (The billboard for Charles at the PAGC Complex: Photo Courtesy of Fraser Needham)
The car parade in La Ronge will start on the Lac La Ronge Indian Band (LLRB) Reserve at 10:30 a.m and end at the urban reserve in town. At the end of the La Ronge walk a bag lunch feast and speeches are planned.
Poitras said the family hopes the events they have done along with other work to raise awareness about Charles' case will lead to them getting some information which helps them find her. He added not knowing where she is has been hard on the family emotionally.
"Somebody out there knows something and hopefully somebody will let us know where our daughter is and we can bring her home and get that closure," he said.
(Top PHOTO: Happy Charles. Photo courtesy of Prince Albert police.)