Friends and family of Happy Charles have not given up hope of finding answers to what may have happened to her.
The La Ronge woman, who was then 44, has been missing since April 2017 when she was last seen in Prince Albert.
On Friday, a new billboard featuring Charles' face was erected in front of the Prince Albert Grand Council offices on 9th Avenue West as part of an effort to keep the missing person case in the public spotlight.
Prince Albert Police Chief Jon Bergen, who was present at the billboard unveiling, said the force has worked closely with the Charles family over the years as they continue to look for answers.
"It's important to us, we've grown to know and appreciate the family and they feel like friends," he said. "Unfortunately, this tragic loss has brought us together but we have definitely grown with the family and experienced the pain with them."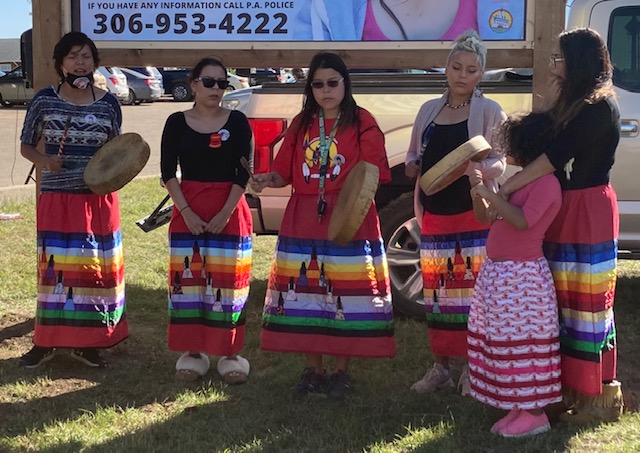 Roughly 100 people were on hand for the unveiling of a new billboard following the annual walk for Charles in the city.
Those present and who gave speeches included Federation of Sovereign Indigenous Nations Vice-Chief Heather Bear, Prince Albert Grand Council Chief Brian Hardlotte and Lac La Ronge Indian Band Chief Tammy Cook-Searson.
Charles' mother Regina Poitras and stepfather Carson Poitras were also there.
Carson Poitras said the family feels it has an obligation to never give up hope.
"We're not giving up and seeing and hearing all the different stories about Indigenous people who have gone missing, we feel in order to honour our daughter, to help advocate for them," he said. "So, it helps keep us on our healing journey as well as helping others."
The new billboard is part of the Wild Rose Campaign which raises funds for informational materials to help families of missing and murdered Indigenous people.
(PHOTOS: Top, a new billboard in Prince Albert is part of an effort to keep the public spotlight on the Happy Charles missing person case. Bottom, the New Dawn Drumming and Signing Group was at the official unveiling of the new billboard. Photos by Fraser Needham.)