A city built around a finite resource, with an everlasting impression on environmental policy. 
In honor of the 40-year anniversary of Uranium City's closure announced in December of 1981 and realized in 1982, MBC visited the northern settlement of Uranium City to see how things have changed: the people, industry, and vibrancy of what was once home to thousands of Saskatchewan northerners. 
Writing & Photos [35mm Film, Lomography Color 400; Nikon F5] by Brandon White
/
MBC CEO Deborah Charles, who partially grew up in Uranium City, visits the well maintained cemetery — at night, solar lights illuminate the paths and graves, many of which today are adorned with flowers.
//
'It is with great sadness that the family of Gilbert Powder annouce his passing on May 15, 2021 in Uranium City, SK.'
Gilbert lived from November 9, 1943 to May 15, 2021 (he was 78).

– via Prince Albert Daily Herald on May 22, '21.

/
RiseAir handled the flight(s), at a cost of about $1600 CAD round trip — not cheap to be a tourist — but a price completely worth it for access to a unique part of Saskatchewan history.

//
Having left La Ronge, we landed in Stony Rapids. [motion blur from landing, shutter at 1/30]
/
The local food was incredible, definitely a nice place to be laid over.

//
A unique exploration tool: a giant magnet, as explained by our U-City Guide, Ken Mercredi. For the better part of a decade, gold, lithium, and other rare earth metals have long thought to be plentiful – maybe even viable – in the Athabasca.

/
Departing again, we began to fly over much different land.

//
We landed in Uranium City on an overcast day, but the landscape was still incredibly beautiful. The entire settlement was quiet, save for a hammer being occasionally driven across town, or the odd truck meandering down a road.
/
Nothing is wasted in Uranium; the post office and nurses' station are in the same building, a building that used to be the Police Station.

//
One has to wonder, 'how old are these handprints'? Were they there before the closure 40 years ago–or sometime after? The Ben McIntyre school was active until only recently.

/
Saskatchewan: not as flat as advertised. Ft. Martin Lake.

/
Those who remain are close-knit. Our tour guide Ken Mercredi stopped the truck to permit me a photograph of a recent monument.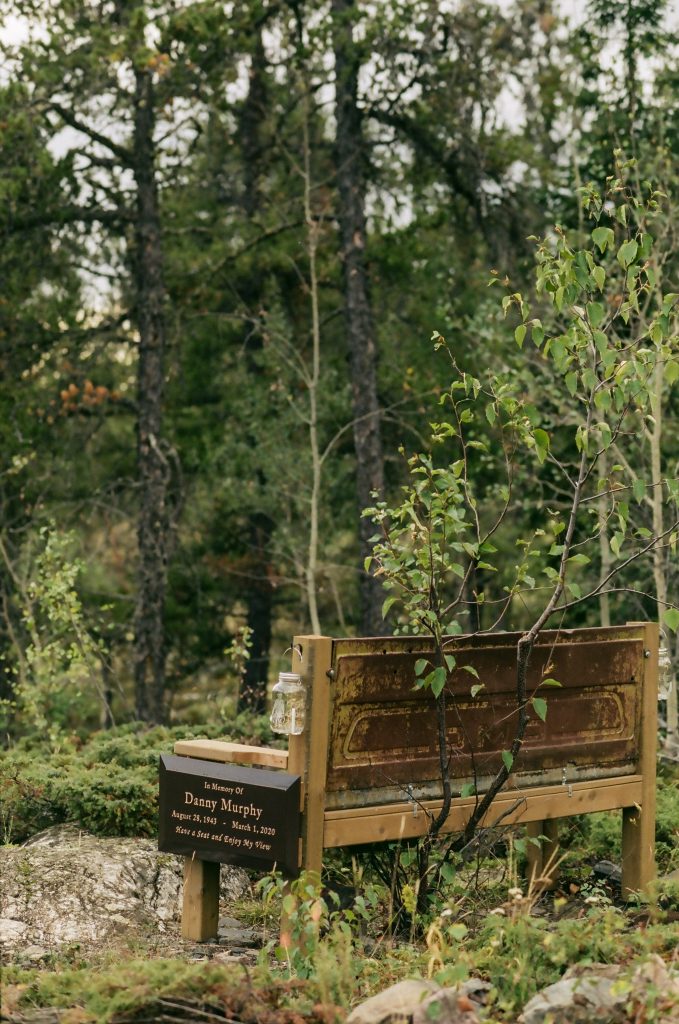 //
Ken knows all the best roads even when they are overgrown. Frequently we'd veer off into the ditch, with Ken laughing through spruce trees, and pop up in Paradise.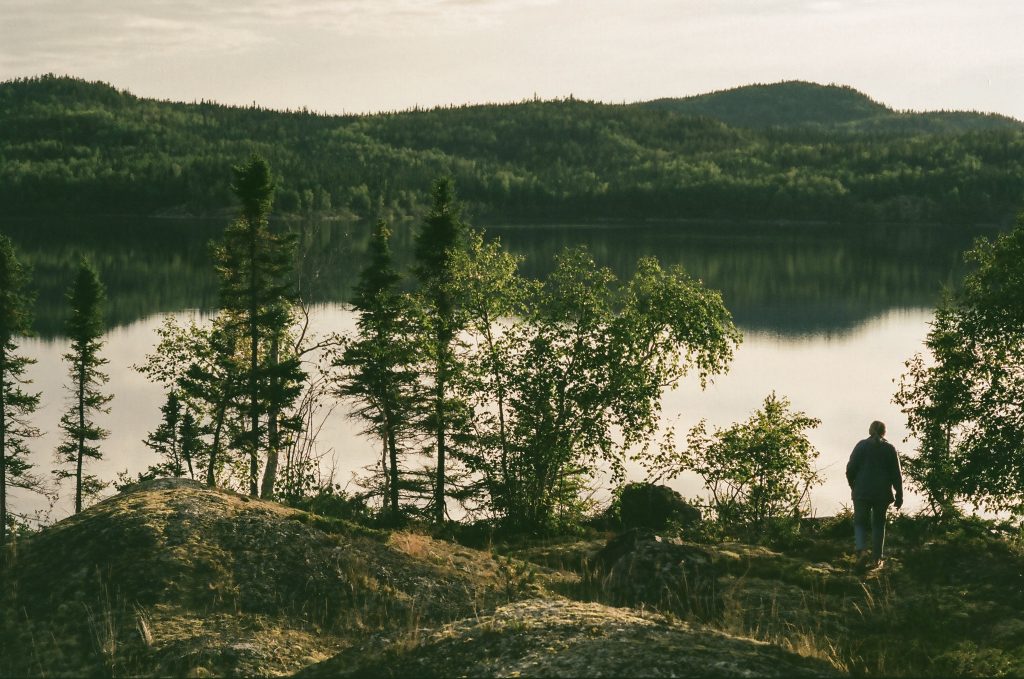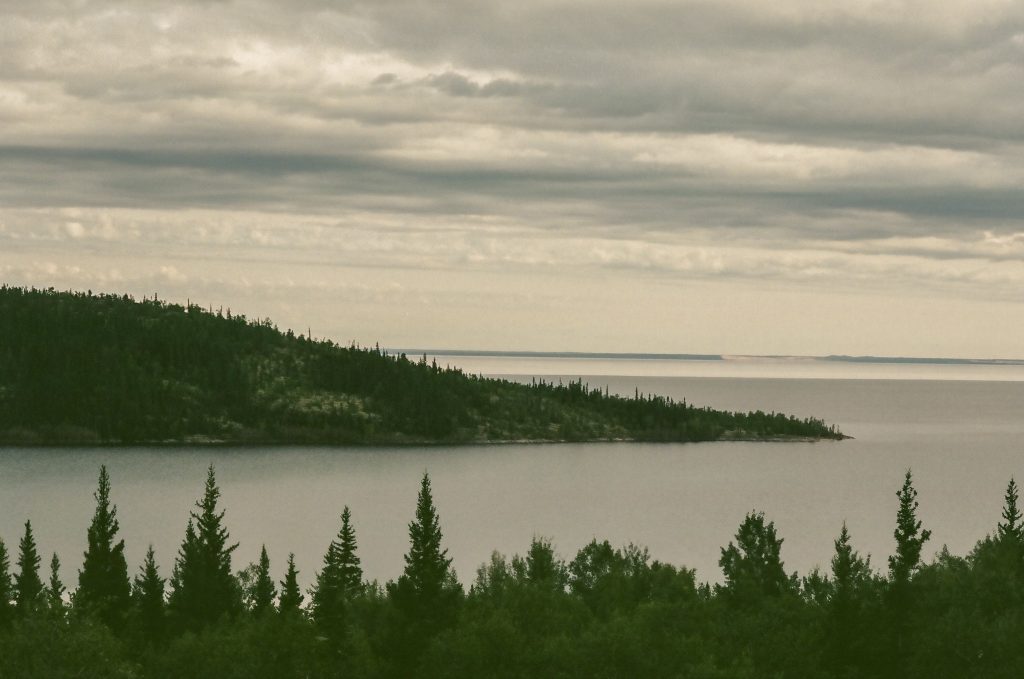 Lakes as calm as the forests. 'It's God's Country' says Ken, and it's clear why: there's no one around to bother Him.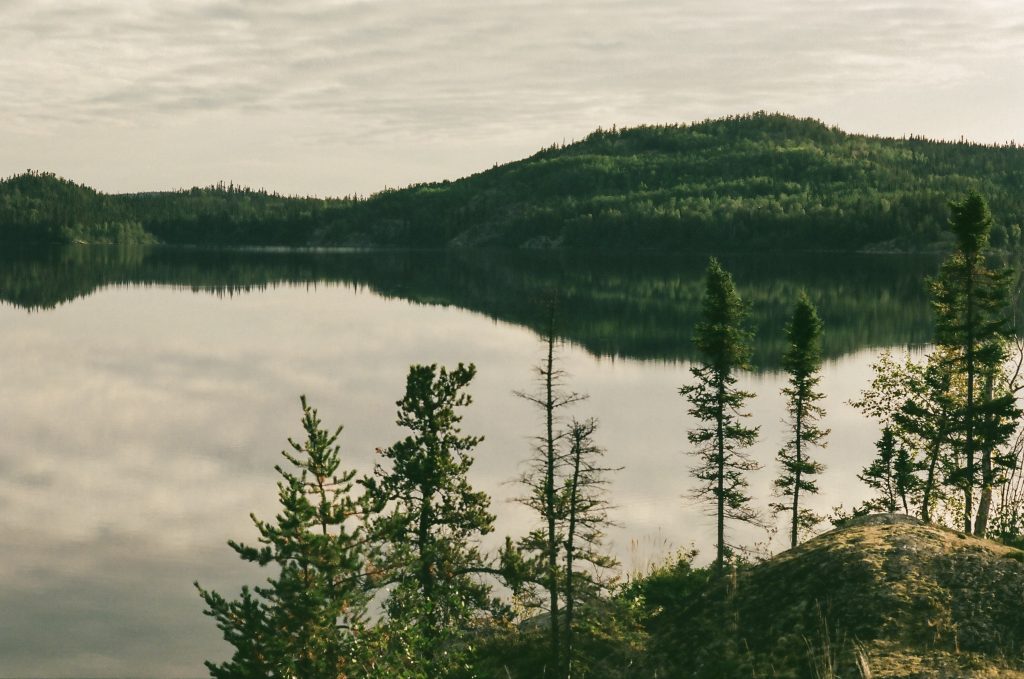 //
with landscapes like canvases, good photos are easy. [Ok I inverted this one].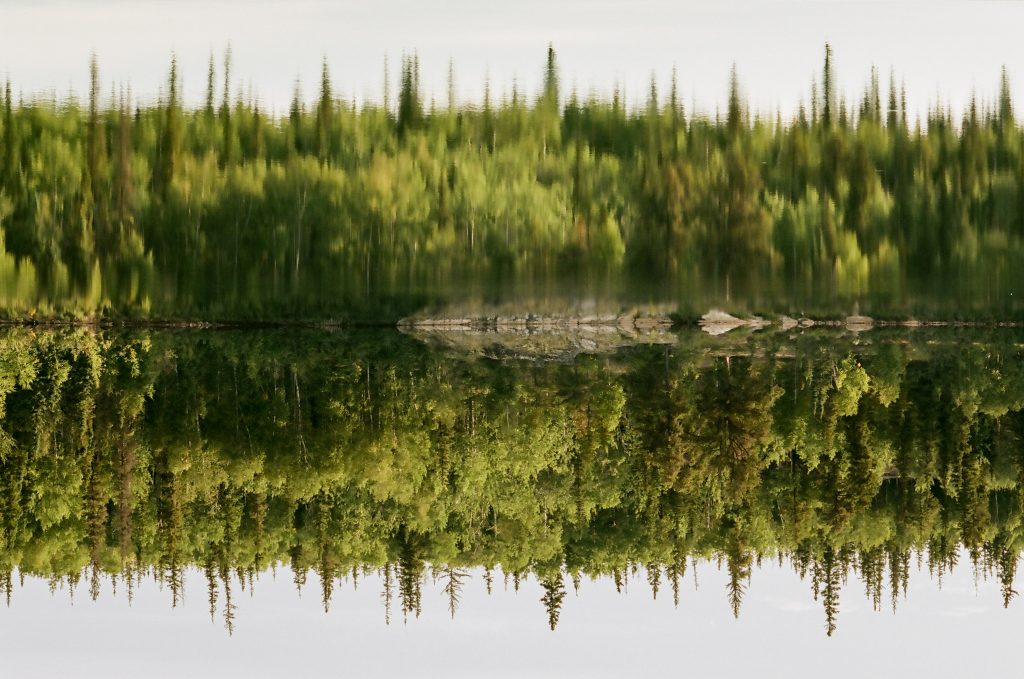 /
On our first night in Uranium City, the Aurora Borealis (Northern Lights) came out to say hello. The aurora is well known to be frequently highly visable at these far north latitudes, driving some limited tourism.
//
Remnants: in the residential area of Nuclear Road (paved) a discarded, dented, and rusted truck-door bears the sign of the Points North Group of Companies, freight and bulk fuel import. Here coul-de-sacs of houses stand in various states of decay and natural reclamation.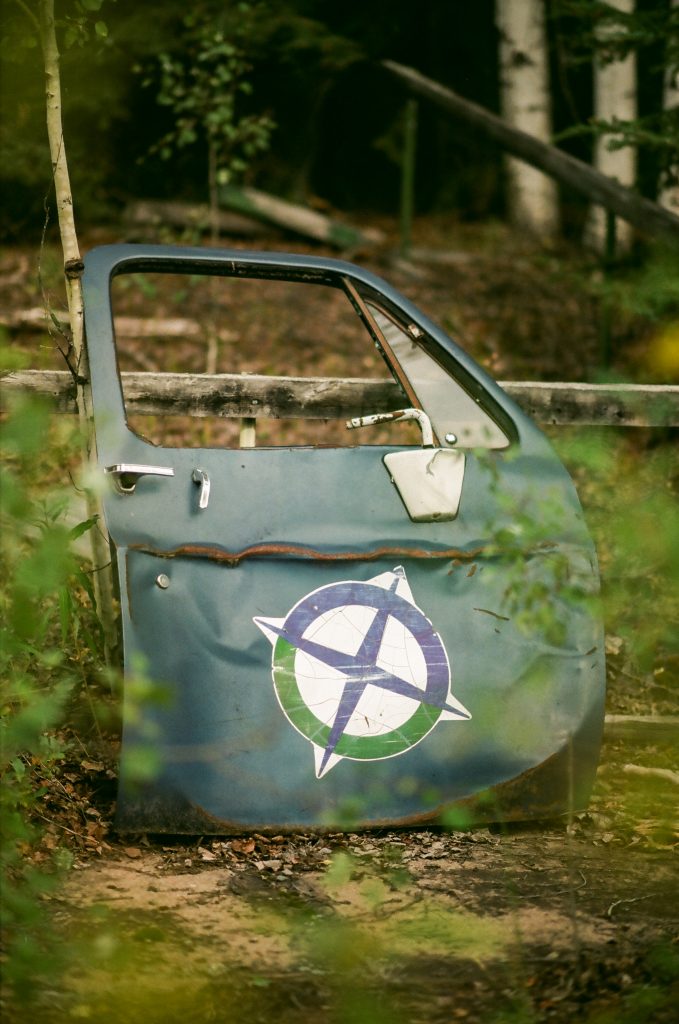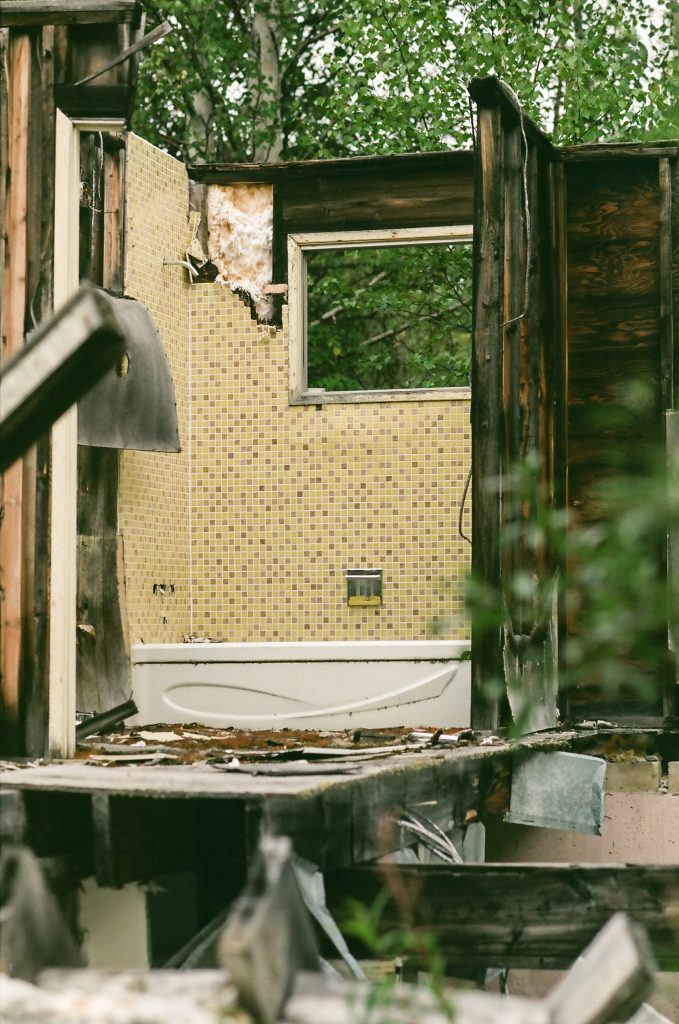 /
In some homesteads Mother Nature has moved back in, with green carpet and grasses sprouting in hallways.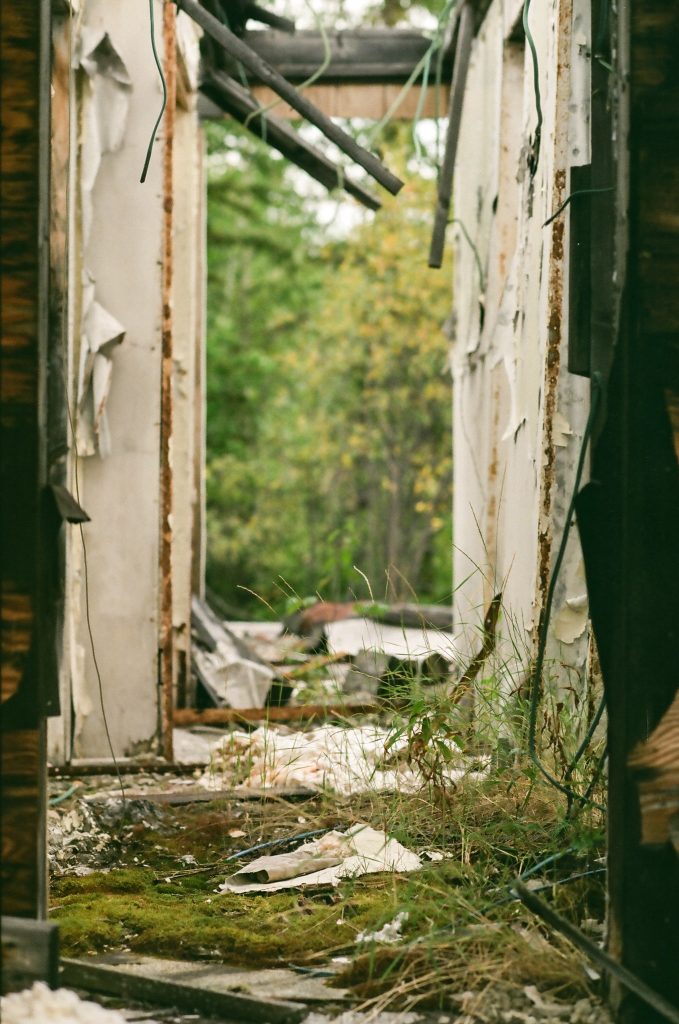 /
This well-built shed still stands, largely intact, protecting someone's prize sedan. The tires and rims had been previously removed.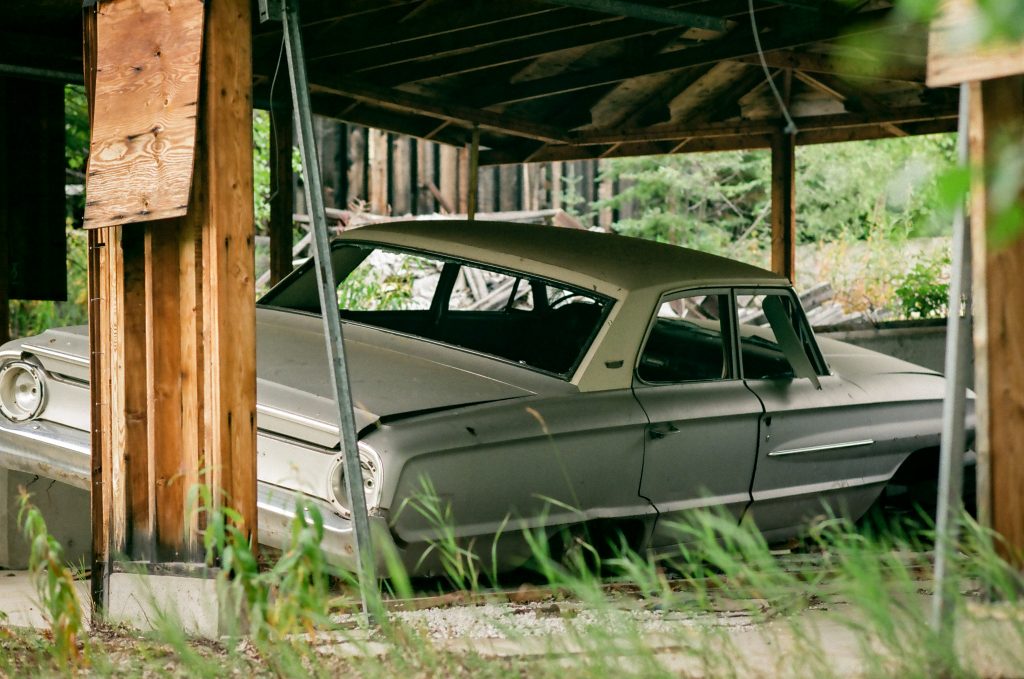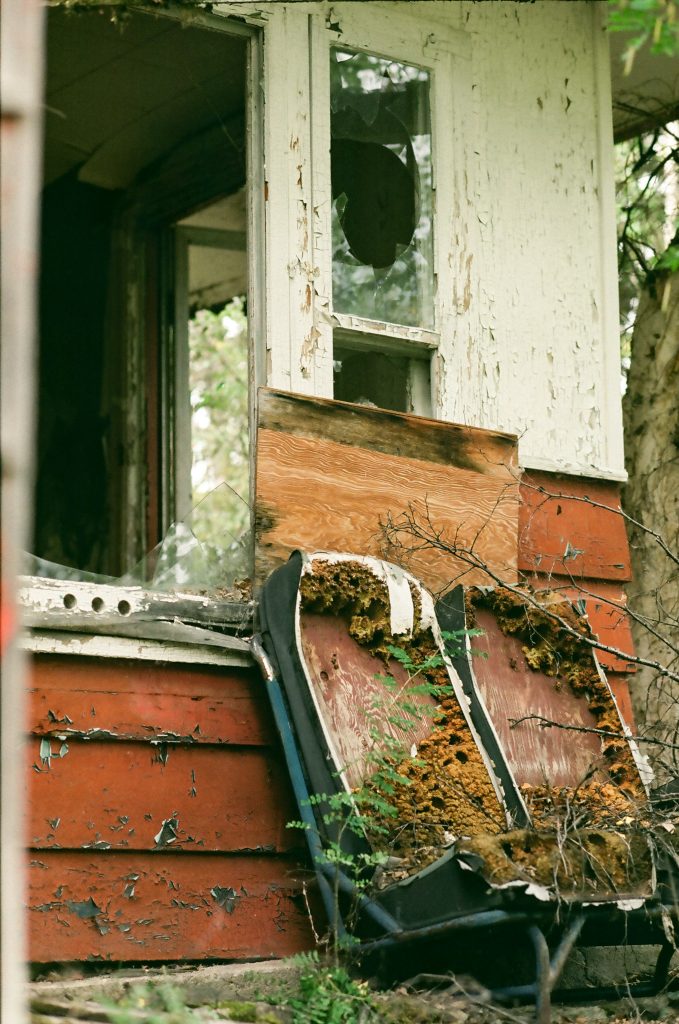 /
Deborah C. holds a warped record found near her childhood home on Nuclear Avenue.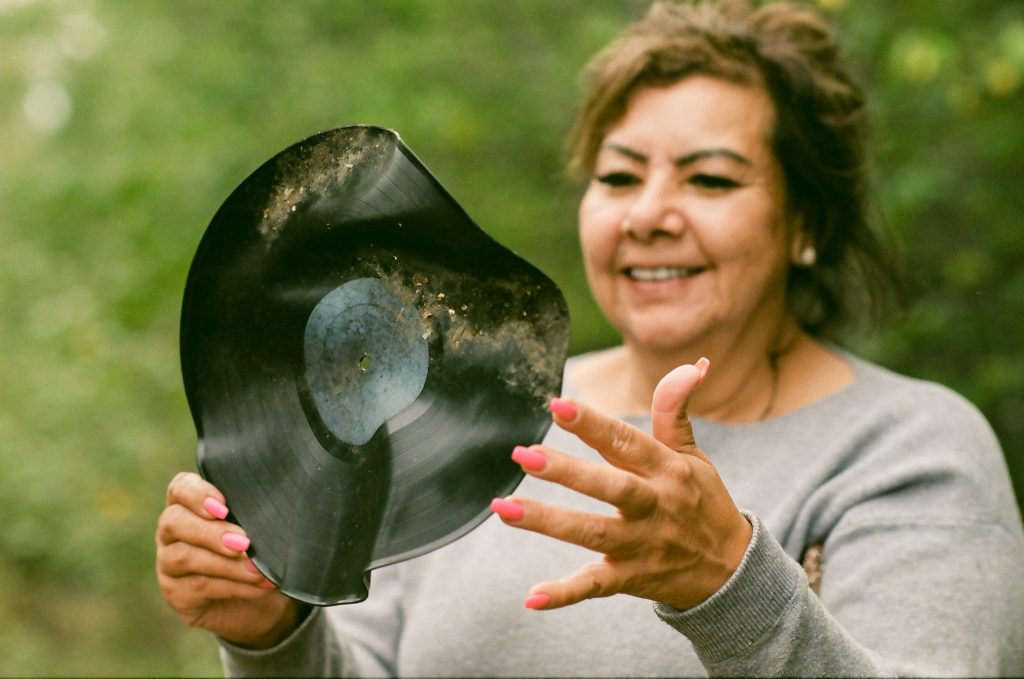 //
The Uranium City Hotel sign has been restored over the years. Notice how, despite the physical decay, the paint is relatively fresh.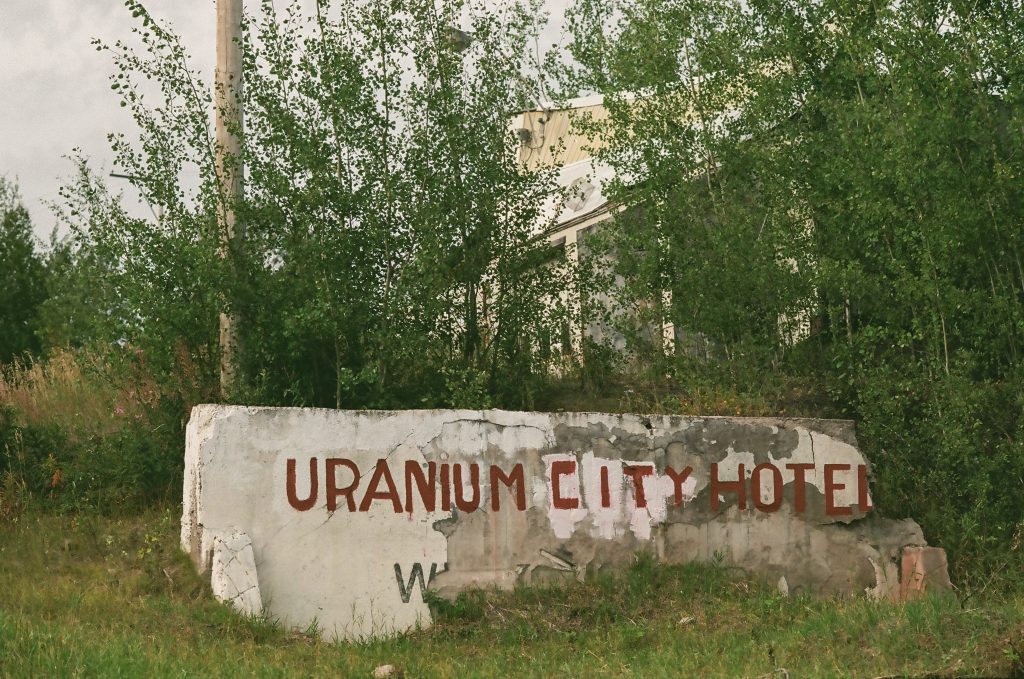 /
a collection of signs adorn the side of an ornamentals greenhouse. There's something about seeing all that history next to blooming flowers.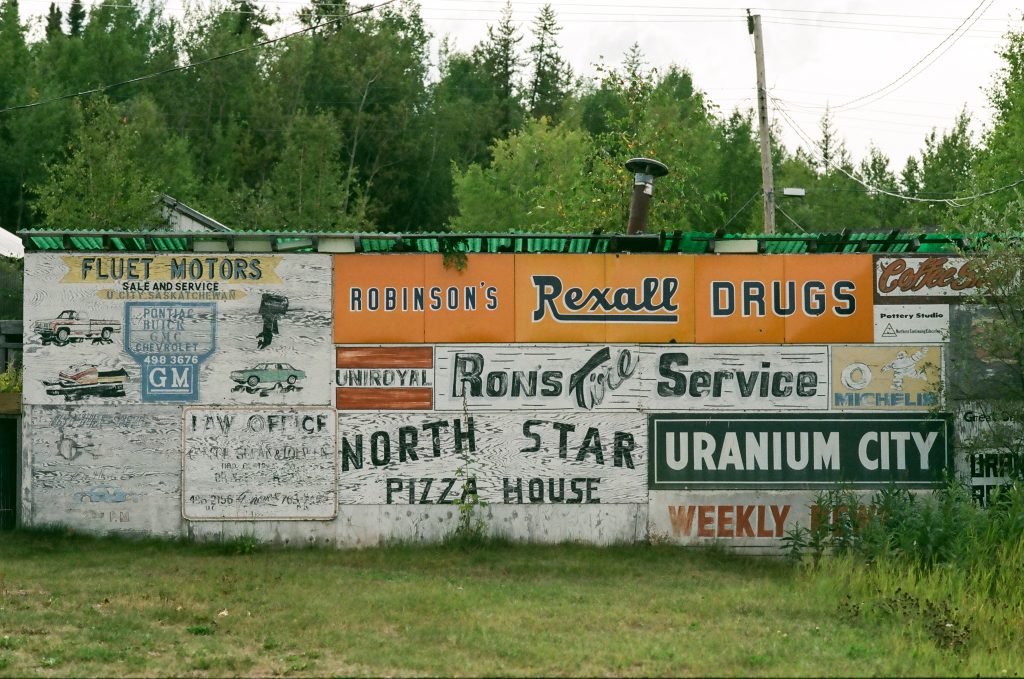 //
Even in Uranium, little shoes adorn church steps. At one time there were four churches in Uranium City.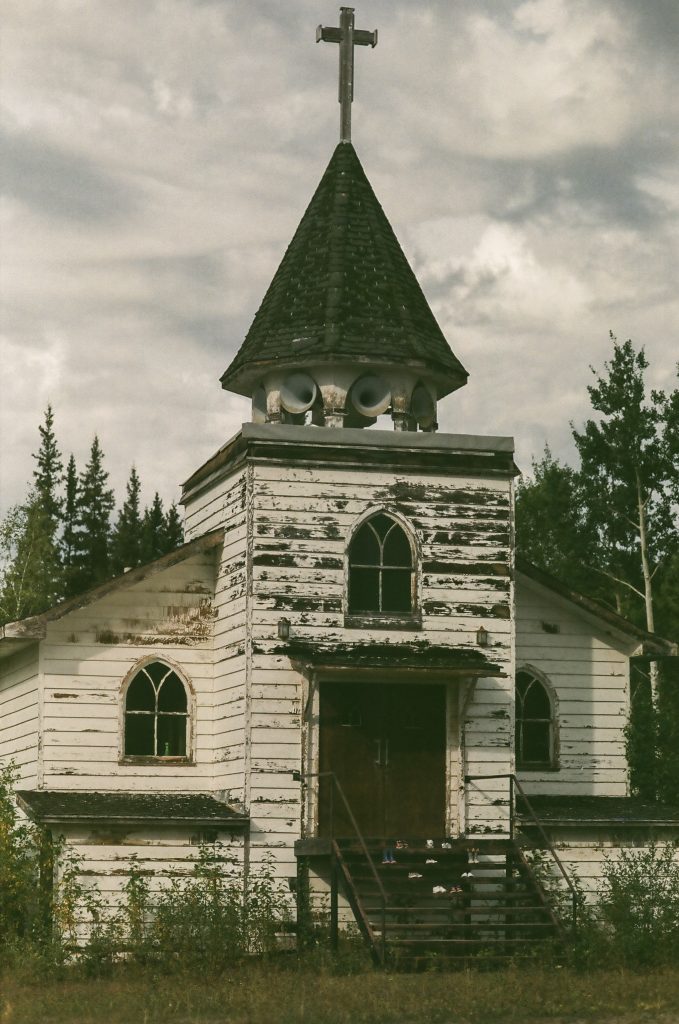 /
Apartments that were never lived in, with cedar from British Columbia.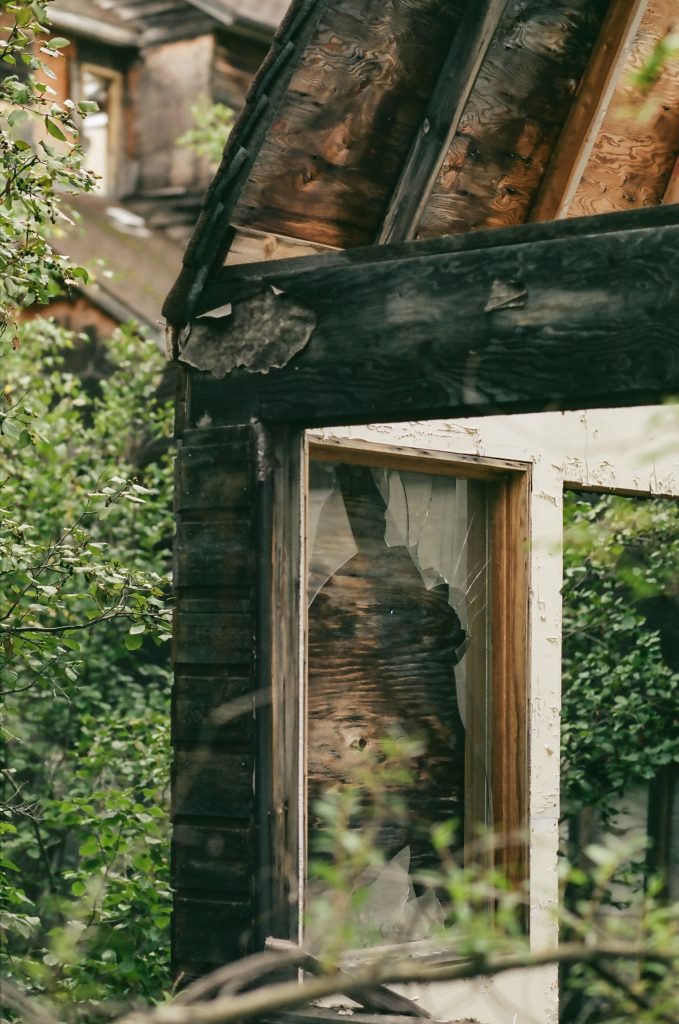 //
CANDU high – named similarly to Canada's CANDU reactors – was built in 1980 at a cost of $11 million CAD by the Eldorado Company. There were two years of graduates from the high school prior to its closure.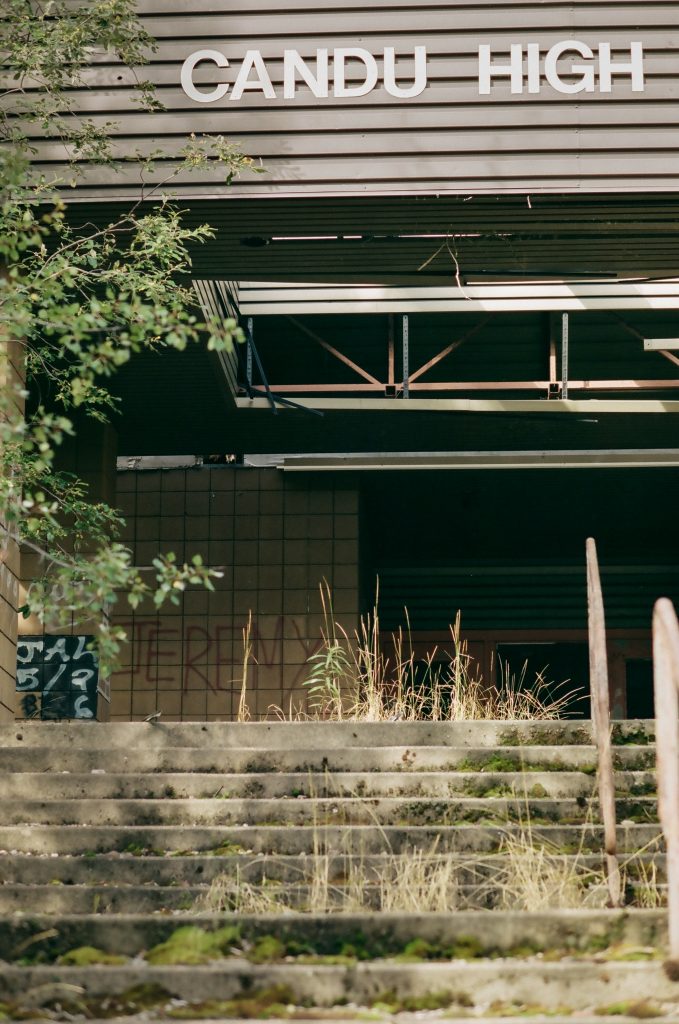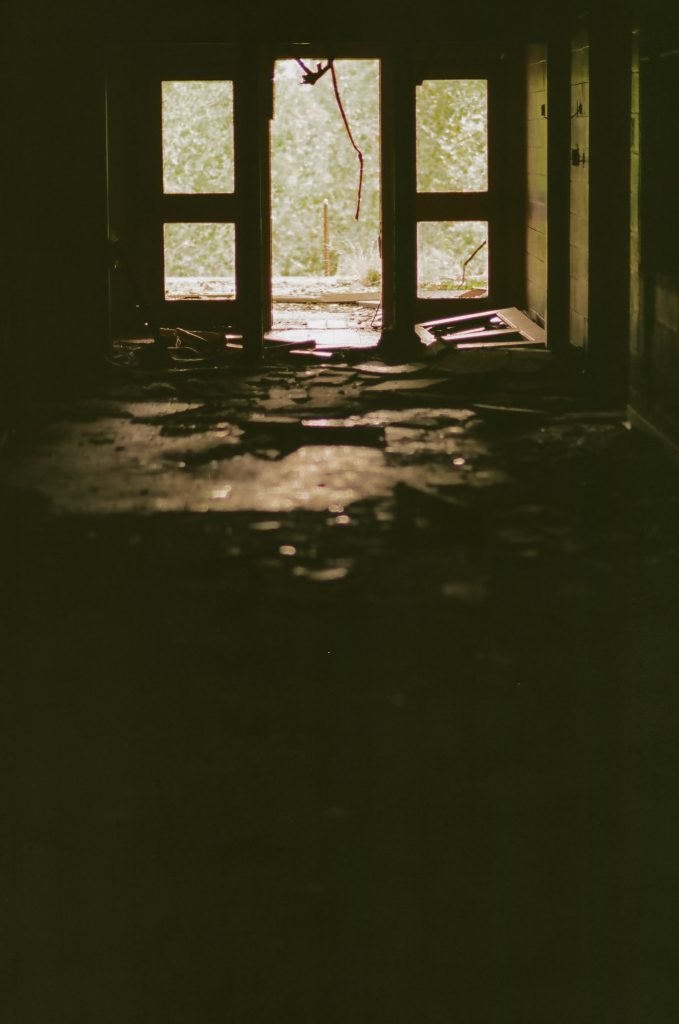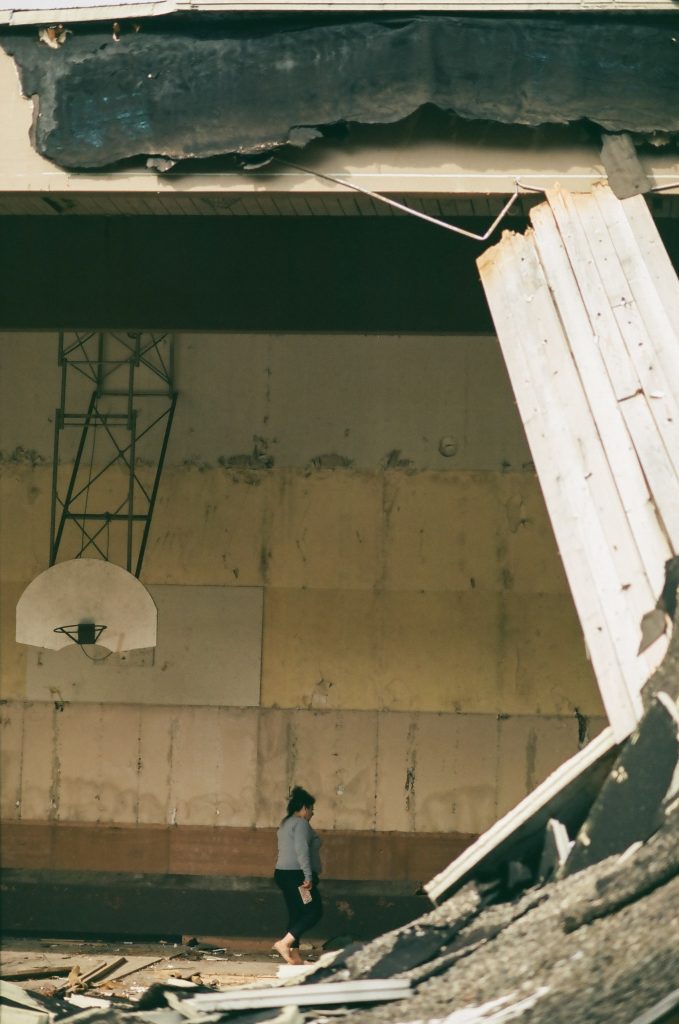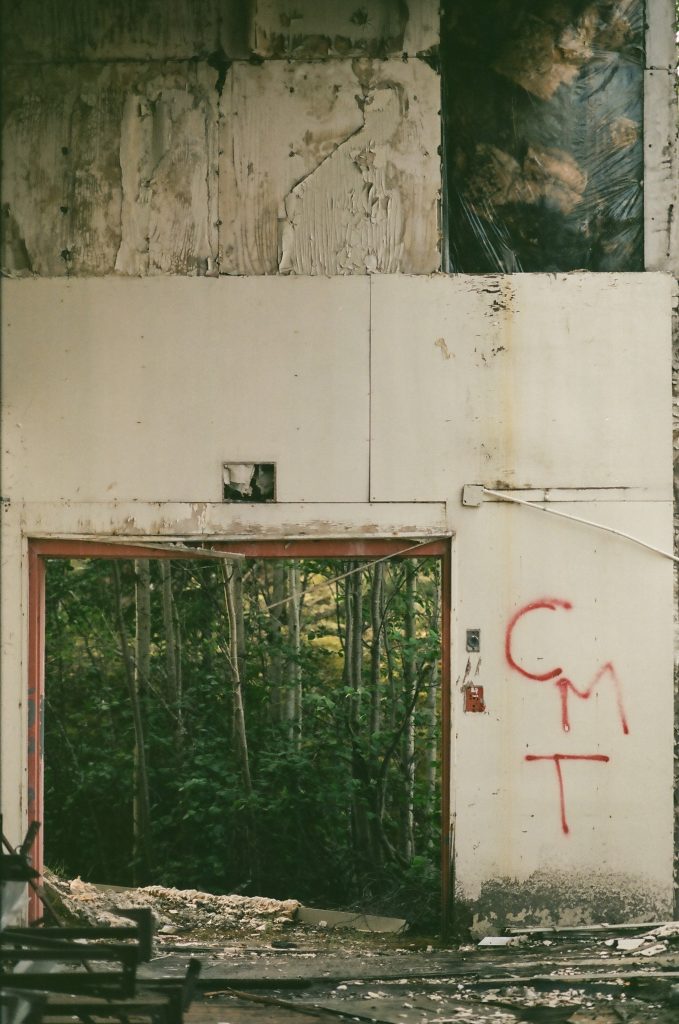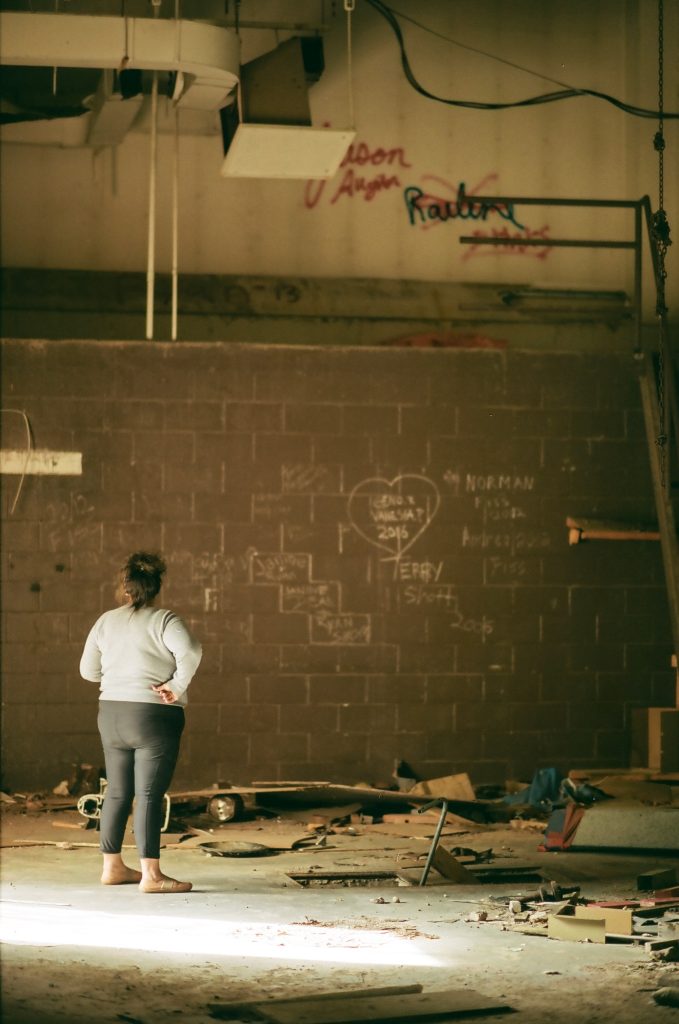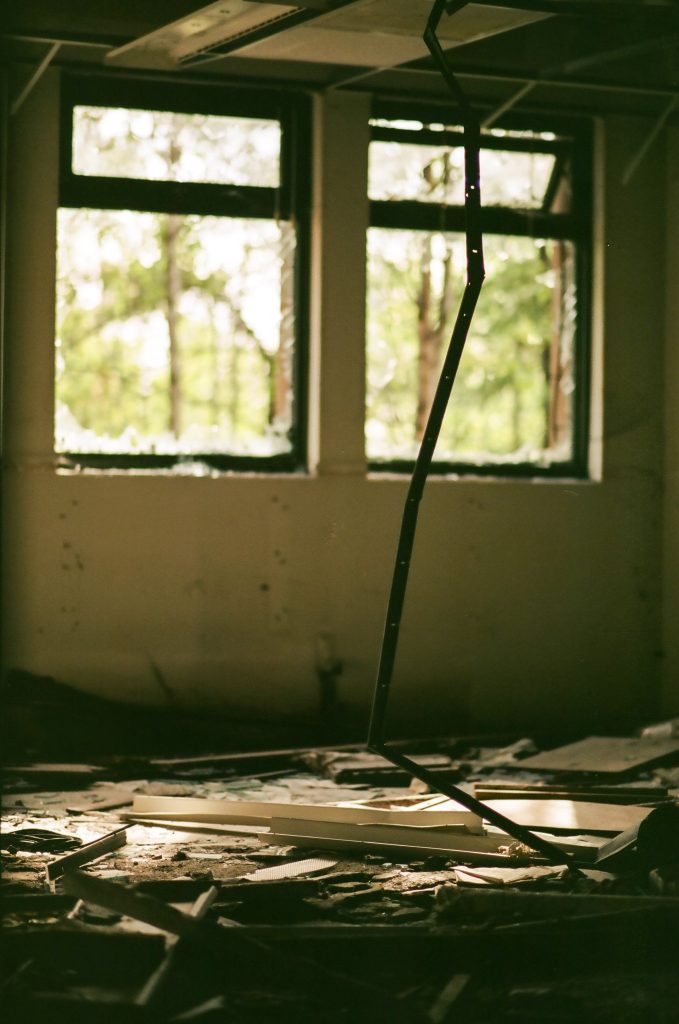 /
This is not carpet. In many of the classrooms, highly expensive and innovative (for 1980) design concepts were integrated, including floor outlets, seen here.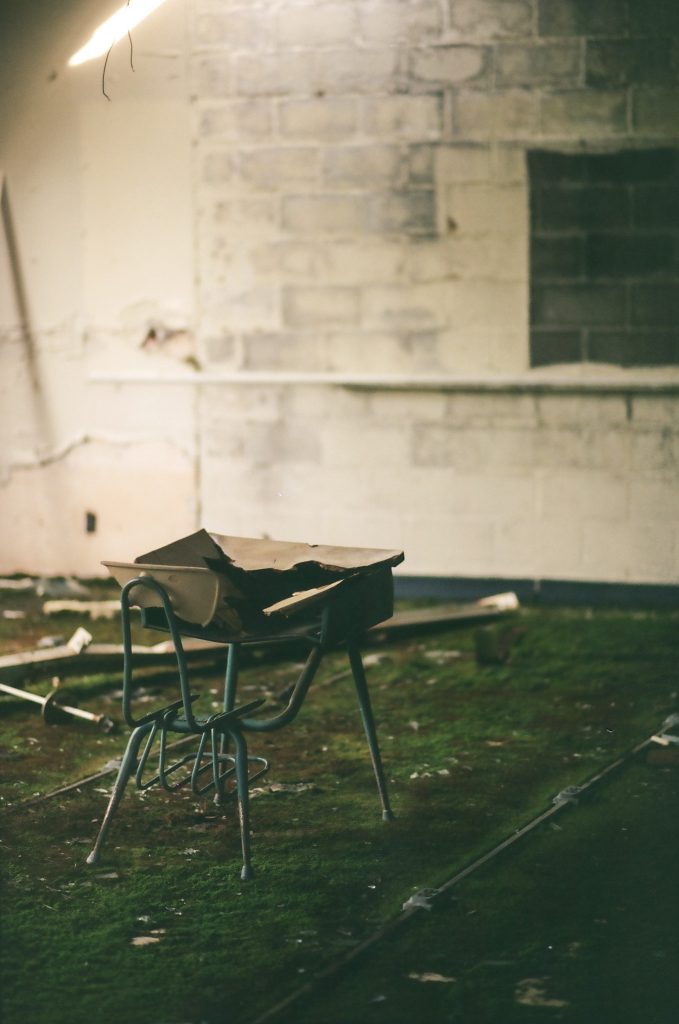 /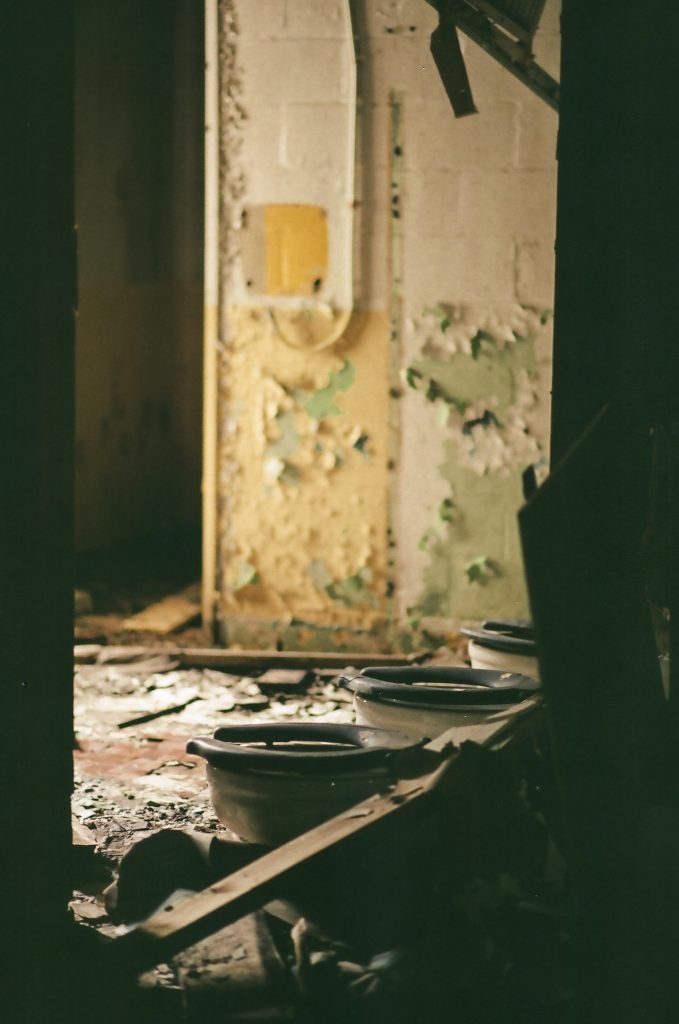 /
Afterward, needing a break, MBC CEO Deborah Charles enjoys a cigarette on some seats removed from a bus.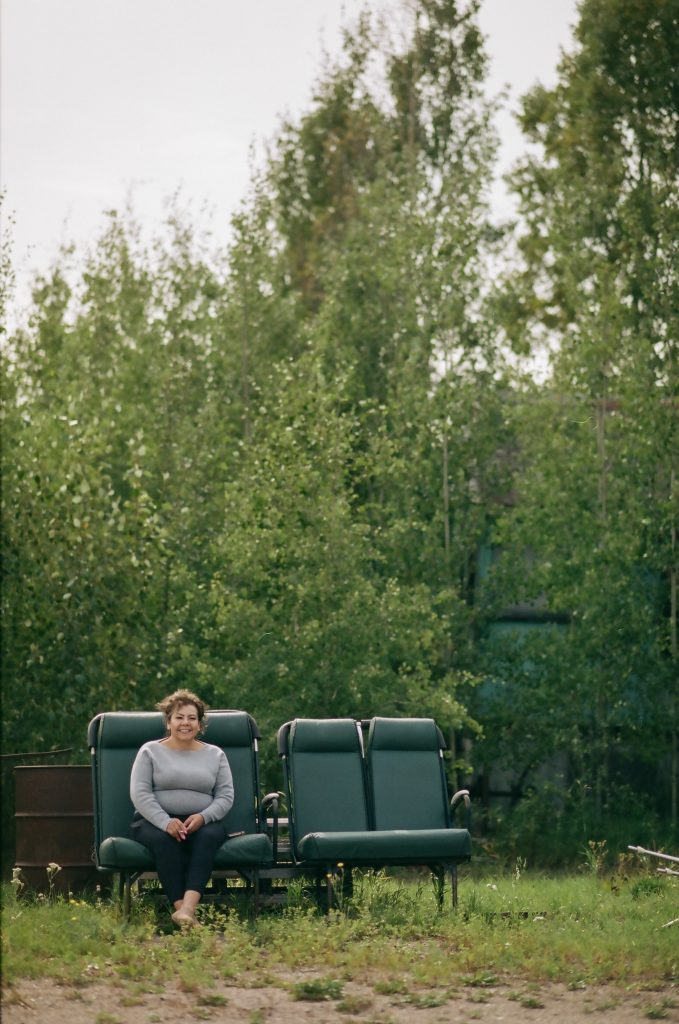 //
At the corner of Ken Mercredi's yard is an airplane engine. Everywhere, there are plants. His garden is overcome with vegetables — in particular tomatoes and hot peppers. It's easier to grow it than import it (and more enjoyable) his wife says.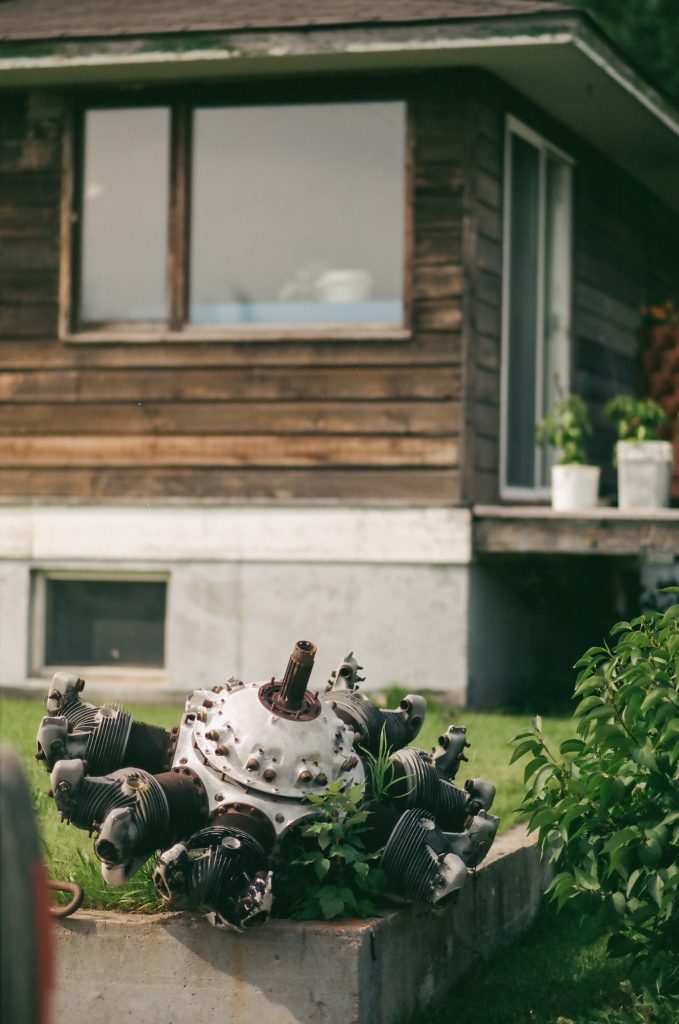 //
Sports in Uranium City's hay-day were a thing to behold. From flying players to and from Japan, to each mine site having its own recreational teams — 'you had to play something well to get hired' jokes Ken.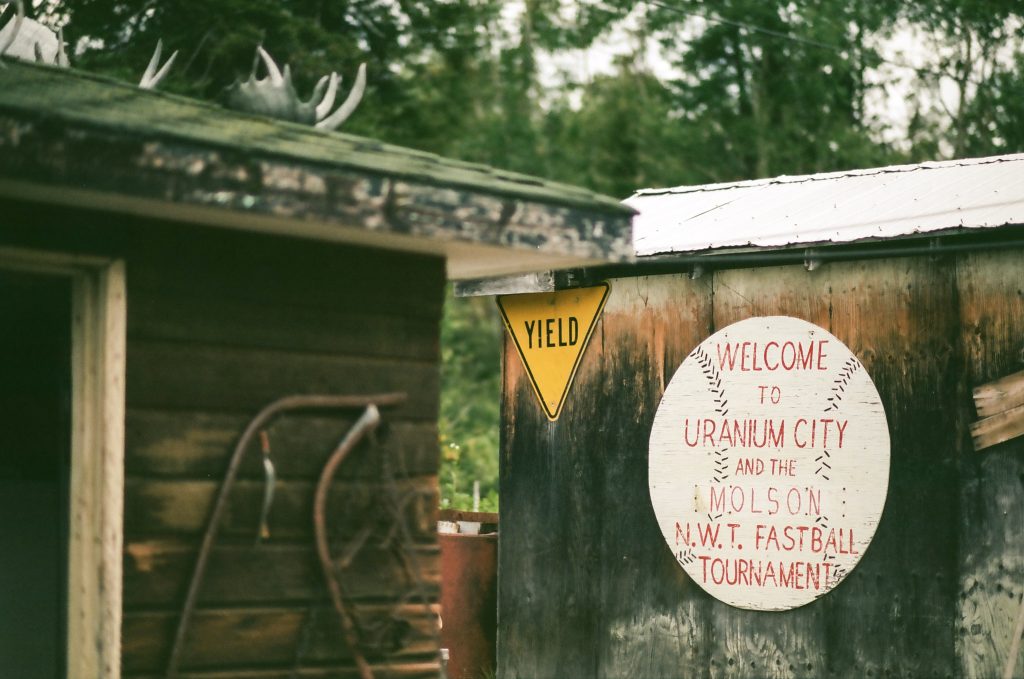 /
As the sun set on our short 3-day stay, the interviews had been conducted and audio files collected. We returned home to La Ronge and were left with the question: 'What's next for Uranium City'?
More reclamation, exploration, or recreation? All of the above? Time will tell.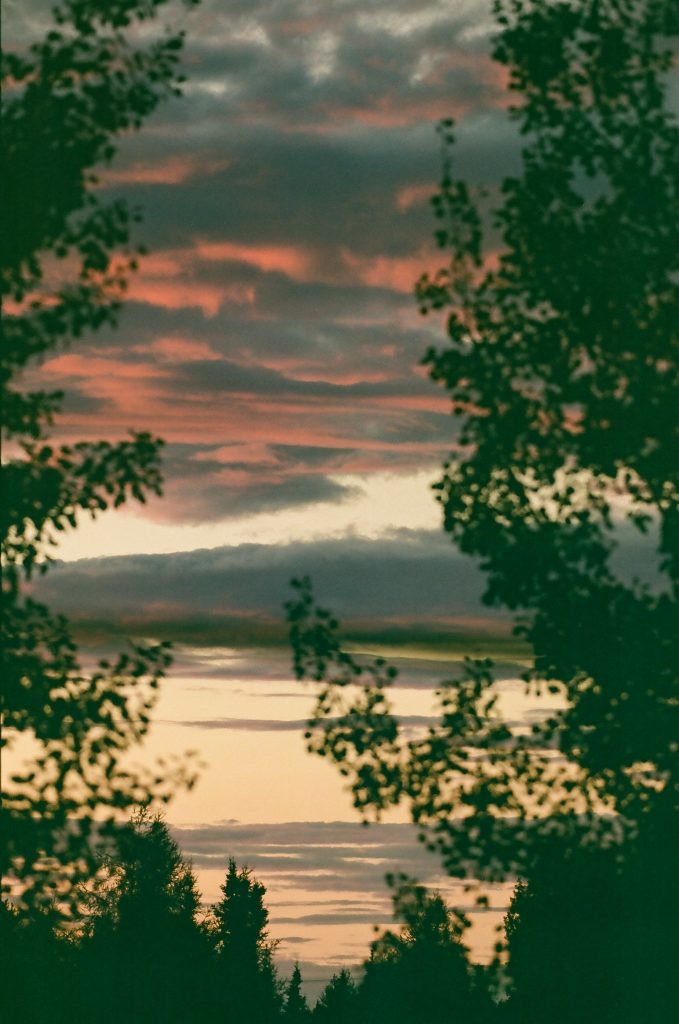 // End.