Saskatchewan has some of the best golf courses and for the 8th year in a row we want to hook you up with passes to golf. Listen to MBC for the cue to call for your chance to qualify to win 4 passes to play golf. Daily draws will take place on Start Your Day with Tyler J and one of you will win our grand prize, which will include 4 passes to The Legends Golf Club and Range in Warman, $150 food voucher to Prairie Links at the course, brunch for 4 at Garden Cafe, 2 hotel rooms at the Saskatoon Inn, plus a $200 gift card to Grasswoods Petro Canada in Saskatoon. There will also be a 2nd grand prize which includes golfing for two and golf with two of MBC's finest at Eagle Point Resort in La Ronge! Head on to our Facebook page for more chances to win!
Play-A-Round is sponsored by:
Moon Lake Golf and Country Club
Hidden Hills of Shellbrook Golf Course 
Saskatoon Inn & Conference Centre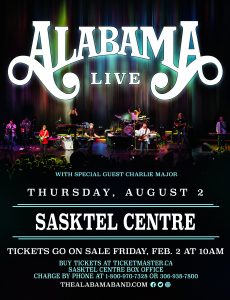 Alabama with special guest Charlie Major will be making a stop in Saskatoon at SaskTel Centre on August 2, 2018! Tickets will go on sale starting Friday, February 2nd @ 10AM!
Keep it locked on to MBC for your chance to win a pair of tickets!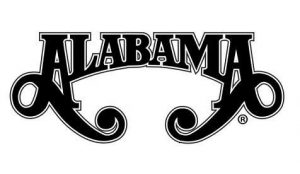 With
Special Guest CHARLIE MAJOR
THURSDAY, AUGUST 2, 2018
SASKTEL CENTRE
SASKATOON, SK – SHOW 7:30 PM
TICKETS ON SALE THIS FRIDAY FEBRUARY 2nd  @ 10AM
Ticketmaster available at www.ticketmaster.ca
Charge By Phone 306-938-7800 or 1-800-970-7328
Tickets (incl. GST) $49.50, $62.50, $75.00, $89.50 & $125.50 (plus service charges) **RESERVED SEATING / ALL AGES**
It's the kind of story you read about in books and watch on the big screen at the movies. For the band ALABAMA, it's not just a story; it's their life. It is a classic American tale of rags to riches. From humble beginnings picking cotton in the fields to international stars that went on to sell 73 million albums while changing the face and sound of country music.
It's been over 40 years since Randy, Jeff and Teddy, left the cotton farms of Fort Payne, Alabama, to spend the summer playing in a Myrtle Beach, South Carolina bar called The Bowery. Having grown up working in the fields, the cousins were no strangers to hard work. They didn't flinch when it took six long years of working for tips and living hand to mouth playing in the bar.
Of the early days and their humble beginnings, Jeff says, "I don't think we thought too far ahead. We were more concerned with paying our bills at the end of the week and playing music."
Finally, word of mouth earned the major label deal they'd been dreaming of. In 1980 the band broke through with their first Top 20 hit "My Home's In Alabama."
ALABAMA is the band that changed everything. They brought country music to the mainstream and from side stage to the main stage. ALABAMA introduced rock style guitars, lights, pyrotechnics and sounds to the country audience.
Real People Play-Off
Tuesday June 19th, 2018 - Make Your Choice...
Dakota Favel - Deal With It

87%, 104

votes

104 votes - 87% of all votes

Leonard Sumner - Memories

13%, 16

votes

16 votes - 13% of all votes
Total Votes: 120
Voters: 120
June 13, 2018
-
June 20, 2018
Voting is closed