The Prince Albert Grand Council (PAGC) is recognizing First Nations veterans ahead of Remembrance Day.
Friday the PAGC held a Remembrance Day ceremony at their urban services office in Prince Albert. A number of active service people were on hand, which included members from the armed forces along with the RCMP. There was also a significant number of veterans present for the event as well as young cadets.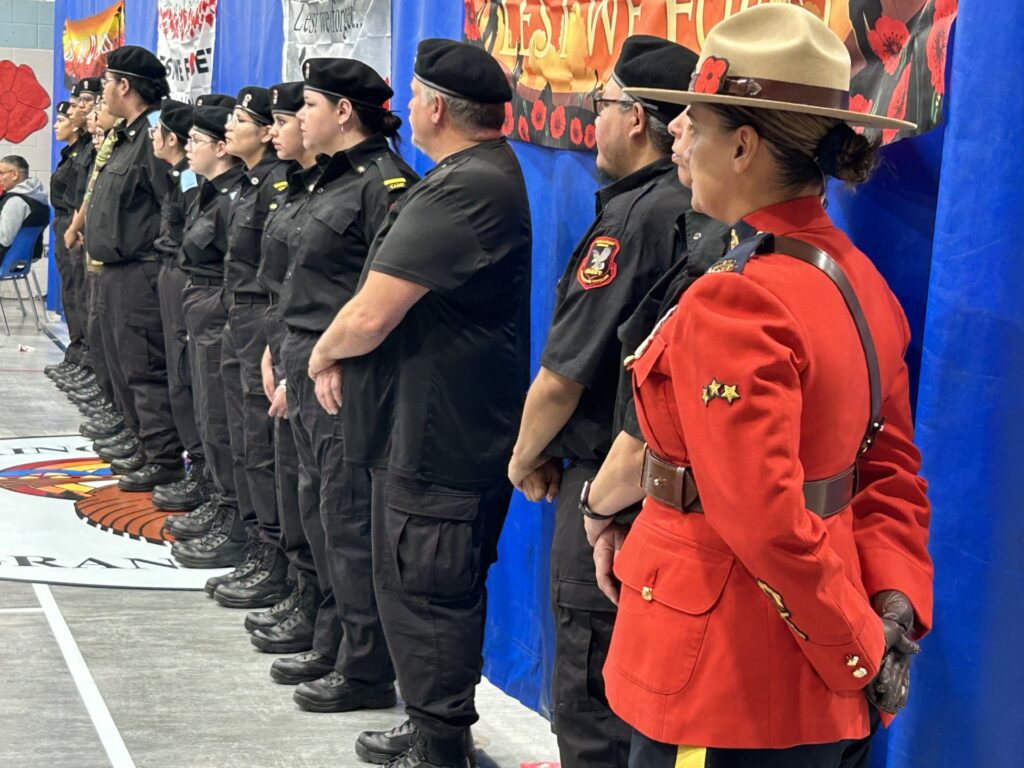 (A number of cadets as well as members of the RCMP were present at the ceremony. Photo by Michael Joel-Hansen.)
During the ceremony a number of people offered remarks including Federation of Sovereign Indigenous Nations (FSIN) Chief Bobby Cameron and PAGC Vice Chief Chris Jobb. City of Prince Albert Mayor Greg Dionne was also in attendance along with Prince Albert Police Service (PAPS) Chief Patrick Nogier.
Those in attendance got the chance to hear from two veterans, one being Steven Ross, who offered some remarks on behalf of the Saskatchewan First Nations Veterans Association. Ross said it should be remembered that First Nations people who enlisted to serve in a number of conflicts did so because they choose to do so.
"We've heard it said that they didn't have to go, they weren't conscripted, they heard the call, they volunteered, they all volunteered," he said.
During his remarks Ross also took time to recognize the women who stayed at home while the men went off to serve overseas. Ross added many First Nations people also enlisted to serve Canada when they did not enjoy full and equal rights of citizenship.
"They want to fight for their country, they want to fight for our people, they fought for our Treaties," he said.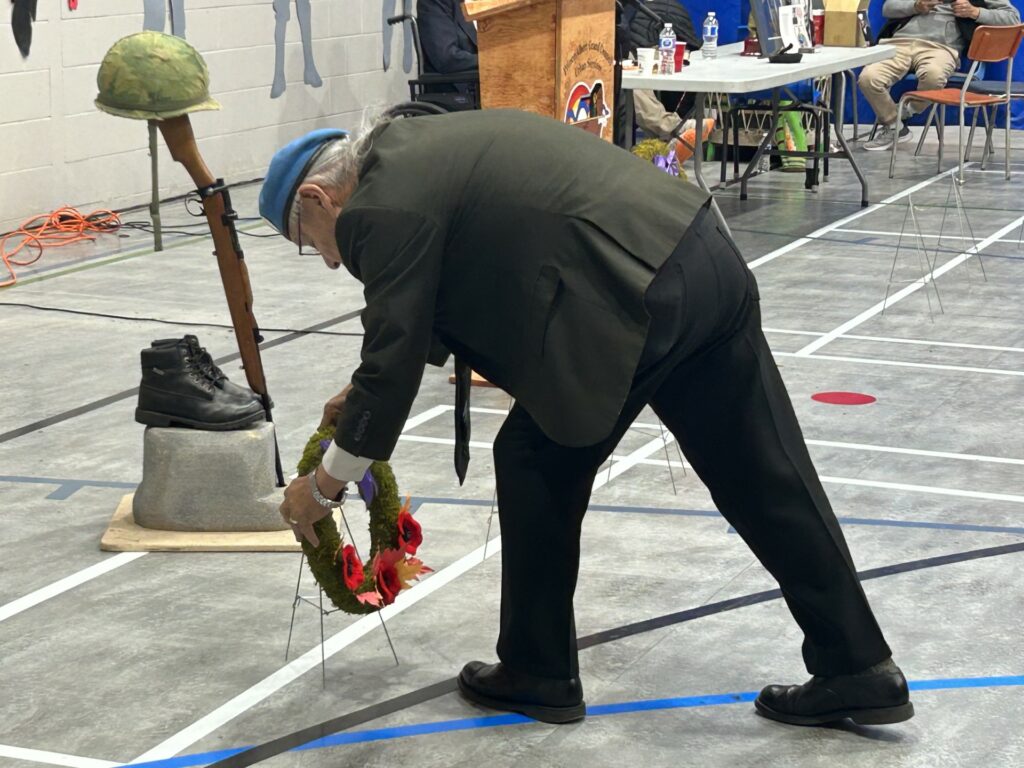 (Steven Ross lays a wreath to recognize those lost in World War I. Photo by Michael Joel-Hansen.)
Veteran Emile Highway as well offered some words at the ceremony. During his remark Highway took the time to recognize those who had been lost while serving on peacekeeping missions overseas. He added that Nov. 5 to 11 is Peacekeepers Week.
"Peacekeeping wasn't always peaceful, I severed once overseas on a peacekeeping mission for the United Nations and we also lost quite a few on peacekeeping missions," he said.
Highway spoke about the wide range of missions where Canadians served as part of United Nations (UN) peacekeeping missions including in Cyprus, Rwanda and Somalia. He as well took time to acknowledge a veteran in the audience, Victor Sanderson who served in Afghanistan where he worked to remove land mines.
"Nerve-racking to say the least," said Highway.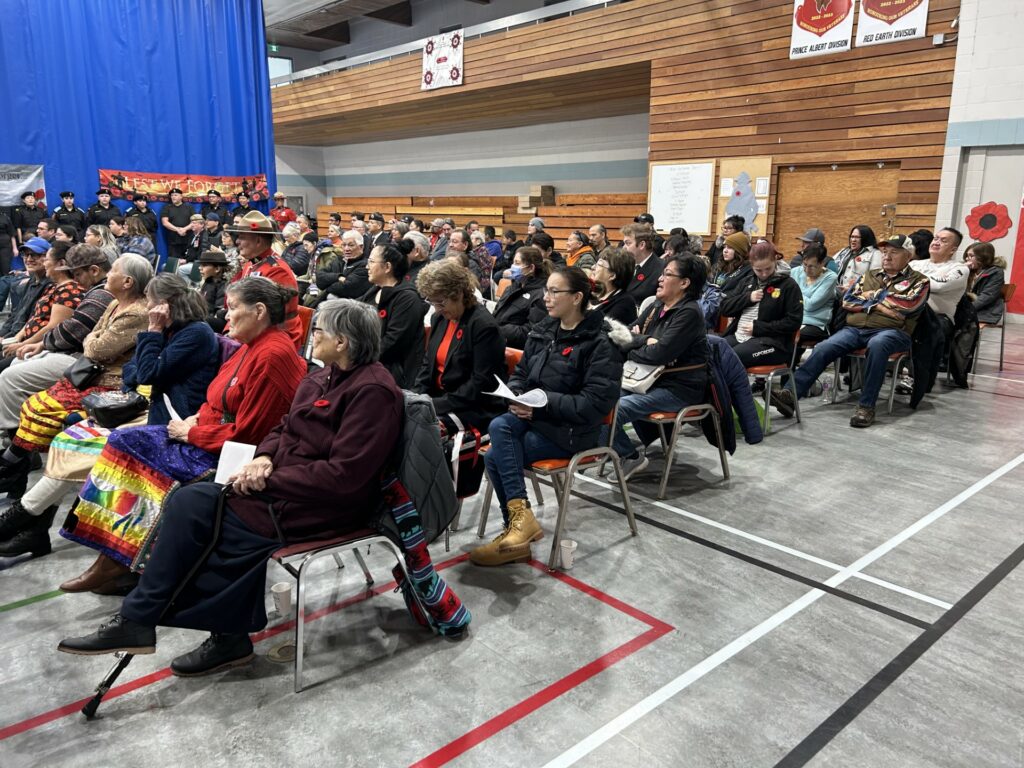 (A large number of people came out to take part in the PAGC Remembrance Day ceremonies Friday in P.A. Photo by Michael Joel-Hansen.)
(Top Photo: Veterans prepare to lead the grand entry at the PAGC Remembrance Day ceremonies. Photo by Michael Joel-Hansen.)