The Federation of Sovereign Indigenous Nations (FSIN) is speaking in support of the family of a Saskatoon girl killed in a hit and run incident in 2021.
FSIN Third Vice Chief Aly Bear spoke to media in front of Saskatoon Provincial Court, where the woman charged in relation to Baeleigh Maurice's death, is currently on trial on charges of impaired driving causing death.
"We're looking for justice for Baeleigh, because the woman, Taylor Kennedy has pleaded not guilty to these charges," said Bear.
Before Bear addressed the media, supporters of Maurice's family drummed and smudged. A number of the family's supporters as well held up signs calling for justice and criticizing the Saskatoon Police Service. When asked about the signs critical of the police, Bear said they show there is still a strained relationship between First Nations people and the justice system.
"The relationship between First Nations people and the police and the justice system is not a very friendly relationship, we've seen a lot of police brutality and we see the way police treat our people in comparison to how they treat non Indigenous or caucasian people," she said.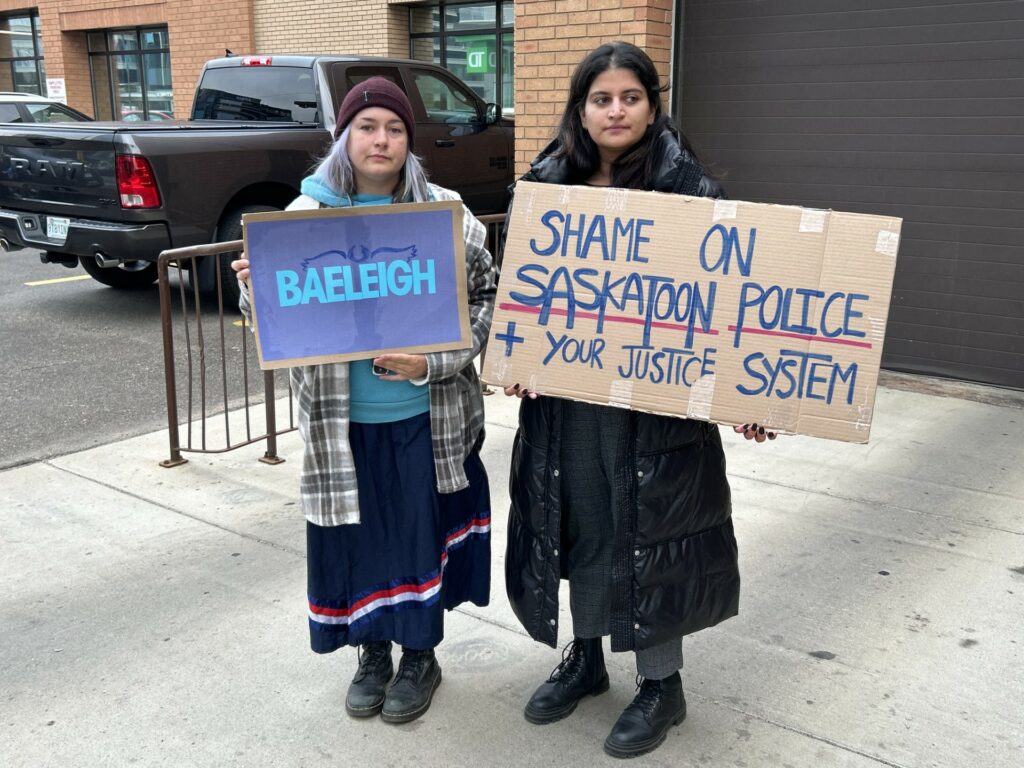 (A number of supporters were on hand to support Maurice's family Thursday in Saskatoon. Photo courtesy of Michael Joel-Hansen.)
Bear said it is important for the FSIN to show their support as the trial comes on the heels of Orange Shirt Day. She added the justice system needs to hold the woman charged accountable.
"There needs to be some justice for that life that was taken and the colonial system, the colonial justice system needs to abide by their own laws and they need to show us that her life mattered," she said.
The FSIN Vice Chief explained many of the witnesses called to the stand as part of the trial are police officers, who she said have spoken about the accused in a positive light, which she added shows some larger systemic issues.
"This is just another example of systemic racism and how, if it was the other way around, if it was a First Nations woman who hit a white child we think the situation would be much different and that woman would be treated much different," she said.
Rochelle Dubois, Maurice's mother did not speak to media Thursday. Bear said going through the court process has been hard for the family. She added the hit and run, which was caught on surveillance video, has been played during the trial.
"They're still having to fight for justice for this little girl, who deserves justice," she said.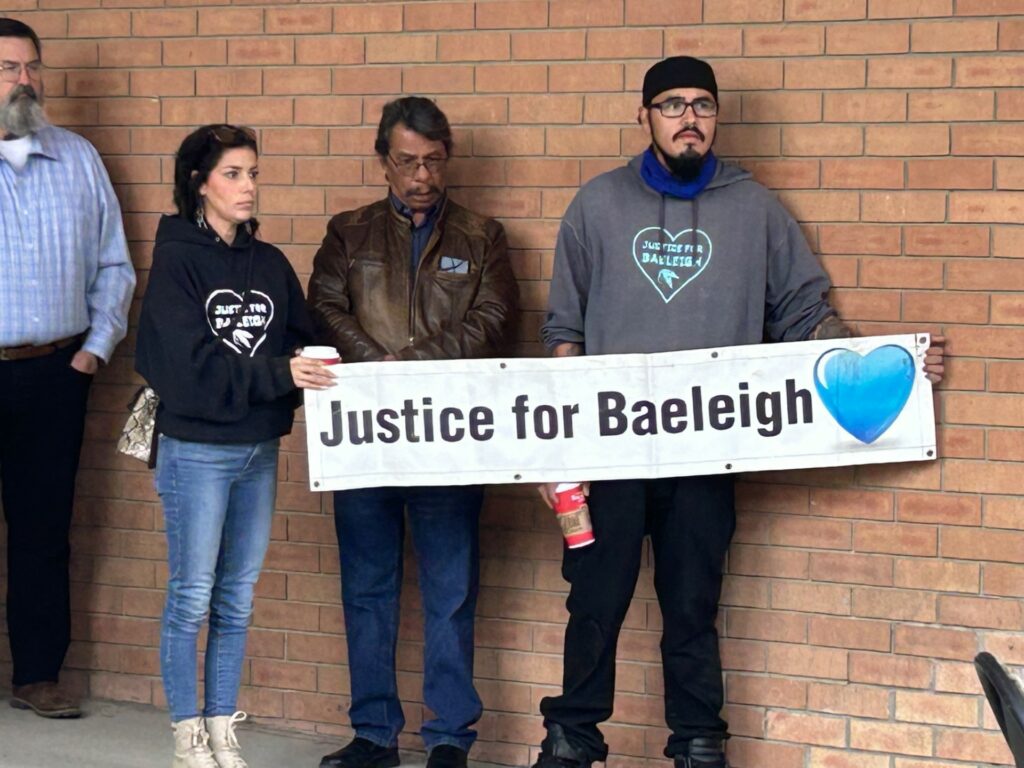 (Photo courtesy of Michael Joel-Hansen.)
(Top Photo: A supporter holds a Justice for Baeleigh sign in front of Saskatoon Provincial Court Thursday morning. Photo courtesy of Michael Joel-Hansen.)