A Pre-trial hearing for one of the several people accused in the murder of Megan Gallagher is set to begin on Monday.
Gallagher, a Metis woman from Saskatoon, went missing in 2020 – her body would be pulled from the South Saskatchewan River in the fall of 2022.  Since then, 9 people have been charged in relation to her death, 4 of whom have been charged with second-degree murder.
Three individuals who were charged with indignity to human remains pleaded guilty to those charges earlier this year.
On the eve of the first pre-trial hearing, hundreds of people gathered at Joe Gallagher Park in Saskatoon to partake in a walk to support the Gallagher family and to bring awareness to Missing and Murdered Indigenous Women and Girls.
While speaking to those gathered before the walk, Megan's father, Brian Gallagher thanked everyone for attending and also thanked those who have approached him and his wife in public giving condolences.
"That acknowledgement is good for the soul," said Gallagher.
Since Megan went missing, Brian Gallagher encouraged those who knew anything about her death and disappearance to "break the silence."  With 9 people now arrested in relation to her death, Gallagher told the crowd that breaking the silence works.  He also encouraged anyone who has information that may help any other missing persons case to come forward.
"The pain never goes away, but you can ease our pain just a tiny bit," he said when referring to MMIWG families.  "If you have information share it. I can tell you that breaking the silence works."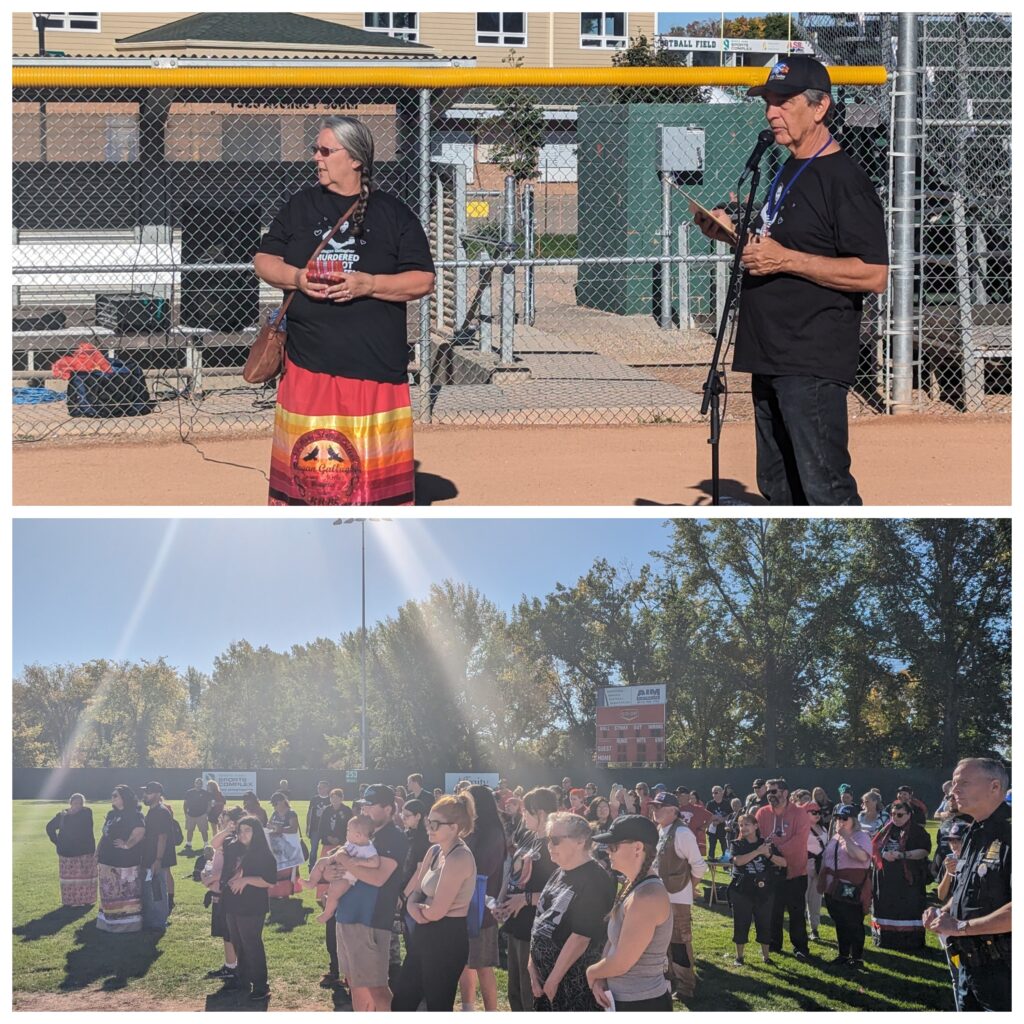 (Top Photo – Brian Gallagher joined by his wife Debbie Gallagher speak to a gathering of supporters pictured below.  Photos by Joel Willick.)
Hundreds of members of the public and several dignitaries took part in the walk from Joe Gallagher Park to River Landing.  Some of the dignitaries spoke to the crowd before the walk.
"It is so hard to imagine what you have already went through with Megan and now having to go through a trial," said Saskatoon Mayor Charlie Clark.  "You are going through something way too many families have had to go through."
"You need to spread the word," said CUMFI President Shirley Isbister.  "Last year was 'we need to break the silence' and now we can see what's happening once the silence is broken."
On Monday, a pre-trial hearing will begin for Roderick Sutherland who is accused of the second-degree murder of Megan Gallagher.  The other accused will have their pre-trial hearings in the coming weeks.
Pre-trial hearings are subject to publication ban; they are used by the court to determine if there is enough evidence to proceed to trial.
(TOP PHOTO – Brian Gallagher is hugged by a supporter outside provincial court in Saskatoon.  Photo by Joel Willick.)