The woman who pleaded guilty in relation to the fire which destroyed the Senator Allen Bird Memorial Centre has received her sentence.
25-year-old Gina Beatty was given an 18 month jail sentence along with three years of probation. After being given credit for time spent on remand, Beatty has no more time left to serve in custody. She pleaded guilty to a charge of arson in relation to the fire. The sentence was handed down Wednesday afternoon in Prince Albert Provincial Court.
Originally when Beatty entered her guilty plea there were plans in place for her to be formally sentenced via a sentencing circle. With this being the plan, representatives from the Prince Albert Fire Department, Prince Albert Police Service (PAPS) and Elders from Peter Ballantyne Cree Nation (PBCN) were present in court. However, due to scheduling conflicts and other concerns the court decided to instead proceed with a formal sentencing hearing, while still hearing from the community members present in court.
Before hearing from the people in attendance the presiding judge had Beatty, who was in custody and dressed in a gray sweat shirt and sweatpants, removed from the prisoner's box and seated beside her lawyer Gordon Kirkby, where she faced the gallery and all those in attendance.
The representatives from the fire department and police service both talked about how they are considered to be small when it comes to the number of people working at a single time and explained a large fire, like the one which destroyed the Senator Allen Bird Memorial Centre puts a real strain on their resources. Neither agency reported any injuries to their members, however the fire department said some of their equipment was damaged as they battled the fire.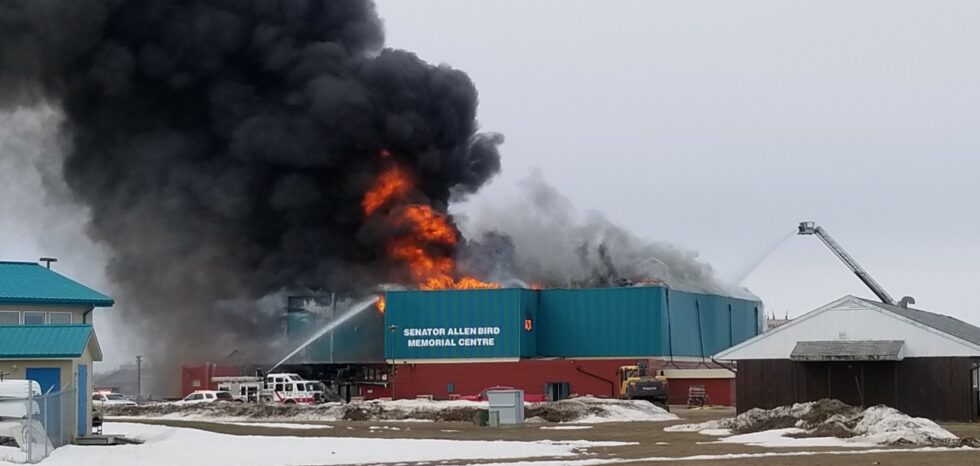 (File Photo.)
Donna Morin, director of finance for PBCN, speaking on behalf of the First Nation, the victim of the arson, told the court about her experience the day of the fire. She explained how she saw the smoke and traveled towards the building and what went through her mind when she saw the fire.
"It was unbelievable," she said.
While Morin was speaking, Beatty became emotional and was wiping away tears. Morin spoke about how the First Nation is working to rebuild the facility and spoke about how people make mistakes. She added Beatty's mother works with PBCN and that she knows the family.
"She (Gina) comes from a wonderful family," said Morin.
The last person the court heard from was PBCN Elder Margaret Michel. While addressing the court and Beatty, Michel spoke about how everyone was devastated by the loss of the building to the fire. Michel as well spoke about the need for Beatty to receive help for her problems while getting support from her entire family.
"She needs rehabilitation, not just short term," she said.
The Elder as well spoke about her personal experience, specifically about how her grandson got in trouble and was helped in turning himself around in part by writing a letter of apology to those who he had wronged. Overall Michel said she believes Beatty can turn her life around.
"I believe she could do good for herself," she said.
After hearing from those who had showed up to speak the court allowed Beatty the chance to address those in attendance. She rose and turned to the gallery and through tears apologized and said she understood her actions impacted many people.
"I acknowledge that my actions caused a lot of devastation to a lot of people," she said.
In handing down the sentence Judge H.M. Harradence said many people including himself were impacted by the loss of the building. He added from his home near the site he saw what happened along with many other people in the city.
"I saw it when it happened to," he said.
The judge said he found the sentence put forward by Beatty's lawyer and the Crown to be appropriate. Harradence did however impose a longer probation sentence then had been originally suggested. The court was told upon her release Beatty plans to travel to Brandon Man. to attend an intensive rehabilitation program. Before she enters that program she will be living with her mother where she will have to follow a curfew and meet with a probation officer while not possessing or consuming drugs or alcohol and attending addictions counselling. Beatty is also not allowed to have in her possession anything which could be used to start a fire and must write a letter of apology to the chief and council of PBCN.
Judge Harradence told Beatty she has an addiction to crystal meth, but has the chance to turn her life around and possibly be an inspiration for others in doing so.
"You can be a role model," he said.
(Top Photo. Prince Albert Provincial Court.)