The James Smith Cree Nation is continuing to work towards healing as the one year anniversary of the mass stabbing draws closer.
Over the next several days the First Nation will be hosting the Federation of Sovereign Indigenous Nations (FSIN) Traditional Healing Gathering. The gathering officially opened Monday morning and during the opening ceremonies James Smith leadership took time to recognize all those who helped the nation during and after the mass stabbing. This also included the presentation of star blankets to some members.
Grand entry is now wrapped up at James Smith Cree Nation where a multi day traditional healing event will be underway for the next several days. pic.twitter.com/8u0Pe3u1qA

— Michael Joel-Hansen (@mjhskcdn) August 21, 2023
During his opening remarks, Peter Chapman Band Chief Robert Head thanked everyone in attendance at the gathering and all the support workers who traveled to the community to help the people who suffered trauma. Head said the mass stabbing's impact was truly widespread for the nation.
"Each and everyone of us lost family members on that day of September fourth," he said.
Chakastaypasin Band Chief Calvin Sanderson said many members are hurting and working through a heavy amount of trauma related to the violence. He explained spirituality is an important part of the healing process for many people and added the gathering will be helpful for that
"You go in the lodge, its there, its sort of like a confidential gathering, you're in that lodge and you have to experience that in there and to pray for our old ways, our new ways and our Anglican churches are still there, we have our minister that's still helping our membership in the community," he said.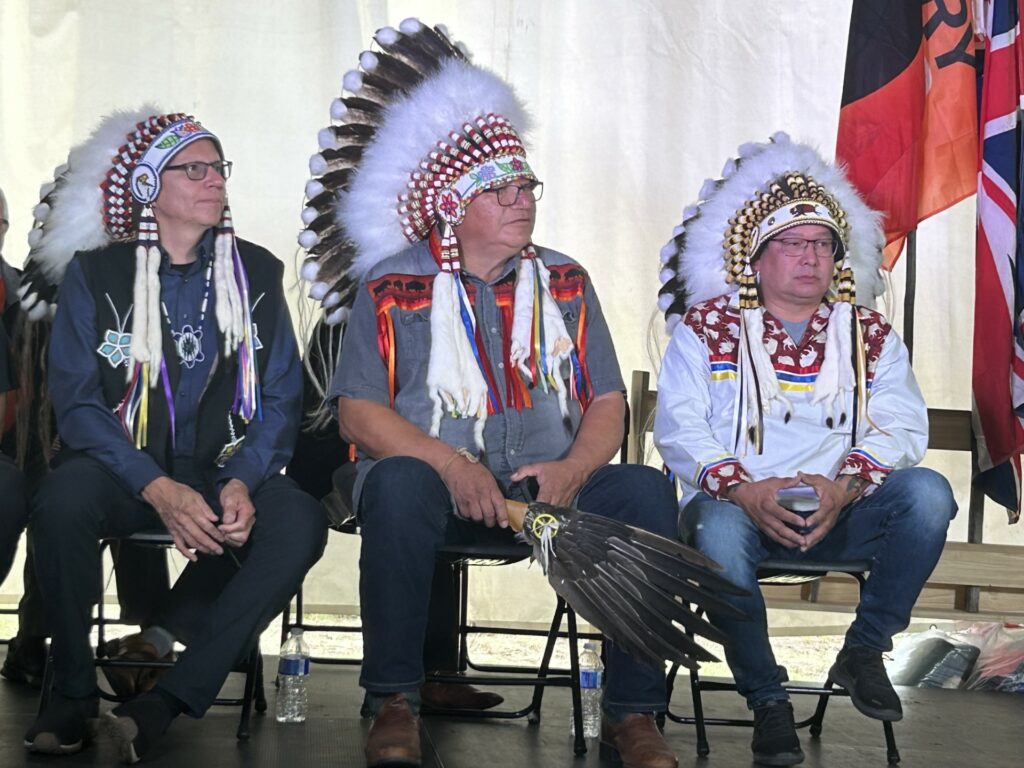 (Peter Chapman Band Chief Robert Head, left, Chakastaypasin Band Chief Calvin Sanderson and James Smith Cree Nation Chief Wally Burns. Photo by Michael Joel-Hansen.)
Shirley Sanderson an Elder from James Smith said bringing people together is an important part of the healing process. Sanderson said the community, herself included need a lot of healing. She added she was thankful for the media presence at the opening ceremonies for the gathering. The James Smith Elder said the event is bringing together people from a range of different nations.
"To see our people come together like this, we are healing each other, especially James Smith, this is what they want and need," she said.
A range of people were in attendance, including representatives from the federal and provincial governments, STARS Air Ambulance and the RCMP. Assistant Commissioner Rhonda Blackmore was invited to the podium to speak and spoke about how the RCMP is working to recruit more Indigenous officers to their ranks. The Assistant Commissioner as well reiterated the force's support for First Nations self administered policing.
"We want to contribute to that, we want to support that and we want to be part of that, because that is how we're going to change the future and make things better in the future," she said.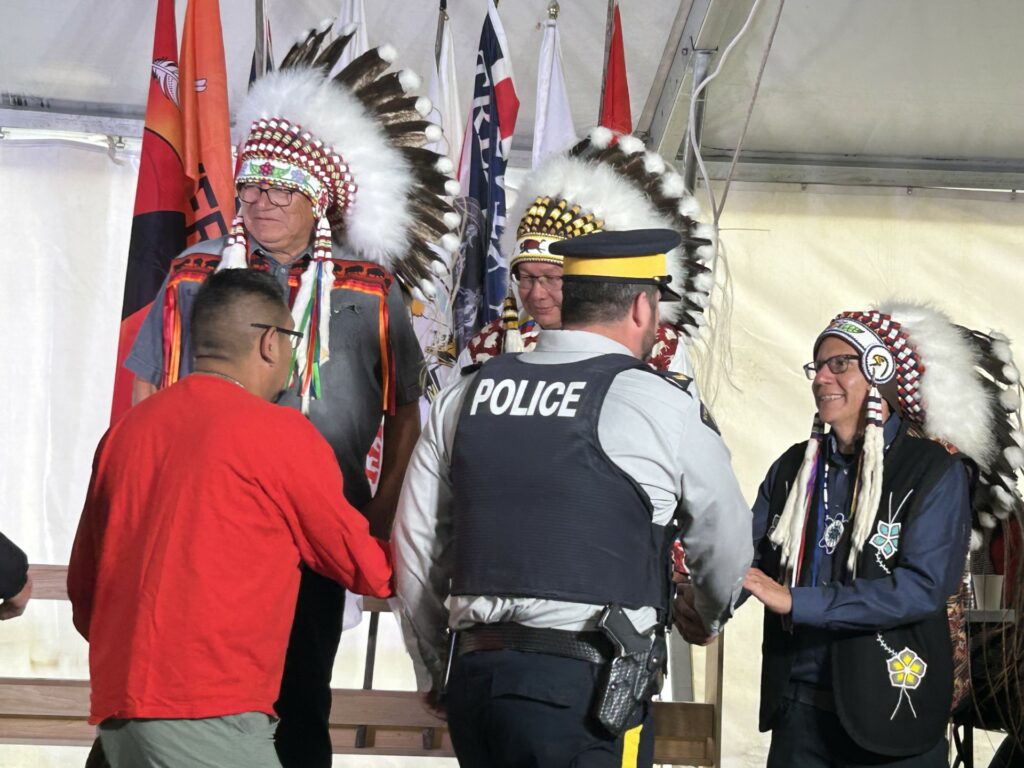 (Peter Chapman Band Chief Robert Head shakes hands with an RCMP officer. Photo by Michael Joel-Hansen.)
Speaking to media after the opening ceremonies James Smith Cree Nation Chief Wally Burns took time to thank the people who stepped up to be part of the First Nation's security service.
"28 of them stepped up in regards to keeping our community safe, that's one of the things we started a few months ago and I am very thankful for them," he said.
Chief Burns as well talked about how the First Nation is continuing their push for self administered policing. Specifically, Burns said the federal government still needs to pass legislation to move the process forward. When it comes to the provincial government's plans to establish the Saskatchewan Marshals, Burns said it is not something he could comment on in any detail.
"I don't know how that's playing out," he said.
The FSIN Traditional Healing Gathering is set to run until Aug. 24.
(Top Photo: James Smith leaders and others with those who were presented Star blankets. Photo by Michael Joel-Hansen.)