Frank Young is being memorialized in two communities.
The young boy, who died after falling into a river near his home on the Red Earth Cree Nation is being remembered with the placement of a cross on Red Earth, which is on the land near where he was found after 81 days of searching. His memorial headstone was also unveiled at the cemetery on Shoal Lake Cree Nation where he is buried.
Former Red Earth Cree Nation Chief Fabian Head said for him the memorial cross going up at Red Earth helps bring some sense of closure. He added putting up the memorial cross will also be helpful for others in the community for their healing. Specifically, Head pointed to the attendance of Lyle Daniels who was one of the people who found Young in the water.
"Lyle was here, he's the person that found Frank and I thank him for having the strength to come here, to the actual site," he said.
When remembering Young, the former Red Earth Cree Nation chief said Young was a special boy who helped bring people together from across the country.
"He brought people together, people from across Canada came and meet here, in Red Earth, families that haven't seen each other for 34 years came and meet here in Red Earth and that was very special and unique how that played out," he said.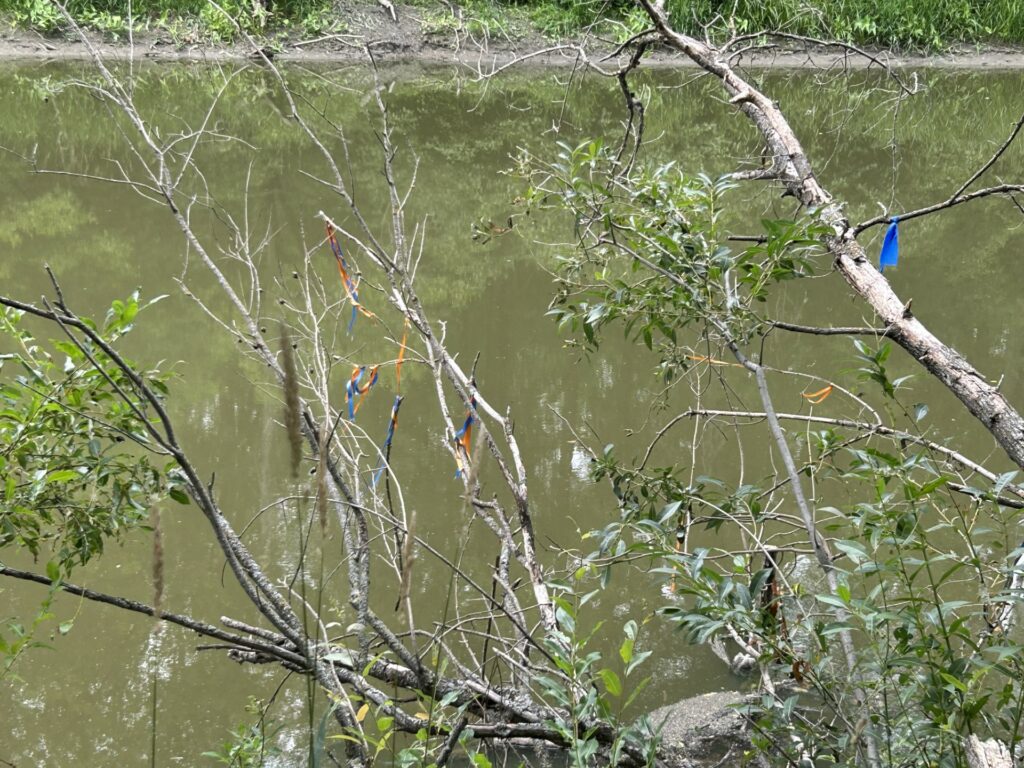 (Ribbons hang on branches above the water where Young was found. Photo by Michael Joel-Hansen.)
Before the ceremonies began at both Red Earth and Shoal Lake their was a prayer from Elder William Lathlin, who also serves as a band Councillor at Opaskwayak Cree Nation in Manitoba. Lathlin said his First Nation's fire department was involved in the effort to find Young. He as well has family living in both communities. Lathlin said it was an honor to be asked to say the opening prayer at both of the memorial events.
When he said his prayers, Lathlin said he wanted to try to bring confront to those who are hurting.
"You talk from the heart, you think of the families, you think of the boy and you believe in what the Creator has taught us and you do the best you can to bring some kind of closure to the family," he said.
Lathlin said the loss of a child is always painful regardless of where it occurs. He explained for First Nations people coming together for ceremonies like the ones on Thursday is an important part of grieving such a loss.
"We get together as families to give each other strength and courage to stand beside each other and especially to give the strength and comfort to the family that's in mourning, that are travelling that journey," he said.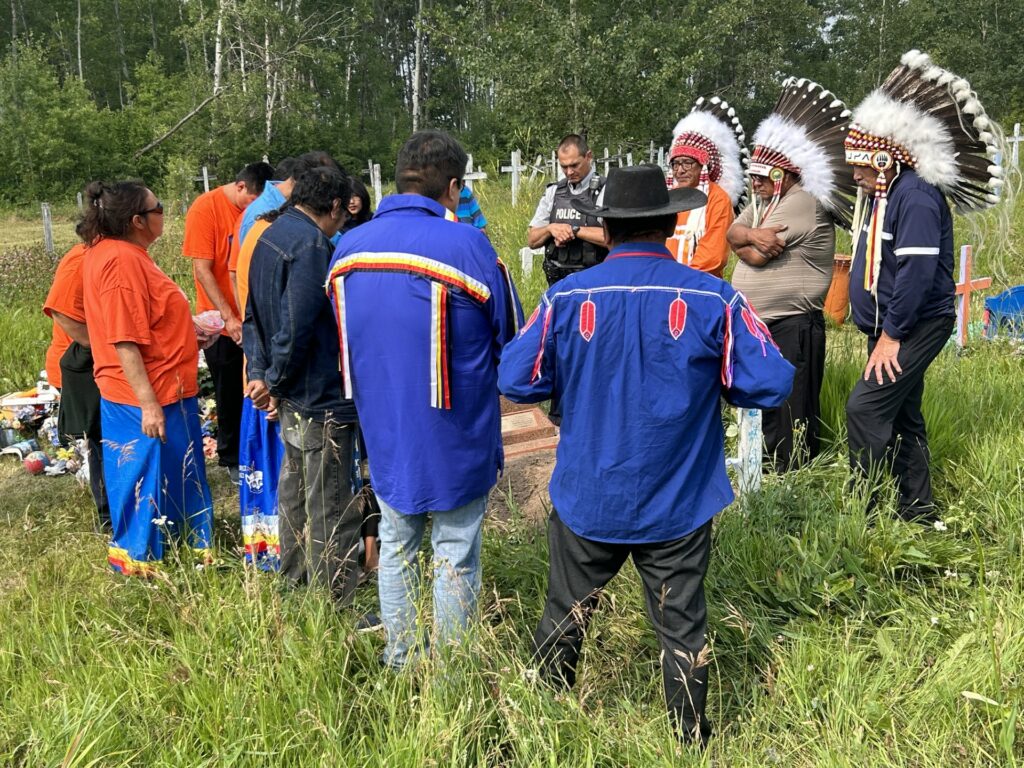 (Mourners gather around Young's grave and headstone at Shoal Lake Cree Nation. Photo by Michael Joel-Hansen.)
Speaking to MBC Radio News after the unveiling of Young's memorial stone at the cemetery on Shoal Lake Cree Nation, his grandfather Mervin Lathlin thanked all those who helped in the search for his grandson.
"We had people from all over Saskatchewan come into the reserve in Red Earth to help us search, the RCMP, both the leaderships of the community, especially fire suppression crews, we had four crews working for us, helping search for Frank," he said.
Along with the searchers, Lathlin as well thanked people who had offered the family financial support and their prayers. He added some in the family still need prayers.
"For my nieces and my son in laws, continue praying for them cause they need prayers," he said.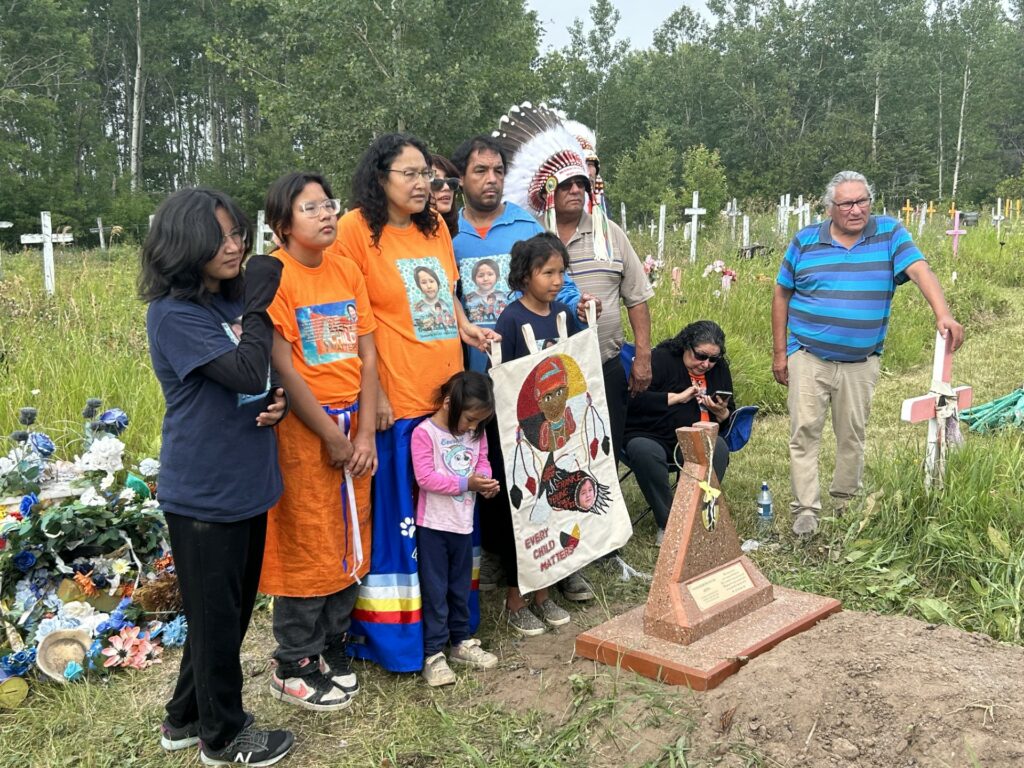 (Young's family and supporters stand behind his headstone. Photo by Michael Joel-Hansen.)
(Top Photo: Young's family with the memorial cross near the site where he was found on Red Earth Cree Nation. Photo by Michael Joel-Hansen.)