Construction officially got underway Monday morning to relocate the St. Frances Cree Bilingual School in Saskatoon.
Several dignitaries were on hand for a land-blessing ceremony to kick-off the start of the school's construction.
"St. Frances Cree Bilingual School is a school like no other, with programming and partnerships like no other and we are here to celebrate the start of construction of this new school that will be like no other in out province and in our country," said Greater Saskatoon Catholic Schools Director Francois Rivard at the ceremony.
"As we continue down the shared journey of reconciliation this new school will serve as a physical living embodiment of Indigenous language, knowledge, teaching, values and culture that can be passed on to the next generations of student," Rivard added.
The Saskatchewan Government is providing a $45.9 million investment into construction of the school.
"The Government of Saskatchewan is committed to embracing and implementing Indigenous knowledge systems, cultures, and languages within the education system," said Saskatoon Churchill-Wildood MLA Lisa Lambert. "This new school demonstrates our government's efforts on the journey of reconciliation and will serve our community for many years to come."
The St. Frances Cree Bilingual School officially opened in 2007, but due to enrollment the program expanded and was offered at two different locations until the program could be joined in this new location.
"Through the Greater Saskatoon Catholic Schools and Saskatoon Tribal Council partnership in the creation of the St. Frances Cree Bilingual School we are investing through identity, language and culture to improve the lives of First Nations people," Saskatoon Tribal Council Tribal Chief Mark Arcand said. "Truth and Reconciliation is the turning point when it comes to improving the lives of First Nations people."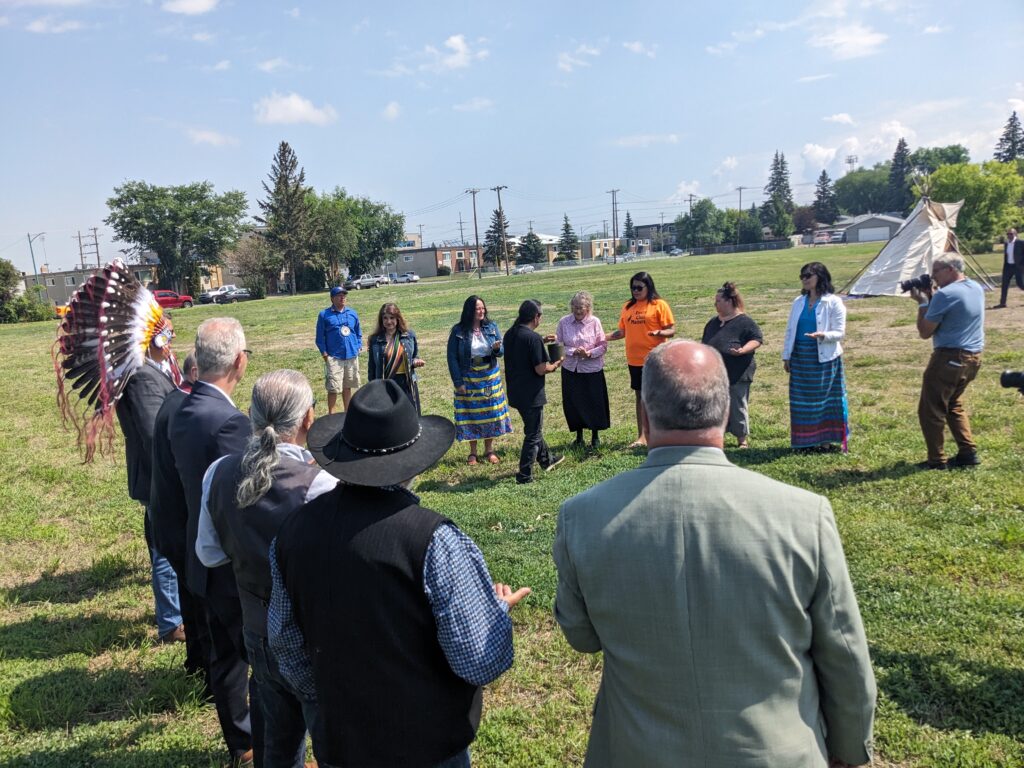 (PHOTO: A circle of elders and dignitaries offer tobacco and prayers at the site of the new location for the school."We are going to offer tobacco to the land where this school will be built upon," said Knowledge Keeper Delvin Kanewiyakiho who helped lead the blessing ceremony. Photo by Joel Willick)
The new spot for the school is at the former Sion Middle School on 7th Street East and will provide space for 600 prekindergarten to Grade 9 students.
The new Cree bilingual school is expected to be open for the fall of 2025.
(TOP PHOTO: Several people gather for the opening of construction of the newly relocated St. Frances Cree Bilingual School in Saskatoon. Photo by Joel Willick)