A Twitter video, thanking outgoing Prince Albert Police Chief John Bergen for his service has been removed, following what is described as persistent harassment from within and outside the police service.
Bergen on Thursday announced his retirement in the wake of a damming report from the Public Complaints Commission, which found that two responding officer who attended a service call last February regarding 14-month-old Tanner Brass neglected their duties.
Tanner Brass was allegedly killed by his father Kaij Brass hours after officers attended the home for a domestic dispute.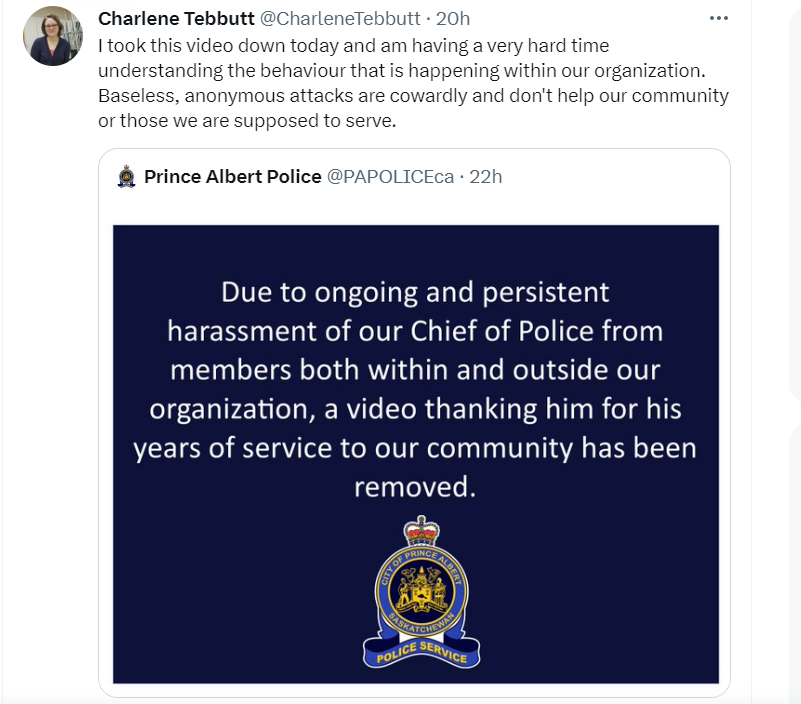 The Public Complaints Commission was tasked with an independent investigation and a report released on Thursday says Tanner's death was "possibly preventable."  The report pointed to several areas where the officers neglected their duties.
The PCC said they have given the report to the Prince Albert Police Service for possible discipline.

During his retirement announcement, Bergen said that not all staff within the police service agreed with him in putting the two officers on suspension, while the PCC completed its investigation. Those officers still remain on suspension. He also cited harassment towards him and his family from within the organization.

Bergen survived two non-confidence votes.
Prior to Tanner Brass's death, the service was rocked by three-in custody deaths within months of each other.  As well, the PCC is investigating two fatal police encounters this year. Bergen is set to retire at the end of the month. An unmanned interim Police Chief from the Saskatoon Police Service will take over.
(With files from Joel Willick.)