Accusations of racial profiling are being levied against a Regina Canadian Tire store.
Ezekial Bigknife claims he was profiled and assaulted by staff and security at the North Albert St. location Tuesday.
He asserts the incident was a carry over from a dispute two-days prior over the purchase of a socket set.
Bigknife alleges that loss prevention employees and staff accused him of stealing the socket set. Bigknife said he tried to reassure staff that the purchase was legitimate, at first denying to show the receipt. After some back and forth, Bigknife did show his receipt and left the store.

Bigknife would return on Tuesday to purchase truck parts, where he said he immediately felt the presence of security and staff, thinking back to the Sunday incident.
Bigknife would record the incident on his phone, claiming Canadian Tire "floorwalkers" were following him.
In the video he would confront the two workers, who would claim harassment. He would be asked to leave the store, yet refusing to do so. Eventually a store employee would intervene and assist Bigknife with his purchase. He credits this store employee with helping him and de-escalating the situation.

Bigknife said that he and the employee would go outside together to repair his vehicle. Upon realizing he bought the wrong parts, Bigknife goes back into the store, where a second video is recorded.
In the second video, Bigknife alleges the security guard used racial slurs towards him. He confronts the security guard and is again asked to leave.
While refusing to, Bigknife is pushed out of the store by staff. His phone is knocked to the ground, where it can be heard that a scuffle takes place. People are attempting to break up the fight.
Bigknife claims he was punched seven times by the unidentified security guard, who is emerging from a display hot tub.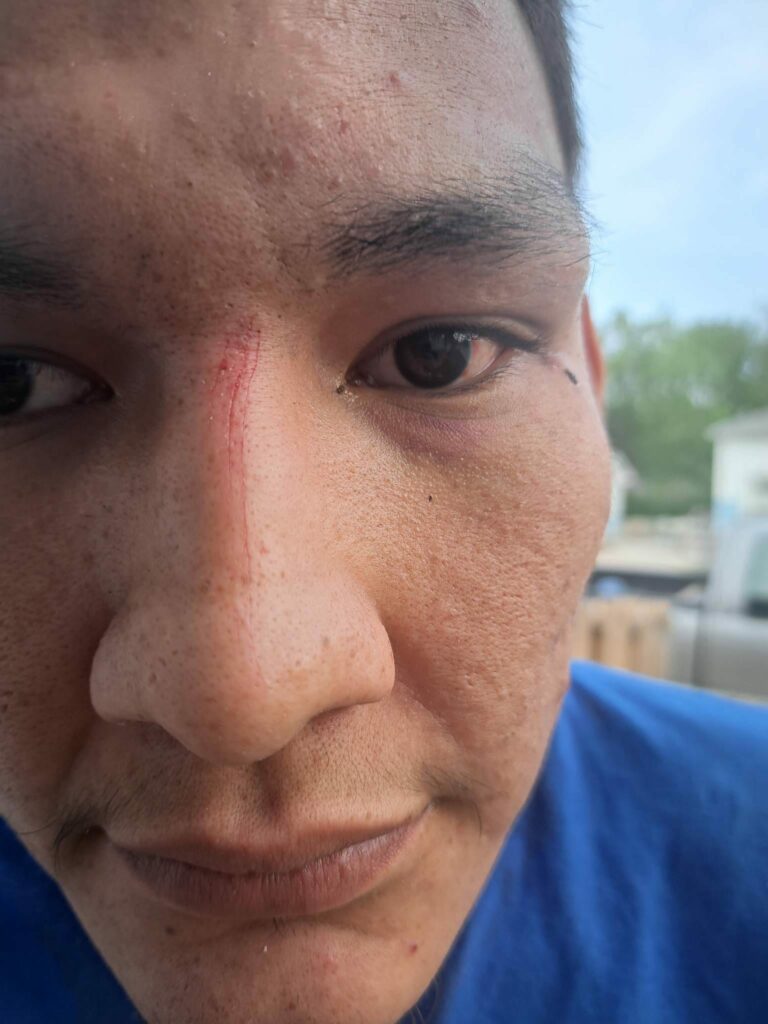 "I went and got an x-ray done. I have a hairline fracture from the incident. I'm very limited at what I can do at work," he said.
Regina Police said officers were called to Canadian Tire. "Police were called, at 7 p.m. on May 23, to a business in the 600 Block of Albert Street for a report of an assault. As a result of the investigation, a 20 year-old male was charged with Assault.  He will make his first appearance in court on this charge on July 10," said a police spokesperson

Bigknife said he has been in contact with an attorney to pursue civil action against Canadian Tire, the third-party security company and employees involved. He adds that Canadian Tire has not reached out to him about the incident.
Bigknife said the altercation has him fearing entering other stores, suspecting he is being watched. He stated he does not plan to shop at Canadian Tire again.


"We take this matter seriously and stores have strict protocols and training programs in place with third-party representatives to ensure clear understandings of expectations on how to conduct business and treat customers with respect. After reviewing the incident with the security agency, we can confirm that the security guard will not return to the store. As it is now a police matter, we will not be commenting further," explained a Canadian Tire spokeperson.
(Photos courtesy of Ezekial Bigknife Facebook.)