The Prince Albert Board of Police Commissioners is hearing about some of the work being done on long term missing persons cases.
Tuesday morning at Prince Albert City Hall investigators spoke about some of the work being done on a number of cases, including the case of Happy Charles, who has been missing since 2017. Prince Albert Police Service (PAPS) Sgt. Kathy Edwardsen explained investigators have been working to solve Happy's disappearance in a number of ways. This includes working to raise awareness about the case through media and following up on tips that come in from the public.
Edwardsen said in their investigation police have been able to find video surveillance footage which has helped them determine the last location where Happy was seen.
"We followed that video surveillance cameras and we were able to determine that she was last seen at the PACI school ground, just before midnight on April 3," she said.
In their search for Happy missing posters have also recently been put up in provincial correctional centres in hopes of generating some possible leads. During her time speaking to the board Edwardsen as well took time to acknowledge the work of Happy's family, who were in attendance for the work they've done to help raise awareness about their daughters case, along with those of other missing people.
"They've really helped us with the media push with awareness," she said.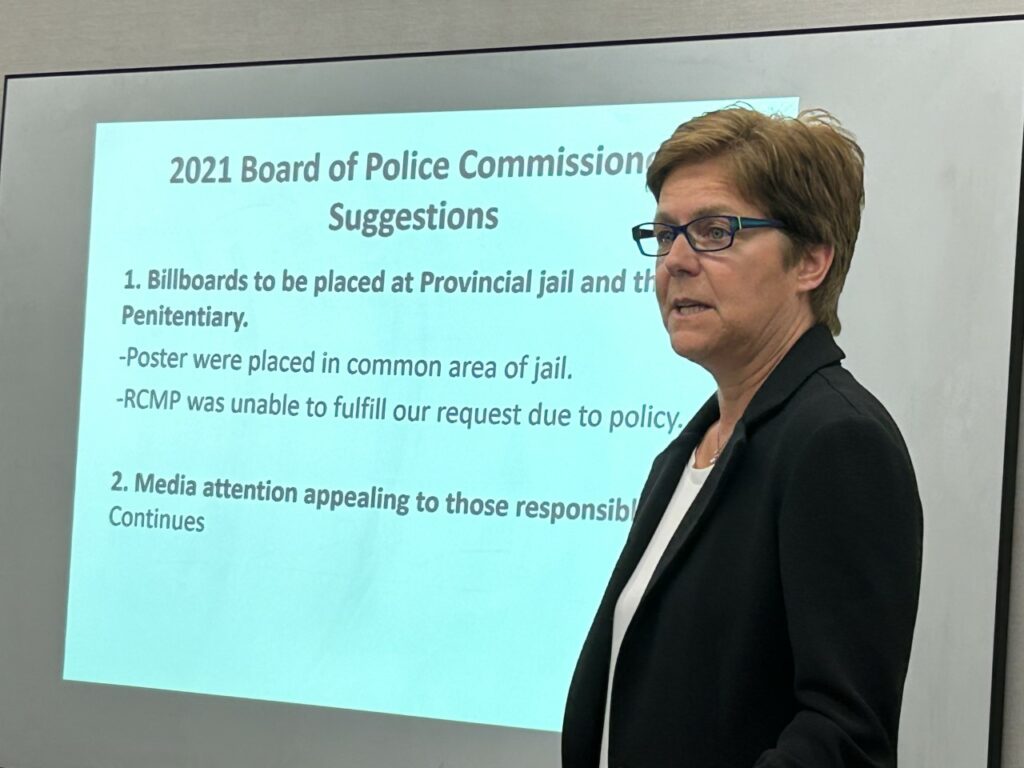 (PAPS Sgt. Kathy Edwardsen speaking to the Board of Police Commissioners. Photo by Michael Joel-Hansen.)
Speaking to media after the presentation, Carson Poitras, Happy's father said the family is pushing for the establishment of an independent office which could provide support to families of missing people and also act as a possible liaison with police in helping to relay information.
"The families just want to be heard, to know that somebody cares, somebody's listening, somebody will forward their message to the authorities and be heard," he said.
Poitras said the search for their daughter has been complicated by the fact their searches have taken them outside the jurisdiction of P.A., which has brought the RCMP into the investigation along with other agencies. He added there have been instances where tips have been given to the RCMP which have not been forwarded on to police in P.A. Overall Poitras said more support is need to help families of all missing people. He said they have met non Indigenous families who have sold their homes and most of their possessions to cover the costs associated with searching for their missing loved ones.
"That's not right, you know, they shouldn't have to go broke, to go do policing work," he said.
Two of Happy's daughters were also present Tuesday at City Hall in P.A. with their grandparents. Marcia Bird said along with being and mother and daughter Happy was also a grandmother who loved spending time with her grandchildren.
"She just always wanted to hang out with them and told us to take breaks and she would look after them, she really loved the family," she said.
Top Photo: Happy's daughters Aleshia Charles and Marcia Bird, left with their grandparents Regina and Carson Poitras. Photo by Michael Joel-Hansen.)