Editors Note: The following news article contains descriptions of violence 
The Saskatchewan RCMP have made public more information about their investigation into the mass stabbings on James Smith Cree Nation and the Village of Weldon.
RCMP released their preliminary timeline of events at a media conference in Melfort in the theater at Kerry Vickar Centre Thursday morning. The majority of the presentation on the police investigation and its findings was made by Superintendent Joshua Graham, who is responsible for overseeing the Saskatchewan RCMP Major Crimes unit, which has been spearheading the investigation. However, Assistant Commissioner Rhonda Blackmore was also present and before the presentation she offered her condolences to victims and their families.
"I can't even begin to imagine how difficult the last seven or so months have been," she said.
Before the violence
RCMP said on September 2, two days before the violence began Myles and Damien Sanderson were selling cocaine to people on James Smith Cree Nation. The investigation as well found that Myles assaulted a woman inside a vehicle.
On September 3 police said the two brothers were involved in an altercation with someone at a home on the First Nation. RCMP said they were contacted by a caller who wished to remain anonymous telling them that Damien Sanderson had stolen her car and that there was an active warrant for his arrest. RCMP said they confirmed their was an active warrant for Damien and were eventually able to track down the stolen vehicle at a home. RCMP said their search for Damien was complicated due to the fact that the picture police had of him was from 2014 and his appearance had changed since then. When the caller came to pick up the vehicle the caller told officers about another possible place where Damien could be, which RCMP said was followed up on.
"Officers checked every location the caller gave them," said Supt. Graham.
According to RCMP Myles's name was not mentioned to them nor were they told about any potential for violence by the caller.
The police timeline said the brothers would go on to commit assaults on more people, including on Gregory Burns. After these assaults the two split up for a period where Damien went to a bar in a nearby community where he told witnesses that he and Myles had a "mission," to do. The two would reconnect again and RCMP said they committed another assault and also sold drugs.
September 4 
Early in the morning RCMP said Myles and Damien were at a home where investigators were told the two were drinking heavily. People at the home told police the two appeared to be "pumping themselves up for something."
Myles and Damien eventually made their way to house number 33 on North Road where Myles assaulted a man using a pair of scissors, he was eventually stopped by Damien, who reportedly told the man not to call the police. As Myles was leaving the home he took a knife from the kitchen. Police said they were called at 5:40 a.m. about the attack and officers from the Melfort RCMP detachment responded, with officers reportedly arriving in the community at 6:18 a.m.
Myles and Damien eventually left the home in a red mini van. Investigators believe while they were inside the vehicle the two got into a confrontation. Damien would flee the vehicle and run into the bush, where he would die due to his injuries.
"Physical evidence confirming this was collected from the road, inside the van and from Damien Sanderson's body," said Supt. Graham.
Attacks continue
Now alone, Myles drove to house 10 on New York Road. Police said he crashed the van in to the front of the house and eventually kicked in the back door. Once Inside the house, Sanderson attacked two people including Robert Sanderson, who died due to his injuries. Myles eventually fled from the house on foot. He then made his way to another house on the same road where he attacked and killed Christian and Lana Head. Myles left the house in Christian's white pickup truck.
Myles then made his way to house 83 on Edward Burns Avenue where he attacked two people inside. The two were able to get away and were as well able to get the keys out of the stolen pickup truck. On the same street Myles got in to another house through a window and attacked a number of people inside, including Gregory Burns, who fled from the house and later died due to his injuries.
On foot Myles went looking for another vehicle. Investigators interviewed witnesses who saw him during this time and described him as wearing bloody clothes and carrying a knife. Myles was able to steal another vehicle,a white GMC SUV and then drove to a house on 12 North Road, where he forced his way in and attacked Earl Burns Sr. Earl gave chase to Myles in his school bus, however he eventually died due to his injuries and was found in his bus on the side of the road.
Traveling in the stolen white GMC SUV Myles eventually made his way to house 33 on Abel McLeod Road where he attacked and killed Thomas and Carol Burns. RCMP said during his attack Myles hit Thomas with the stolen SUV.
Myles would leave the home on foot and try to steal another vehicle from two different houses. He eventually was able to steal a van after attacking two people at another home. Myles would abandoned the stolen vehicle and ended up back at the home on 1020 Edward Burns Avenue, where Lydia Burns and Bonnie Burns were trying to provide help to the injured Gregory Burns. Myles attacked and killed both women.
Myles was eventually able to steal another vehicle, the black Nissan Rogue after forcing his way into another home. He left James Smith and drove to Kinistino, where he stopped at a home and tried to get money from someone. Myles would eventually leave Kinistino, travelling to the Village of Weldon where he forced his way into the home of the final victim Wesley Pettersen.
Assistant Commissioner Blackmore said the fact that Myles was switching vehicles regularly and moving all over the community made it difficult for police to track him at the time of the stabbings.
"It wasn't a situation where he was moving down a single street, that he could be interrupted at some point in time," she said.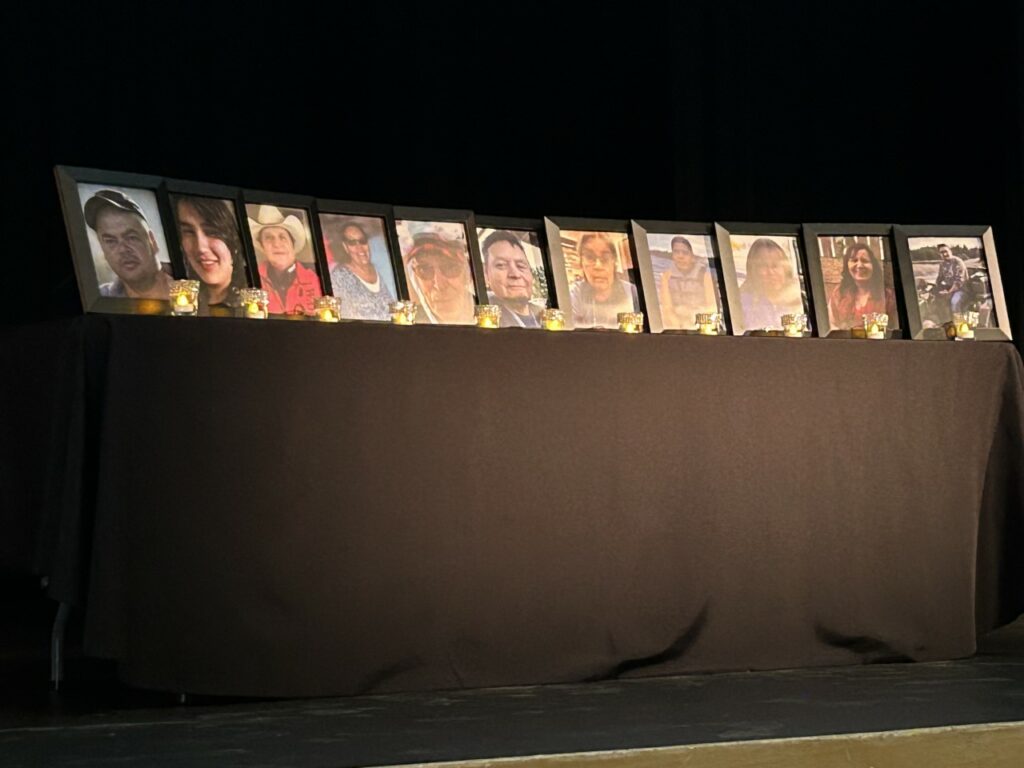 (Pictures of the victims of the mass stabbing were on stage in Melfort. Photo by Michael Joel-Hansen.)  
Capture of suspect
RCMP said on September 7 they were called by someone on an acreage after Myles broke in to a home and stole a cell phone along with a white pickup truck. The person at the home recognized Myles from his picture in the media. Police said Myles would drive the stolen truck to One Arrow First Nation where he tried to get someone to give him a ride somewhere. He was not able to get a ride and left the First Nation in the stolen truck. RCMP said they soon came across Myles driving the stolen truck and after a chase, were able to force him off the road and take him in to custody on Highway 11.
RCMP said not long after being taken into custody Myles began to show signs of what they called medical distress.
"Emergency medical services transported Myles to Royal University Hospital in Saskatoon, where he was later declared deceased," said Supt. Graham.
Information limited due to coming inquests 
RCMP said there are limits when it comes to the information they are able to release to the public. Two Coroner's Inquests are scheduled to go in 2024, one will be looking in to the mass stabbings, while the second will look at the death of Myles in RCMP custody. The planned inquests mean that RCMP were not able to provide details about the cause of Myles's death along with certain information in regards to how they responded to the mass stabbings.
RCMP said they worked with the Office of the Chief Coroner to make sure the information they released would not impact the coming inquests.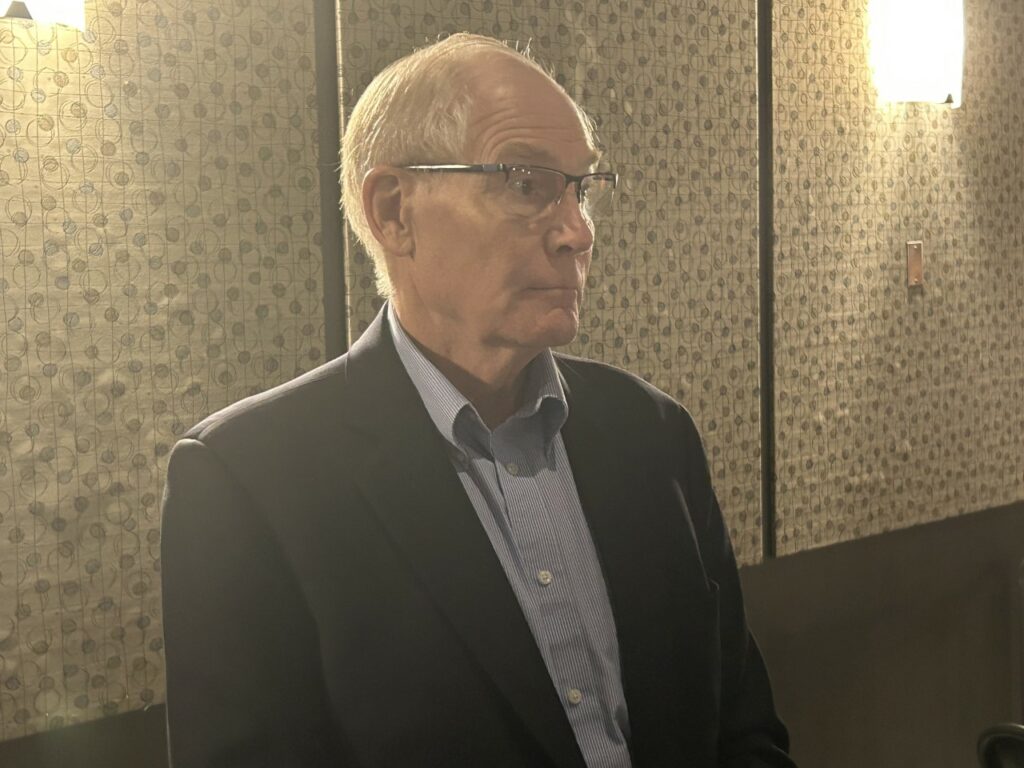 (Chief Coroner Clive Weighill. Photo by Michael Joel-Hansen.)
Chief Coroner provides update on inquests
Chief Coroner Clive Weighill was in attendance at the media conference in Melfort and spoke to media after RCMP finished up their presentation. The Chief Coroner did provide an update on the planned inquests, specifically the first one which will look in to the mass stabbings.
"We have it scheduled for Melfort starting January 15, we have two weeks set aside for the initial part of the inquest," he said.
Weighill said when the inquest does get underway it will be hearing testimony from a range of different people.
"We'll be calling witnesses and testimony from the Parole Board of Canada, from corrections, from the RCMP, from our forensic pathologists that do our medical exams," he said.
James Smith leadership responds
In a media release sent out Thursday the three chiefs of the James Smith Cree Nation thanked the RCMP for their work in regards to the investigation. In his statement James Smith Cree Nation Chief Wally Burns said the violent events in September of 2022 have made it clear the First Nation needs to have its own police service.
"I know we need to develop our own police force. I am not stopping until we get boots on the ground," he said.
Chief Robert Head of the Peter Chapman Band echoed a number of the same points as Chief Burns and also thanked the RCMP for their work. The Peter Chapman Band leader said hearing the timeline has caused many people in the community stress and grief. Head said the nation will be turning to their traditional practices to help people heal. He added the community is still dealing with the issue of drugs and said there are still hurdles to overcome in regards to community safety.
"At present, we are still grappling with policies that keep the RCMP from providing us with adequate policing and protection on reserve," he said.
Chakastaypasin Band Chief Calvin Sanderson joined the other two leaders in thanking the RCMP for their work on the investigation. However, Chief Sanderson questioned why it took over an hour to alert residents about the danger as well as the number of officers who were dispatched originally. The Chakastaypasin Band Chief said people involved with drugs need to be provided with a pathway for healing but also stressed changes are needed on the policing front.
"We need the ability to direct police and coordinate efforts to eradicate drugs and other problems in our community," he said.
Editors Note: This story was amended on April 28 to add the statements from James Smith Cree Nation leadership.
(Top Photo: Sgt. Audrey Soucy, left, Assistant Commissioner Rhonda Blackmore, Supt. Joshua Graham. Photo by Michael Joel-Hansen.)