Survivors of the Ile a la Crosse boarding school are gathering in Saskatoon this weekend.
The boarding school in the northern village ran between the 1820s and 1970s and some First Nations and Metis students who attended the school say they were stripped of their culture, language, and identity.
Over 300 people are expected for the gathering where organizers say they will support each other and move forward in healing.
The gathering will feature several breakout sessions and keynote addresses – including a session with Special Interlocutor for unmarked graves Kimberley Murray as well as an address from wellness expert, Brenda Reynolds.
The National Centre for Truth and Reconciliation is also on site to take statements from survivors.
According to emcee Maureen Belanger mental health supports are available during the three day gathering.
"You have held back your pain and tears for long enough," said Belanger when speaking on the 22 mental health support workers available for survivors.
Ile a la Crosse mayor and legacy survivor Duane Favel called the gathering "historic."
"This is truly a very historical moment," said Favel. "It is historic in the sense that it is the first time all the survivors of the Ila a la Crosse residential school have been gathered under one roof."
Favel is one of the plaintiffs of a recently filed class action lawsuit against the provincial and federal governments who refuse to recognize the school as a residential school.
MN-S Vice President speaks on lawsuit
Metis Nation-Saskatchewan president Michelle LeClair who holds the Ile a la Crosse boarding school file for the Provincial Metis Council addressed the gathering.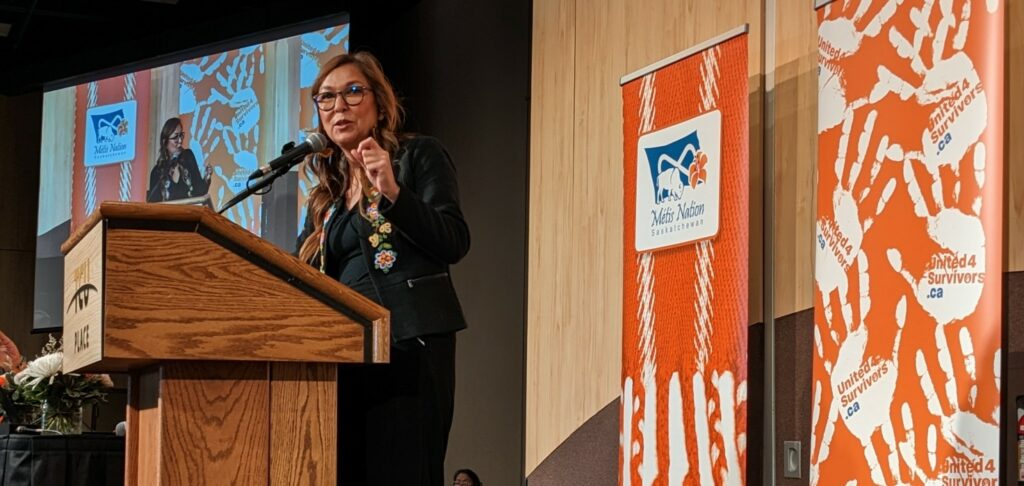 (MN-S Vice President Michelle LeClair speaks at an Ile a la Crosse boarding school survivors gathering.  Photo by Joel Willick)
LeClair spoke on conversations she has had with governments on getting the school recognized and how this has to be done quickly.
"We are seeing so many survivors passing away and it's getting late in the game. It is something that is urgent and it has to happen," said LeClair.
The MN-S Vice President also says the lawsuit goes beyond getting a settlement.
"The first thing isn't compensation – it is acknowledgment and recognition and that people's stories are heard that haven't been heard."
A lawsuit on behalf of survivors was originally launched in 2005, but it has been said that lawsuit stagnated, so a new lawsuit was launched this year.
During her address, LeClair didn't speak highly of the original law firm who filed the 2005 lawsuit. She says the lawsuit was filed, but never certified and the law firm did not help in mediation efforts.
"There have been opportunities that have been missed," said LeClair. "We've wasted 15 years so let's take this opportunity to come out of this conference with some real plans."
A statement of defense by the provincial or federal governments have not yet been filed on the new lawsuit put forward earlier this year.
(TOP PHOTO: Over 300 people gather at an Ile a la Crosse Boarding Schhol survivors gathering at TCU Place in Saskatoon.  Photo by Joel Willick.)