The Saskatchewan Indian Gaming Authority is celebrating the grand opening of the first sports bar in one of their casinos.
On Tuesday night, the new Sevens Sports Bar at Dakota Dunes Casino officially held a grand opening and ribbon cutting.
The new bar features seating, a full dining menu, several big screen tvs, and a jumbo 18 by 30 foot jumbo television.
According to SIGA CEO Zane Hanson, customers will be able to bet on sports at the bar using the SIGA's online betting system recently launched through PlayNow.com.
"We wanted to compliment (PlayNow.com) with a really immersive experience at our casinos," Hansen told MBC News. "We wanted to bring in all of these state of the art viewing systems and really create something incredible for the customer."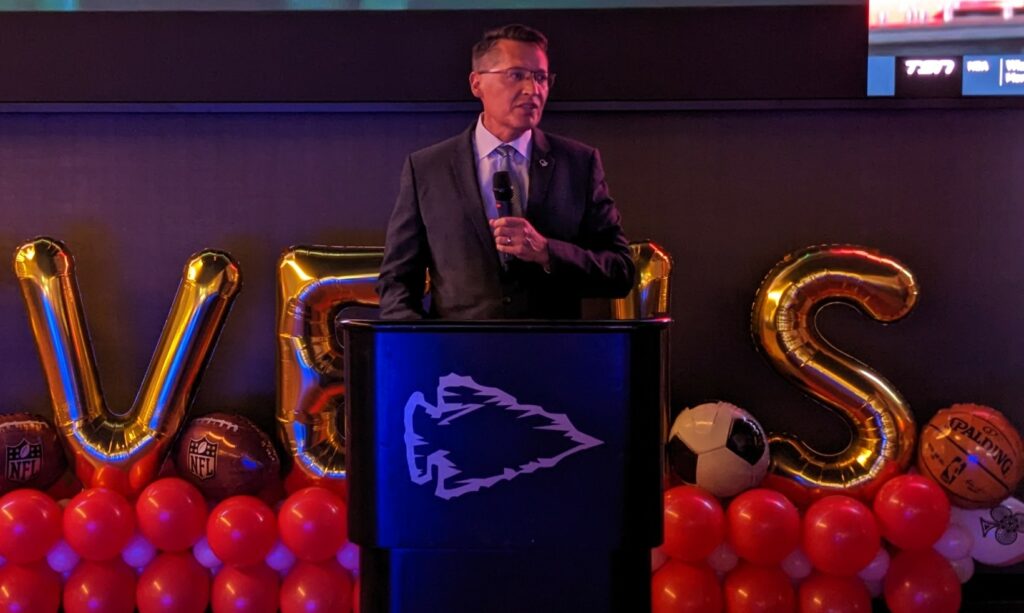 (SIGA CEO Zane Hansen speaks at the grand opening of the Seven Sports Bar at Dakota Dunes Casino. Photo by Joel Willick.)
Hansen says the launch of online betting was key to getting this sports bar completed.
"That was the foundation for it," said the SIGA CEO.
It appears this is only the beginning for sports bars at SIGA casinos as Hansen says there are plans to have similar venues at other casinos.
"Every floor will have a different space and availability in size, but there will be a whole formula we work around to elevate the standards for ourselves," he said.
According to recent media reports, PlayNow.com generated nearly $32 million in profit in its first two months of operation. According to Chief Darcy Bear, who sits on the SIGA board, half of that revenue will go toward First Nations trust funds.