Jury provides 15 recommendations; inquest coroner adds three more
8:09 pm
After over seven hours of deliberating the jury provided 15 recommendations.  4 to the Corps of Commissionaires (Who hire the civilian guards) and 11 to the RCMP.
To the Commissionaires the jury recommends mental health supports to guards whenever they need, regular audits for training of staff, concerns risen by guards would be addressed immediately, and the jury also recommends guards are given more authority to call EMS to RCMP detachments.
For the RCMP – the jury recommends further training on several areas including recognizing signs of drug use and overdose, specialized training to reflect the community including cultural practices, communication and leadership training, and periodic drills for training purposes.  The jury also recommended an increase in prison to guard ratio, an improved acronym system for the organization, that booking forms should be filled in by one officer.  For equipment purposes the jury recommends emergency kits should be checked more frequently, that watch guard video systems are functional at all times and suggested a back up system, and the cell block should have both video and audio capabilities.  They also recommended RCMP audit guard log books more frequently.
Since 2021, the inquest coroner has been given authority to provide recommendations as well and coroner Blaine Beaven had three to offer.
He recommends more training for signs of drug overdonse and an audit to the RCMP booking system.  Beaven also recommended the creation of a special constable to oversee inmate safety who should be given authority to enter an inmate cell.
The following was a statement provided to MBC News By Randy Jr. Wolfe's auntie Carmilla McAdam:
"we remain deeply saddened and upset about what happened. but we are very thankful that the jury listened and made those recommendations. they paid attention and showed that they care about what happened to the late jr. we hope that this will help us as we continue to grieve and heal.
Junior will always remain in our hearts and memories. He was a man who was very courteous and ambitious. Such an amazing nephew.
We as a family thank the onion lake leadership and the onion lake justice with all thier support.  We would thank the Onion Lake wellness staff.
We also would keep in thought that this kind of tragedy does not happen to any other families of any culture or race."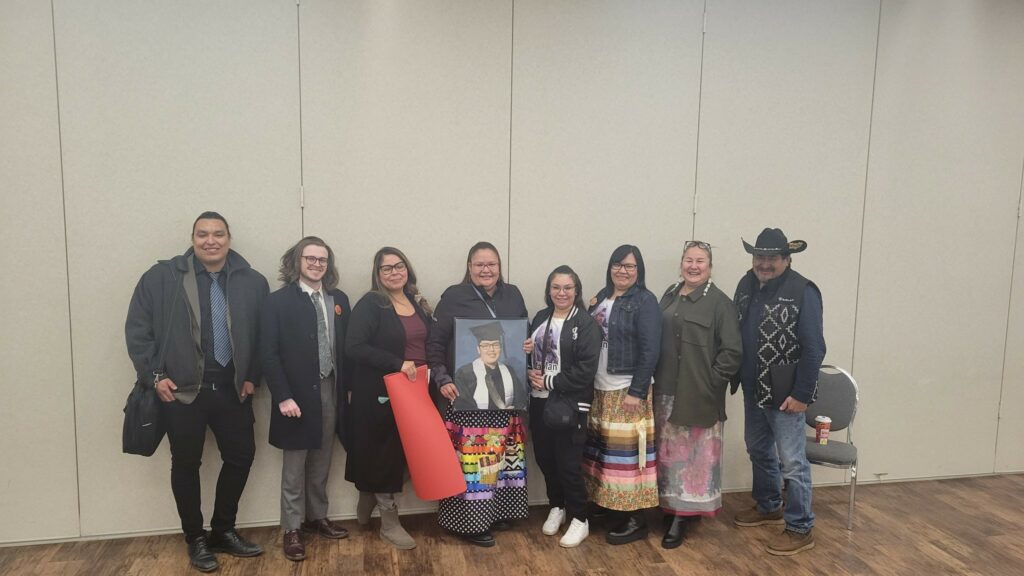 (PHOTO – Family and Friends of Randy Jr. Wolfe pose for a photo after the coroner's Inquest into Randy's death.  Photo provided by Carmilla McAdam.)
Coroner charges jury
1:16 pm
Now that all witness testimony has been heard by the jury, coroner Blaine Beaven has charged the jury.  This means he has officially provided them guidance on what their responsibilities are when deliberating.
Coroner Beaven reminded the jury that this is an inquest and not a trial, therefore, they are not tasked with finding any guilt or blame in the matter.
The six-person jury will be tasked with identifying who died, how the person died, and the time of death.  They will also need to determine the manner and cause of death.
The jury will also be given an opportunity to provide the RCMP with recommendations to help prevent similar deaths in the future.
Beaven spoke on the importance of using only evidence provided during the inquest to make these decisions.
He reminded the jury that recommendations they make need to be practical and implementable.
After deliberating, the jury will return and present the inquest with their findings.
It is important to note, that recommendations from a coroner's inquest are not legally binding.
Staff Sergeant at the Onion Lake detachment provides final testimony
11:50 am
The final witness at the inquest was Kenneth Burnouf – Staff Sergeant and detachment commander at the Onion Lake RCMP detachment at the time of Randy Wolfe's passing.
Burnouf was posted to Onion Lake for 9 years.
However, he wasn't in the community at the time of Randy Wolfe's passing as he was in Edmonton on his days off.  He remembers he had returned to the detachment when third party investigators had arrived to the detachment on October 13.
Burnouf spoke with coroner's counsel about the original criminal investigation involving the reported shots fired and police pursuit that led to a vehicle being stopped with a spike belt.  Like other officers who testified at the inquest, Burnouf was not able to speak on any outcomes from that criminal investigation as he wasn't involved in the investigation.
When asked who could be asked on the outcome of the criminal investigation, Burnouf pointed to RCMP Major Crimes as an option.
Burnouf was then asked about the release of the other passengers in the vehicle Randy Wolfe was in, who third-party investigators from the Moose Jaw Police Service wanted to interview.  The staff sergeant says he can't speak as to why the other passengers were released before the third-party investigation arrived.
Burnouf spoke on communicating a good relationship between the RCMP detachment and the local OLCN community to third party investigators.  Kevin Adrians of the Moose Jaw Police Service testified earlier in the week he found the "complete opposite", which he says made his job difficult.  Burnouf spoke on issues following Wolfe's death where members from the OLCN community were coming to the detachment wanting to know what happened.
The staff sergeant also corroborated previous testimony that there was no new policy implemented as a result of Wolfe's passing.  When asked about a lack of audio capabilities at the cell block at the detachment and asked if he would like to see audio in the cell block – Burnouf said yes.
When asked by coroner's counsel on possible recommendations Burnouf would provide, he says more training to recognize drug overdose.
Burnouf was also asked about Watch Guard video systems, some of which were not working and he says that is a common problem with the system.  He believes these systems should be replaced immediately, but says this often doesn't happen as there is only one technician for a large area.
The inquest has heard about the booking form for Randy Wolfe in which multiple RCMP officers filled in different portions of the form.  The term "OSI" appeared where Randy would have signed the form and no officer has been able to identify where that came from, including Burnouf.
Burnouf says it is policy for RCMP officer to train civilian guards, but appears it may never have happened at the Onion Lake detachment.  Burnouf says he was surprised to hear some of the guards had never received any training from an RCMP officer.
The RCMP officers received mental health support following Randy Wolfe's passing, but the civilian guards did not.  When asked if he thought that was fair, Burnouf said he did not.
Burnouf was then questioned by counsel for the family of Randy Wolfe.  Burnouf was asked about a phone call Elaine McAdam made to the RCMP detachment expressing her desire to speak with the third party investigators of the Moose Jaw Police Service.  According to the family's counsel, McAdam was told the investigators didn't have time to speak with her.  Burnouf says he was unaware of this conversation and says he would have intervened if he knew of it.
………….
One more person is scheduled to testify at the inquest into the death of Randy Wolfe at the Onion Lake RCMP detachment in 2019.
A total of 13 witnesses have testified so far and recaps are available – day 1, day 2, day 3.
After the 6 person jury hears from the final witness they will be tasked with providing the RCMP recommendations to prevent similar deaths in the future.
(PHOTO – The Lloydminster Agricultural Exhibition Assocition building is where the inquest is taking place.  Photo by Joel Willick.)