The Métis Nation-Saskatchewan (MN-S) is recognizing the work of some of their citizens.
Tuesday afternoon in Prince Albert at the E.A. Rawlinson Centre over 20 people were presented with Queen Elizabeth II Platinum Jubilee Medals by MN-S President Glen McCallum. Medal recipients were recognized for their contributions in a number of areas ranging from leadership to business and agriculture.
A number of people from northern Saskatchewan were presented with medals, including Kelly Kwan, who is from Turnor Lake and was recognized for his contributions as a leader. Kwan told MBC Radio News he appreciated the recognition for the work he has been doing.
"To be recognized today is certainly a great honour for me and my family to be thanked for the contributions we've made, because I am so passionate about any type of development and I always want to help improve people's lives," he said.
Kwan said being given the medal as well helps to revitalize his passion to continue the work he has been doing in continuing to fight for the recognition of Métis rights. He added at the present time it is an exciting time to be a Métis person and Kwan said he sees a bright future going forward.
"My grand kids are going to be the ones and the legacy that I leave is hopefully going to be a positive one for all my fellow citizens," he said.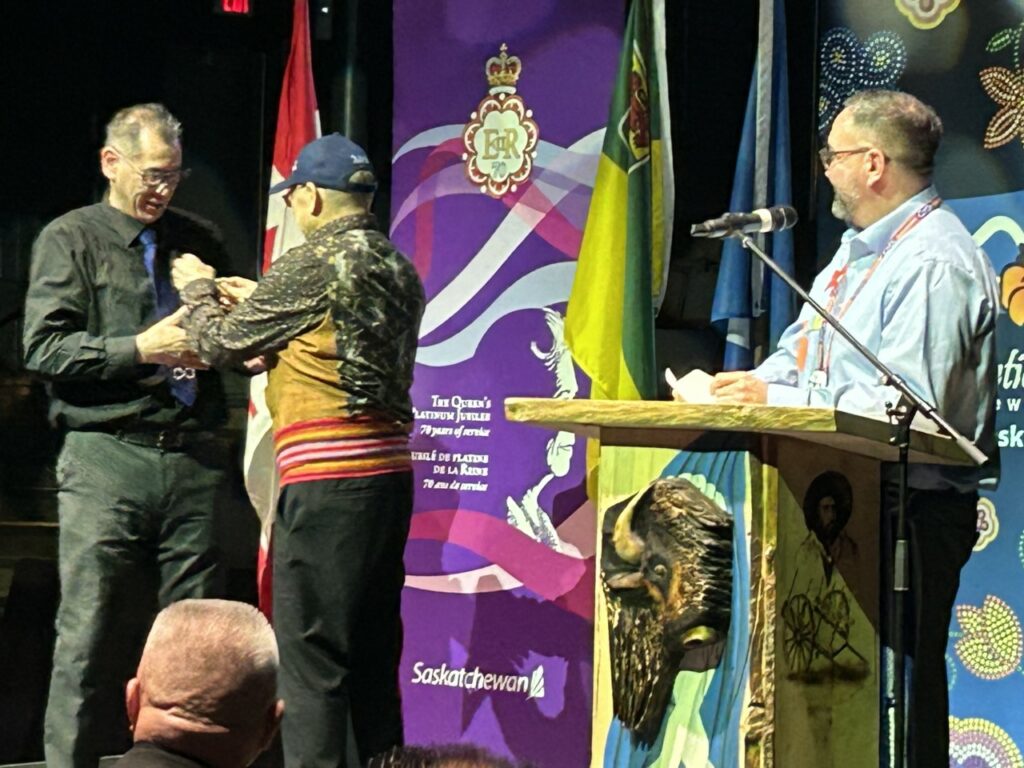 (MN-S President Glen McCallum presents Kelly Kwan with his medal. Photo by Michael Joel-Hansen.)
Another person honoured for their contributions as a leader was Keith Shewchuk, the current president of Métis Local 39 in La Loche. Speaking to MBC Radio News after the medal presentation ceremony Shewchuk said getting the recognition left him thinking about a former mentor.
"I've been involved with the Métis movement since the late eighties when I was introduced to politics from the late Armand Murray, he was a mentor of mine and I didn't get a chance to say a few words today on the stage, but if I had gotten that chance, I would have gladly recognized my mentor, who's no longer with us," he said.
Shewchuk said he is proud to be a Métis citizen and see many of the positive developments which have been coming about recently, especially when it comes to self government and the acknowledgement of some of the rights of Métis people.
"It really does feel like an honour to be able to represent your community and represent our region with pride and to let people know being a Métis citizen is something to be proud of," he said.
Besides those who have worked in Métis politics, there were also medals handed out to people who have made contributions in other areas. Two other people who were recognized were Perry and Wendy Vermette, who own and operate Vermette Wood Preservers in Spruce Home. Perry said when he got word that he was being awarded a medal he was taken completely by surprise.
"I was nervous at first, I told my wife, I am sending an email to refuse it, however she said 'are you serious, when someone steps up to the plate to honour you like this why wouldn't you, (accept it) you know'," he said.
Overall, Perry said he was honoured to get a medal and said in the over 40 years they've been in business he and his wife have been able to help out a number of young people in terms of employment. Overall he added he is proud of his heritage.
"I am so proud to be a Métis and when I look at it, I mean I've got French, I've got Scottish and I've got Indigenous ancestry and together I think they've made me a better person," he said.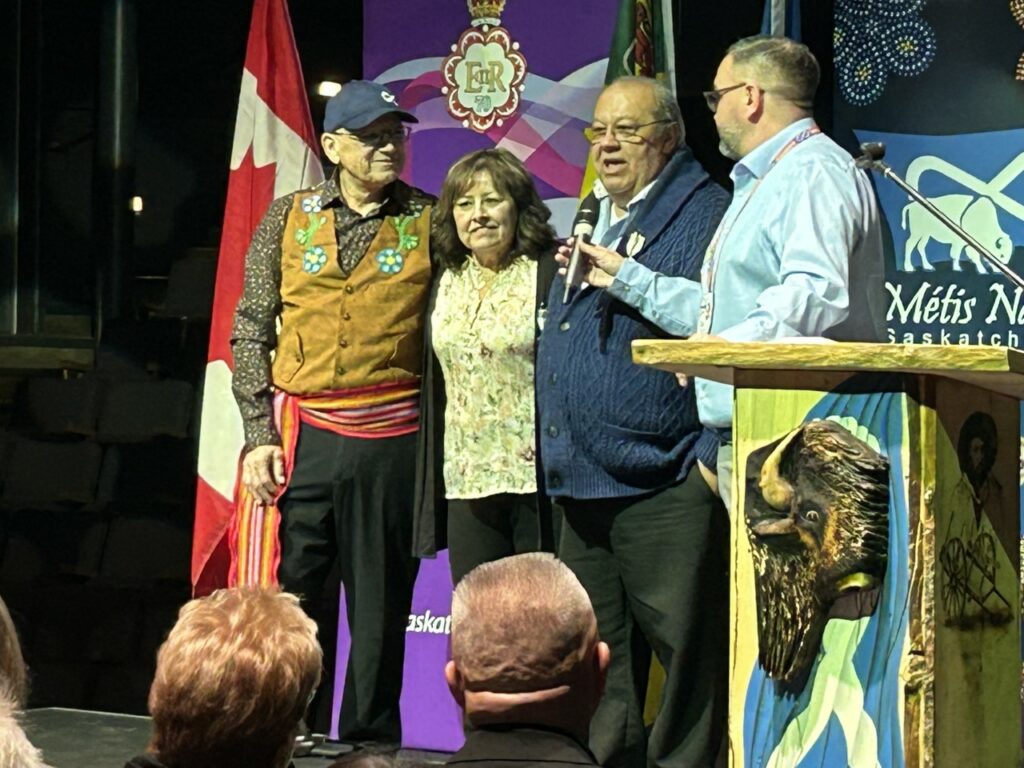 (Perry Vermette, right, speaking to the crowd after being presented his medal. Photo by Michael Joel-Hansen.) 
(Top Photo: MN-S President Glen McCallum speaks to the crowd before the medal presentations at the Rawlinson Centre. Photo by Michael Joel-Hansen.)