Editors Note: This story was amended on Feb. 15 to include a response from Indigenous Services Canada. 
Drinking water quality is currently a cause of concern for members of the Lac La Ronge Indian Band (LLRIB) living on Little Red River Reserve.
People living in the community north of Prince Albert are currently being given bottled water as the water coming from the treatment plant on the Montreal Lake Cree Nation side of the reserve is not safe to drink.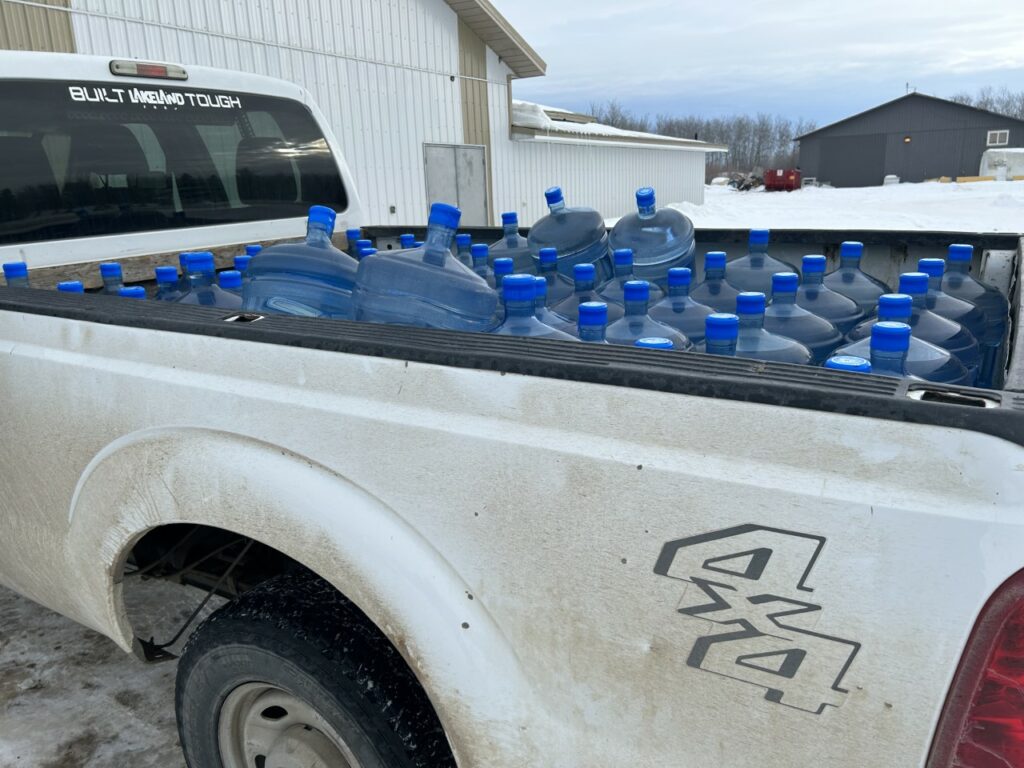 (A pickup truck loaded up with bottled water to be delivered to residents. Photo by Michael Joel-Hansen.)
John Halkett a Band Councillor for Little Red River told MBC Radio News the LLRIB community, which is currently home to 355 people, has been dealing with water issues for sometime. He added the poor water has had real impacts on some of the people living there.
"Our water issues are bad water and I am putting it mildly when I say bad, its terrible, we had a band member who had to get surgery (on his stomach), doctors told him it was the water," he said.
Residents on the LLRIB side of Little Red River do not have water piped directly into their homes, but rather have it delivered by truck where it is pumped into holding tanks. Most of the tanks are in the ground, however some are in buildings that sit next to the house.
Halkett explained while it would be useful for the LLRIB side of the reserve to have its own water treatment plant, he said that would not completely solve the current issues as many homes in the community have water holding tanks which are not in good condition and do not hold water properly.
"We need good water holding tanks that don't leak, that don't break," he said.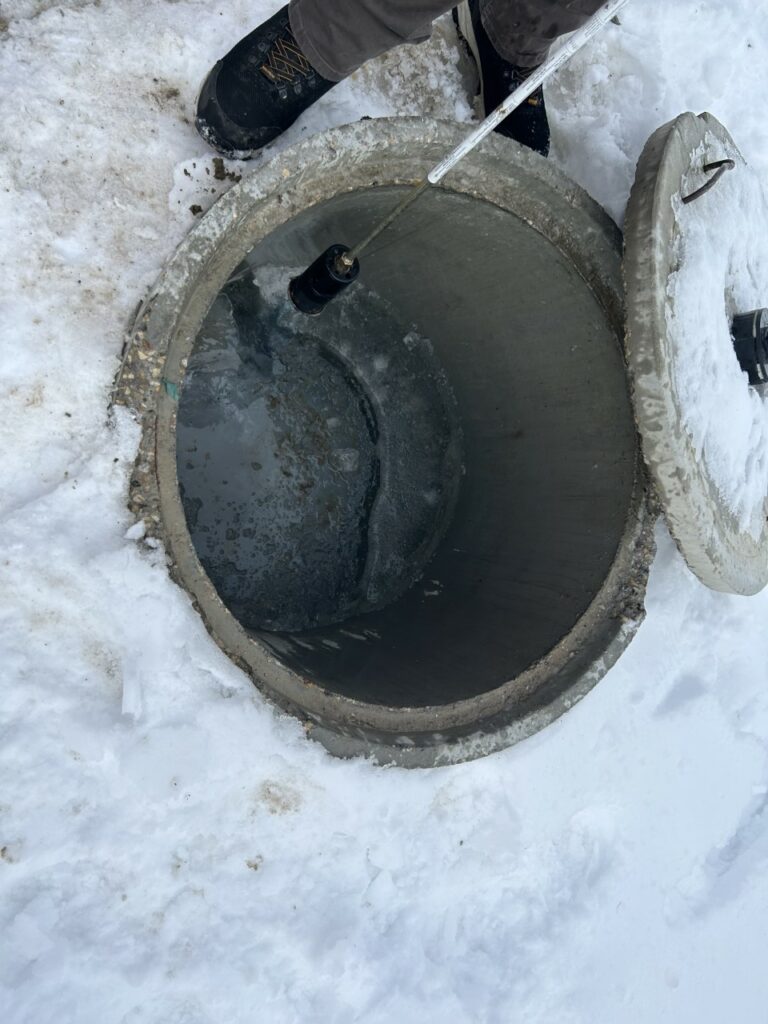 (A worker using a blow torch to thaw frozen water in a holding tank. Photo by Michael Joel-Hansen.)
The community is as well having to deal with issues related to their sanitation infrastructure which is not adequate for their needs. Halkett said some resident's tanks are not in very good shape with some of them collapsing.
LLRIB Chief Tammy Cook-Searson told MBC Radio News that drinking water has been an issue in Little Red River for as long as she has been involved in band politics. Cook-Searson explained the band has been pushing for action to be taken.
"We've been advocating and then we get to a certain point and then some how, we do get some support, but then not enough to make sustainable long term solutions to the drinking water in Little Red," she said.
When it comes to long term solutions to the drinking water issues, Cook-Searson said the First Nation has been working to get their own water treatment plant built to help deal with the problem. The Chief said new water holding tanks are also being requested. Another possible solution being looked at as part of a feasibility study is for Little Red to connect to the City of Prince Albert's water supply.
"Those feasibility studies will look at all those options, but we do need immediate long term solutions," she said.
The LLRIB chief said many people in the community do not trust the water that is pumped in to their tanks enough to bath themselves in. This forces them to heat up the bottled water which is delivered to them so they can properly clean themselves.
"The situation is very dire there," said Cook-Searson.
Indigenous Services Canada provided an email response to MBC Radio News in regards to the situation.
"Montreal Lake Cree Nation in Saskatchewan, with support from Indigenous Services Canada, has completed a number of repairs to the Little Red River Public Water System. The system also serves a portion of the Lac La Ronge Indian Band.
A boil water advisory, in place since May 2021, was lifted on August 22, 2022.  A targeted do-not-consume advisory, which was set in March 2021 due to high levels of manganese, was lifted on January 30, 2023.
The Circuit Rider Training Program and the experienced operator from the Montreal Lake Reserve is providing training and operational support to address operational issues with the current water treatment plant. A project is underway to upgrade the water treatment plant to address the long-term needs of the community.
On working to lift long-term advisories:
Indigenous Services Canada is working in partnership with First Nations communities to improve on-reserve water and wastewater infrastructure and expand access to clean drinking water.
Specifically, Indigenous Services Canada is providing sustainable investments to prevent short-term advisories, lift long-term advisories, expand delivery systems, build capacity of and retain local water operators, and support regular monitoring and testing.
Since 2015, First Nations, with support from Indigenous Services Canada, have prevented 240 short-term advisories from becoming long term, and lifted 138 long-term drinking water advisories, including the lifting of the long-term drinking water advisory on the Little Red River Public Water System on January 30, 2023."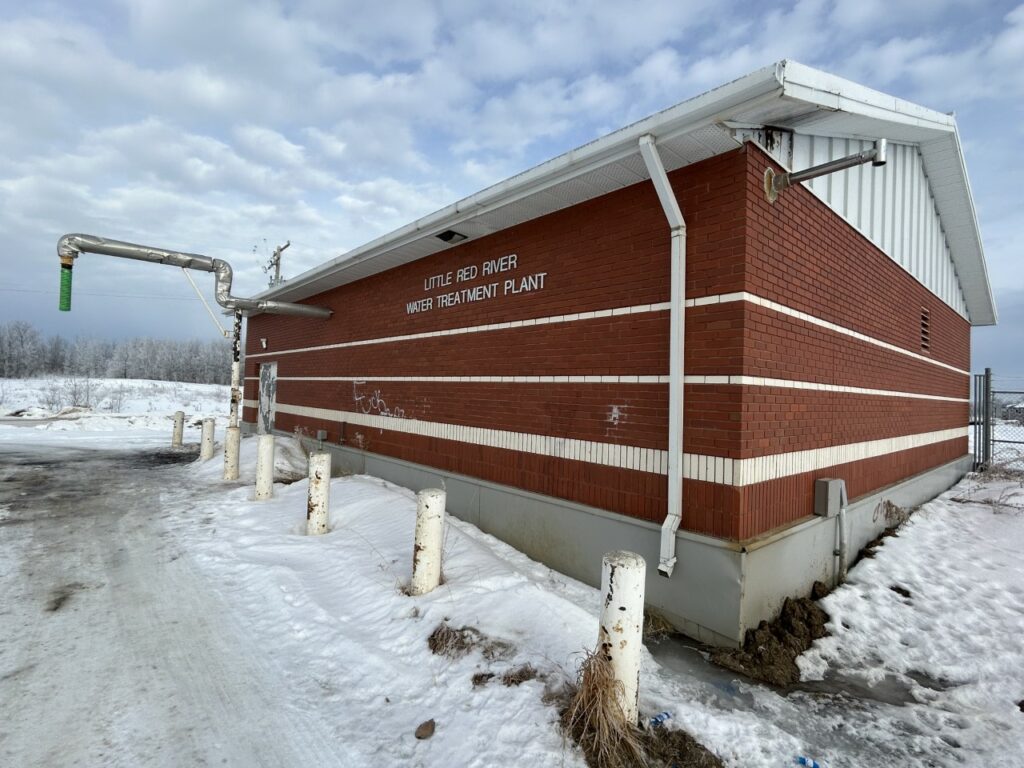 (The water treatment plant on the Montreal Lake side of Little Red River Reserve. Photo by Michael Joel-Hansen.)