The late great Wayne "Gino" Odjick is being remembered for his legacy both on and off the ice.
Odjick, born on the Algonquin reserve of Kitigan Zibi in Quebec, spent 12 seasons in the NHL for the Vancouver Canucks, the New York Islanders, Philadelphia Flyers and Montreal Canadiens.
During his time in Vancouver, he would quickly become a fan favourite for his physical style of play.
On Sunday, his family posted on social media that Gino passed away at the age of 52. He was previously diagnosed with Amyloidosis – a rare disease he previously said attacked his organs and heart.
Following the announcement of his passing, many took to social media to share their memories of Odjick and how many grew up watching him plan in the NHL.
Among them was Saskatoona Blades Assistant Coach and former professional hockey Wacey Rabbit who posted to Twitter.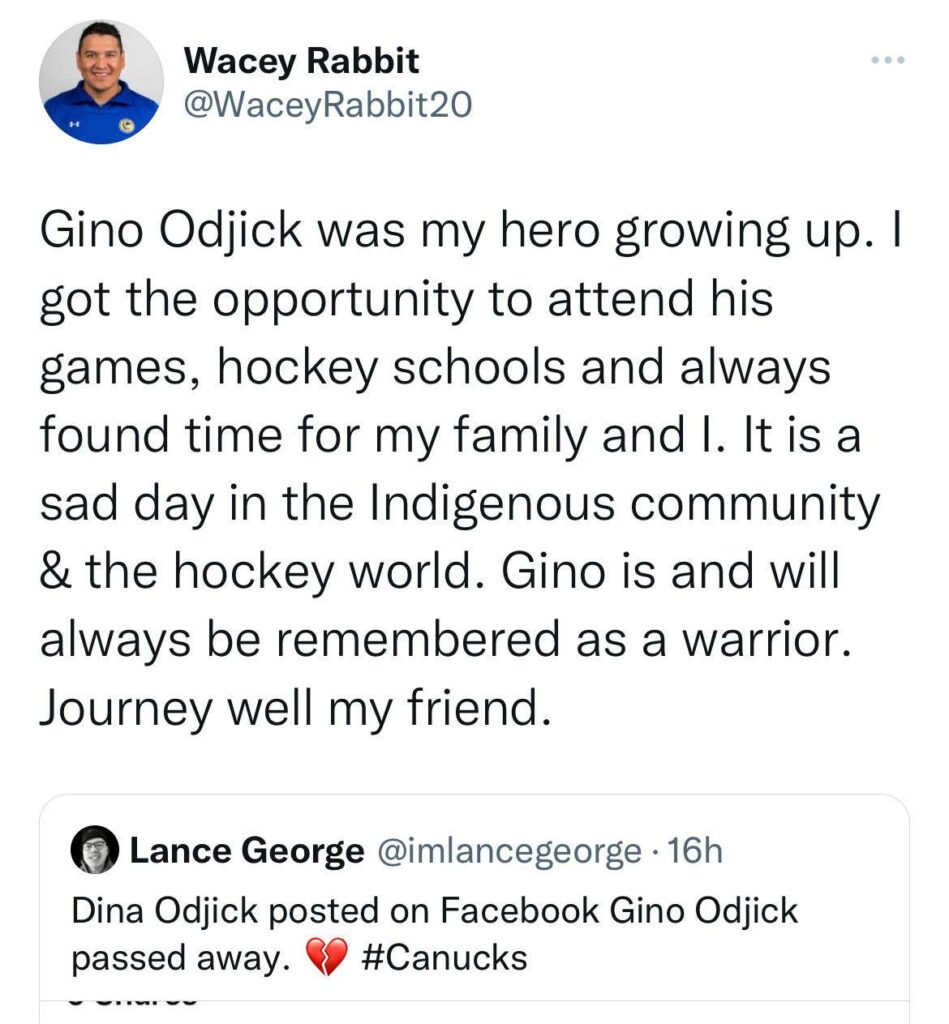 Rabbit spoke with MBC News about the legacy Odjick had on himself, many other Indigenous people, and the hockey world as a whole.
"Anytime that Gino would come to Alberta we would go to the games and he would always make time for my mom and my dad and many other Indigenous people in Treaty 7," Rabbit said. "He meant a lot to a lot of people and it is sad because not only Indigenous people, but the entire world lost a great person."
Rabbit was not shy in saying that Odjick was his hero, a term he doesn't throw around lightly.
"He was one of the first Indigenous players to play in the NHL and when young people see someone like that in that spotlight , in the highest of their profession, it gives belief in yourself that you can do it as well."
However, for Rabbit, while the legacy of Gino Odjick's on-ice career was prolific, he says it was the man off-the-ice whose legacy will have the most impact.
"The hockey player is one thing, but the amazing person he was off the ice will never be replaced."
Rabbit now hopes the impact Odjick had on his own career can be carried forward through him.
"I am always going to make sure to make time for people and to carry a smile on my face because that's the way Gino was."
(Top photo courtesy of hockeydb.com)