Prince Albert is now being served by a van providing harm reduction services.
Media were invited to come see the van, which has now been in service for around two months, late Friday morning. A number of dignitaries from the provincial government were on hand for the event including Prince Albert MLAs Joe Hargrave and Alana Ross. Leadership from the Saskatchewan Health Authority (SHA) were also present.
Angie Sheppard, the intake coordinator for the rapid access addiction medical clinic in P.A., is one of the people staffing the van. She explained they make sure to visit various parts of the city where people who may need their services are known to be.
"What we did was we took the high risk areas in the city and we divided them into sections and we allocated each section per day," she said.
Angie Sheppard explains some of what is available in the mobile harm reduction van now serving Prince Albert. The van has been in service for about two months and is one of five operating in Saskatchewan. pic.twitter.com/JaCdJSIa0U

— Michael Joel-Hansen (@mjhskcdn) November 25, 2022
The mobile van is able to provide services like needle and pipe exchange along with certain testing for drugs and some basic first aid to name a few. Sheppard said the people who the van is providing services to are going to use, so the aim of the van and harm reduction services overall is ensure they can do so in the safest way possible. She added so far the van and the services they have been offering have been met with a good response.
"So far the response has been quite positive," she said.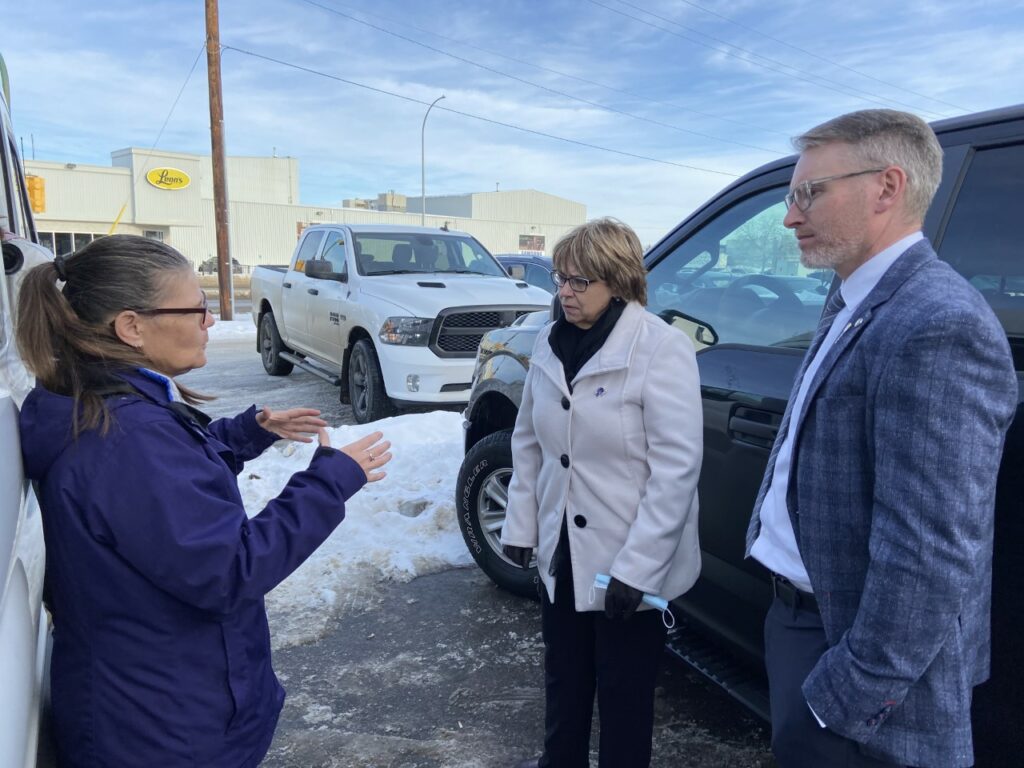 (Angie Sheppard speaking to Alana Ross and Everett Hindley about using the van to deliver services. Photo courtesy of Michael Joel-Hansen.)
Everett Hindley the provincial minister responsible for addictions and mental health said the money to pay for the van is part of over $400 million which was allocated in the most recent provincial budget for mental health and addictions programming. Hindley explained initiatives like the mobile harm reduction van are part of a larger strategy for the province.
"This really speaks to what we're trying to do as a government, which is trying to make sure that we're providing people with the ability to access harm reduction supports and services on that pathway towards long term treatment and recovery," he said.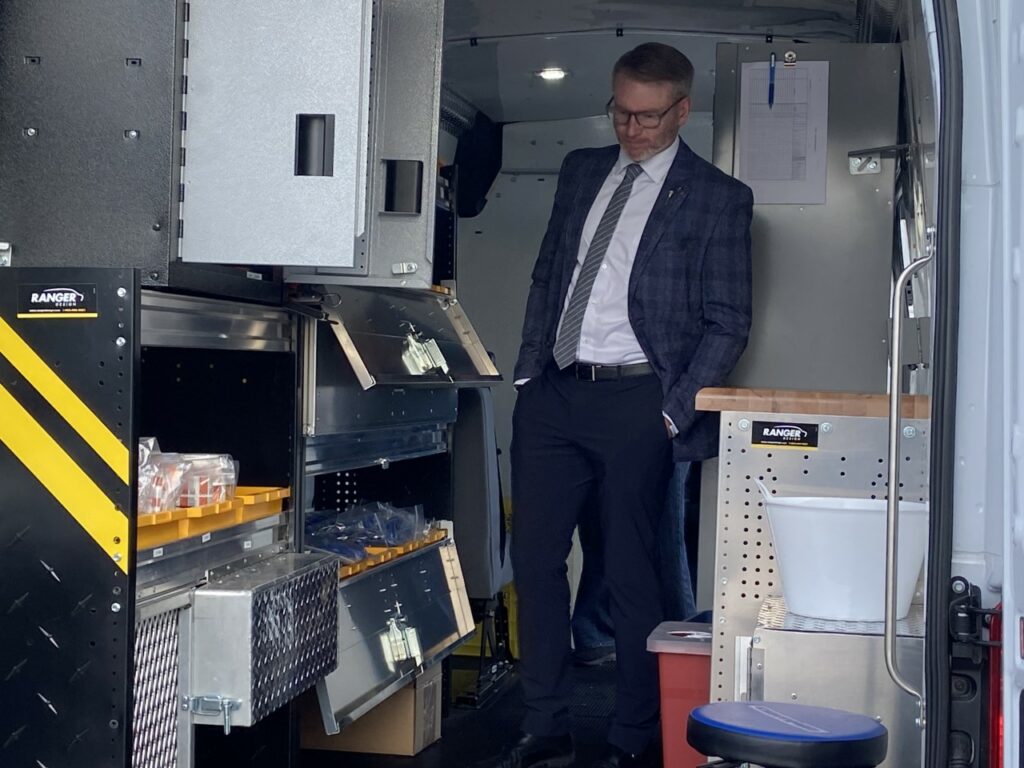 (Everett Hindley looking at some of the supplies the van is able to give people. Photo Courtesy of Michael Joel-Hansen.)
There are currently five vans in Saskatchewan offering mobile harm reduction services. Besides P.A., vans are running in Saskatoon, Regina, North Battleford and Yorkton. Hindley said adding mobile vans to other communities is not something which is currently under consideration by the province, but expansion will be under consideration in the future when the budget is being done up. The minister said when it comes to providing harm reduction services to areas with smaller populations there are other methods of delivery that can be looked at.
"Harm reduction lockers, where people can have access to these sort of supplies and there's still that connection with an addictions counselor that needs to be made and that's what we're trying to do is forge those relationships, that's ultimately what we're trying to do, is try to reach as many people as we can," said Hindley.
(Top Photo: The outside of the new mobile harm reduction van. Photo by Michael Joel-Hansen.)