A influential former Métis leader is being recognized for his contributions to the City of Prince Albert and surrounding area.
Tuesday afternoon at the Prince Albert Historical Society Museum an official Parks Canada plaque was officially unveiled which displays the many contributions of James Isbister.
Among those contributions are founding the Isbister settlement in 1862 which eventually became part of the City of Prince Albert. Also as an English speaking Métis person Isbister is credited with helping to bring together English and French speaking Métis people as they both struggled to have their lands and rights recognized by the Government of Canada. He was also part of a delegation which traveled to Montana and asked Louis Riel to return to lead the Métis people in their movement for recognition.
Sherry Mclennan, the regional director of western region two for the Métis Nation-Saskatchewan (MN-S) speaking to media after the unveiling said she is happy to see Isbister being acknowledged.
"It is great recognition for a Métis leader that has been a part of our past, it talks about leaders and what they do in the Métis nation, we're just very proud of Isbister," she said.
Mclennan, who as well serves as a knowledge keeper for the City of P.A., explained Parks Canada wanted to recognize Isbister and approached the MN-S, who were supportive of the idea. Mclennan said members of the family were involved in the process too.
"Coreen Isbister was also on the committee with Prince Albert and she is married into the Isbister family and I also know a lot of Métis people that are decedents of James Isbister, that are here today," she said.
The official plaque will be placed on the former site of the Isbister settlement which is in the western part of the city on 19th Avenue.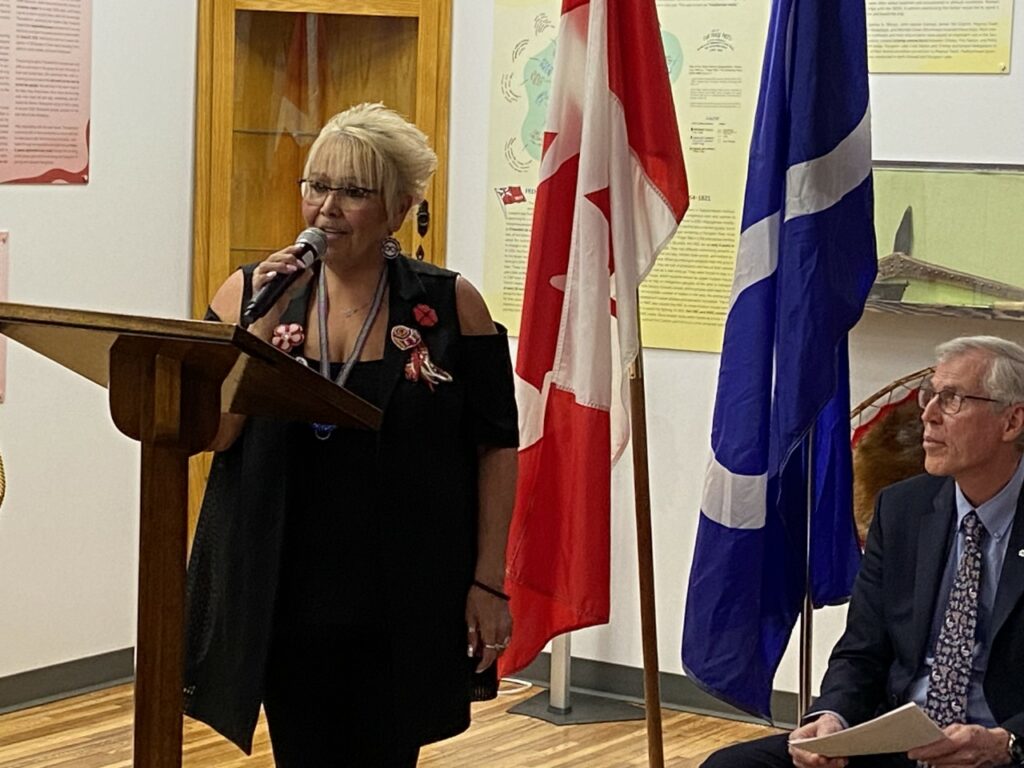 (Sherry Mclennan speaking before the plaque unveiling. Photo courtesy of Michael Joel-Hansen.)
Fred Payton, who is currently the president of the P.A. Historical Society, said it is very important that Isbister be given some form of public recognition.
"Having been the first person to settle in this area, he really is one of the founders of Prince Albert," he said.
Payton explained Métis people have deep roots in the city and area. He added people who visit St. Mary's cemetery, where Isbister is buried will notice a number of other Métis headstones with names people living in the city will recognize.
"For the leader of the Métis community to be honoured in this manner, it really is important to me and the City of Prince Albert," he said.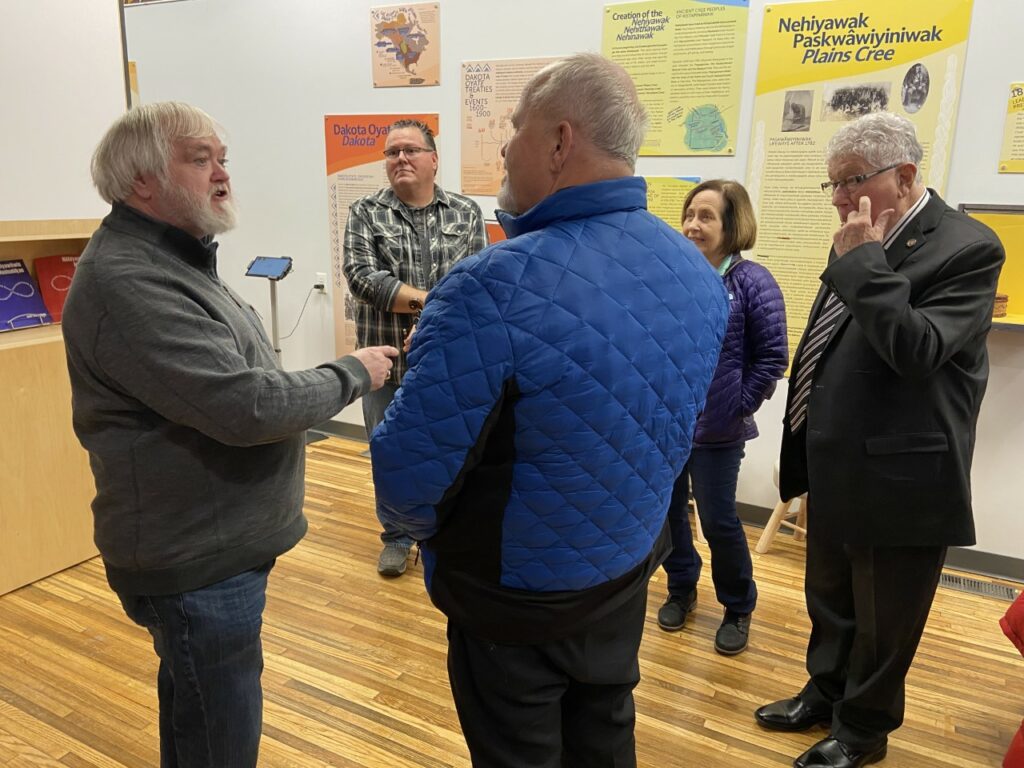 (Fred Payton, left, speaking with Prince Albert Mayor Greg Dionne. Photo Courtesy of Michael Joel-Hansen.)
(Top Photo: Dignitaries stand after the plaque was unveiled Tuesday at the P.A Historical Museum in Prince Albert. Bill Waiser, left, Sherry Mclennan, Greg Dionne, Effie Kuscnir, Calvert Martin. Photo courtesy of Michael Joel-Hansen.)