Almost two years to the day since the disappearance of Megan Gallagher one man is facing a murder charge.
Police say a 27-year-old man has been arrested and charged with first degree murder in relation to Gallagher's death.
Gallagher, a Métis woman from Saskatoon, went missing in September of 2020. Police would soon after declare her death a homicide.
In the past year, four others were arrested and charged with indignity to human remains in relation to Gallagher's death with their charges currently before the courts.  However, this new charge for a different suspect is the first murder charge laid.
Police say the man was arrested in a home in Prince George, B.C.
At this time, investigators say Megan's body has still not been located and anyone with information is asked to contact the Saskatoon Police Service at 306-975-8300 or anonymously through Crime Stoppers at 1-800-222-8477.
At a media conference on Tuesday afternoon, police identified the suspect as Robert "Bobby" Thomas.
Members of the SPS say Thomas was known to police and has significant ties to Saskatoon. They say he does have affiliation with gangs, but that was not immediately connected to this matter.
Investigators called Thomas' relation to the other four accused "loose."  However, authorities did indicate further arrests are expected as the investigation is ongoing.
Police also say they will be focusing a search along the South Saskatchewan River for Megan's body.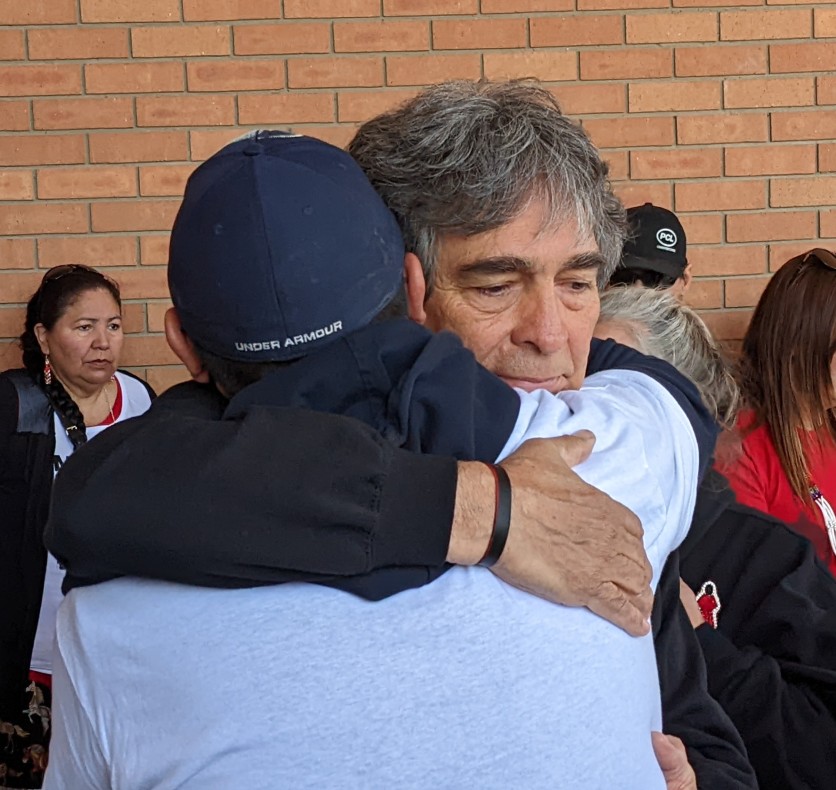 (PHOTO: Brian Gallagher embraces a friend outside a court appearance for one of the four suspects accused of indignity to human remains in relation to Megan's death.  Photo by Joel Willick.)
At the media conference, Megan's father Brian Gallagher addressed the public.
"When we heard the news that an arrest was made words couldn't express my emotions," said Gallagher.  "However, the reality is none of this will ever bring Megan home… we will never see her laugh or smile again."
With all the arrests Gallagher says the answers for the family continue to be limited.
"The silence is killing us," he said, repeating a phrase he has often said over the past two years.
No word yet on a court date for Thomas, but police say he is on his way back from B.C. with the expectation he will be in court later this week.