The James Smith Cree Nation welcomed the world to their community Thursday.
The First Nation hosted a media conference in the afternoon on the nation's Tipi grounds near Bernad Constant Community School on the reserve to allow for leaders to speak on the recent tragedy which took place there.
A number of dignitaries were on hand including premier Scott Moe and several MLAs along with Prince Albert Member of Parliament Randy Hoback.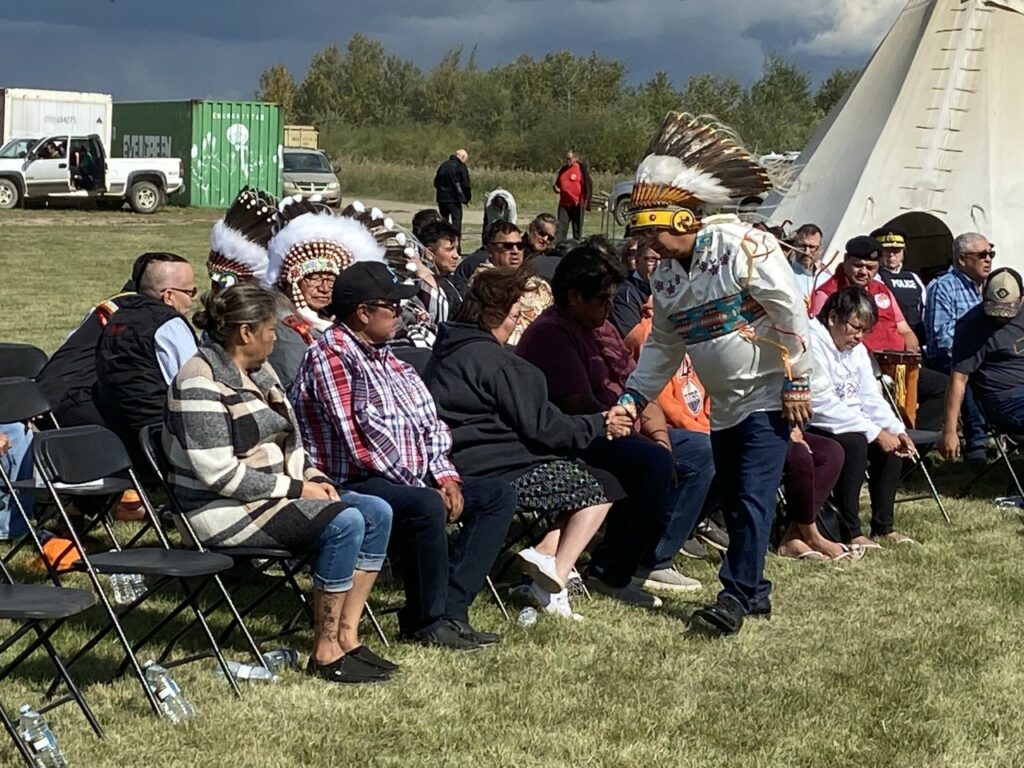 (James Smith Cree Nation Chief Wally Burns shakes hands with some victims family members before speaking: Photo Courtesy of Michael Joel-Hansen)
A number of leaders from the James Smith Cree Nation took the opportunity to speak about the impact the mass stabbings have had on the community. James Smith Chief Wally Burns was joined by Chief Calvin Sanderson of the Chakastaypassin and Chief Robert Head of the Peter Chapman Band. During his remarks Chief Head took time to thank all the emergency responders for their work.
"I've got to thank STARS, they had four helicopters here and they were just coming down and landing and taking people to the hospital, they did such a good job organizing, making a command centre there at the band office and helping all the injured get off to the hospital," he said.
Head added there are still 14 families who have loved ones in hospital due to the attack. The Peter Chapman Band leader also took time to call for support to help establish First Nations police forces and systems which allow for First Nations to run their own justice systems. Head said there is as well a need for more resources for addictions and mental health treatment.
"This is something that can be avoided," he said.
The establishment of First Nations policing and justice systems were a major part of the remarks delivered by Prince Albert Grand Council (PAGC) Grand Chief Brian Hardlotte. After sending condolences to everyone impacted by the violence and acknowledging the work done by all those who helped coordinate the emergency response, Hardlotte called for the Parole Board of Canada and other elements in the criminal justice system to make changes and work with First Nations.
"In the area of justice, I have to say this, that the criminal system again has failed the Indigenous community, the people," he said.
The grand chief called on the Attorney General of Canada to look at the recommendations that were sent to the office by the tribal council in regards to First Nations policing and justice after a 2018 PAGC symposium. Hardlotte added restorative justice needs to be part of the system going forward.
"We have to have those sentencing circles, those justice committees in our communities," he said.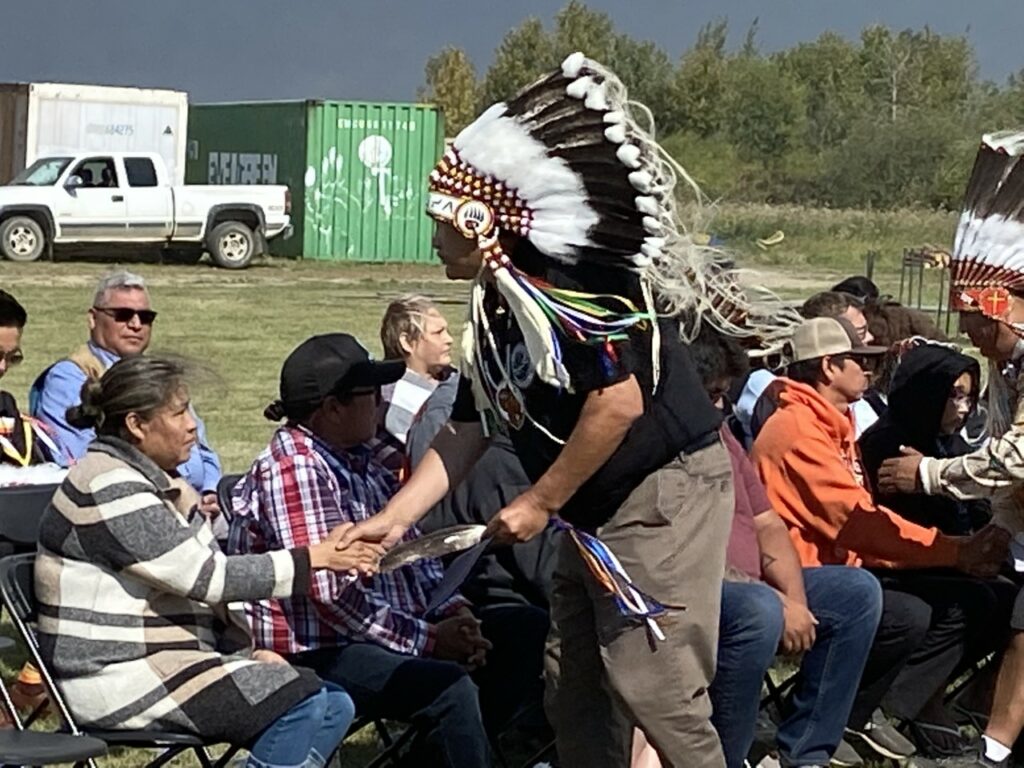 (PAGC Grand Chief Brian Hardlotte shakes hand with victims family members before speaking. Photo courtesy of Michael Joel-Hansen)
The family members of many victims were also present sitting behind the podium in the first row of seats, many speakers shook hands and hugged the family members before speaking. Darryl Burns, who lost his sister to the violence spoke about how his sister, who was part of the community's response team, was always willing to help those in need.
"That's the kind of person my sister was, whoever needed help she would go," he said.
In a very powerful moment while talking about forgiveness and the importance of forgiveness Burns brought up the wife of Damien Sanderson and spoke about how the people of James Smith are forgiving and loving people.
"Her husband is accused of killing my sister, our family is here to forgive, this woman shouldn't have to bare that kind of guilt and shame and responsibility," he said.
Burns as well called upon everyone to do everything in their power to ensure they are being positive leaders in their own families.
"We can leader our families into darkness, we can lead our family into addictions and violence or we can lead them into the sunlight, into happiness, into safe homes," he said.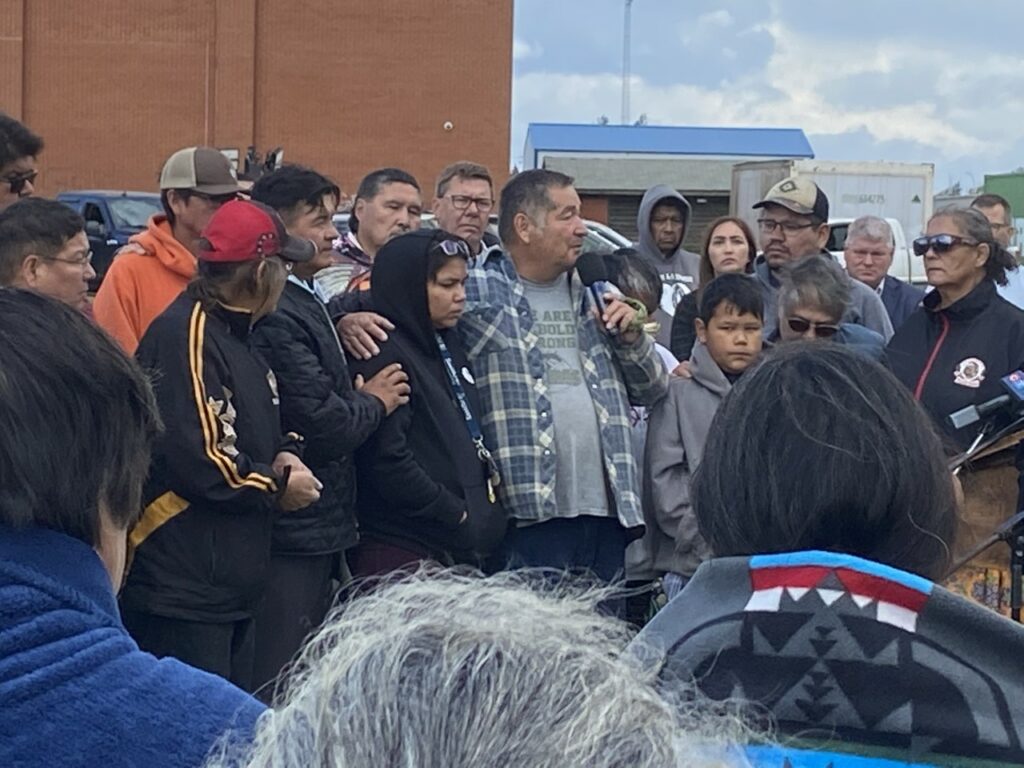 (Top Photo: Darryl Burns centre speaks to the media conference)