The Water Security Agency says the snowpack in central and northern Saskatchewan is above normal.
The WSA released it's spring water runoff forecast in a media release this morning.
Even though the snowpack levels are higher than usual in these regions this year, which includes Lac La Ronge, the Agency's communications manager Sean Osmar said that doesn't mean flooding.
"It's kind of a snapshot in time but we see a great deal of snow and precipitation over the winter that we've seen and we don't expect at this point any major flooding or anything like that, but of course that could change," he said. "Everybody that lives in Saskatchewan knows the weather could change on a dime."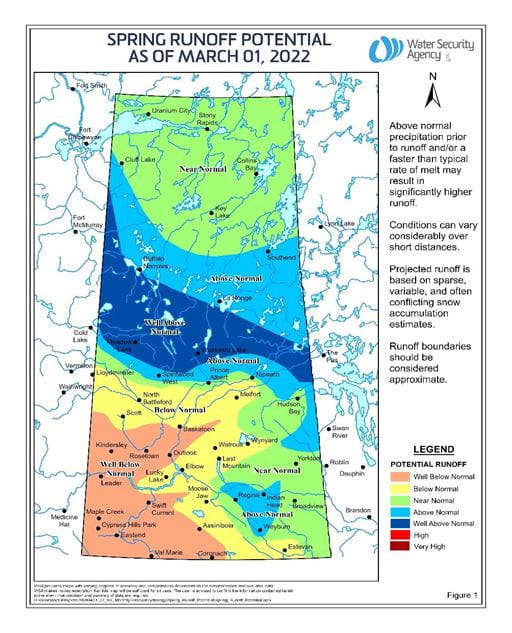 He said the north's river and lake systems are usually able to keep the levels from rising even after an above-average spring runoff.
In their release, the WSA explained they are expecting below-normal snowmelt this year in the south.
Similarly, the Far North is also expecting a bit below normal runoff, Osmar said.
"They're near normal but they're not quite at what we see in a normal year so a little bit less snow up that way so the runoff will be a little bit less according to what we have."
The WSA will release another forecast at the beginning of April.
Osmar said he doesn't know yet when the Lac La Ronge dam will be opened.
(PHOTO: TOP, Water Security Agency logo. File photo. MIDDLE, Saskatchewan Spring Runoff Map. Photo courtesy of the Government of Saskatchewan and the Water Security Agency.)