The Prince Albert Grand Council hopes two new monuments on the city's riverbank will draw greater attention to the issue of missing and murdered Indigenous women and girls.
The two giant-sized bronze structures were unveiled Wednesday afternoon.
Each one is in the shape of a feather with a face on each side to represent those affected by the issue.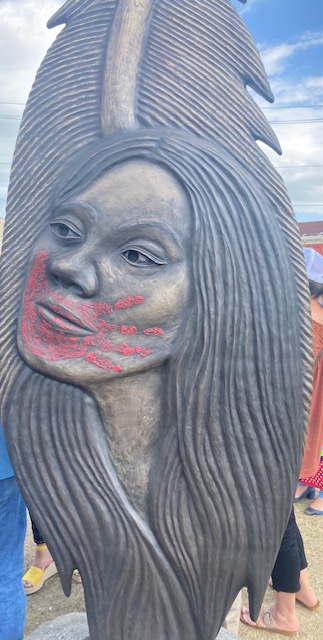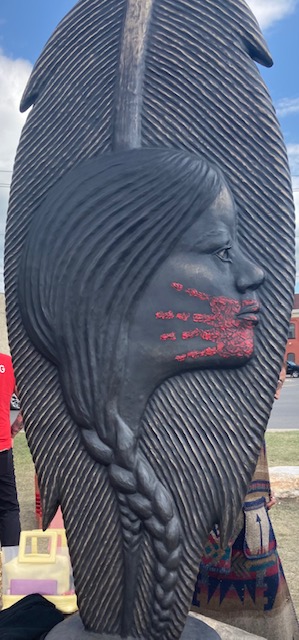 Shirley Henderson is the chair of PAGC's women's commission.
She said the tribal council also wants the monuments to serve as a place where people can reflect and heal.
"It's a place where people can come and heal and pray and overlook the water and have some peacefulness," she said.
Henderson said PAGC began planning for the monuments more than a year ago and held a contest to select an artist for the project.
Painter and conceptual artist Tristen Sanderson's submission was selected from this competition and sculptor Lionel Peyachew was hired to put her concept into action.
Sanderson explained the meaning of the red paint that covers parts of the faces on each of the monuments.
"That was what the red in the painting represents," she said. "It is to show they (women and girls) are not forgotten and we hear them and see them. Because they say in the spirit world red is the only colour a spirit can see. So that's why for red warrior paint that's what that is supposed to show, 'we still hear you and we still see you.'"
Peyachew said it took him about six months to sculpt the two monuments.
He started with a clay template which was then cast in bronze.
He said he used this particular metal to enable the structures to better withstand Saskatchewan's harsh climate.
"Bronze is used because it lasts such a long time," he said. "If you think of the sculptures in Italy and Greece, there's bronze sculptures there still standing after 100,000 years."
The monuments are anchored on two boulders and surrounded by a handful of other rocks on the riverbank to give the appearance of a healing circle.
The monuments unveiling was part of PAGC's two-day "We Rise" events.
On Thursday morning, the annual awareness walk for missing and murdered Indigenous women, girls and men took place.
(PHOTOS: Top, members of the Prince Albert Grand Council Women's Commission unveil two monuments for missing and murdered Indigenous women. Bottom left and right, the backside of the two monuments. Photos by Fraser Needham.)