Upper-year geology students from the University of Saskatchewan got the opportunity to learn about geological mapping in the La Ronge area, which is examining bedrock to determine what the rock is and why it's there.
The third year geology class is a field course usually taught in Zortman, MT., which is about 315 kilometres south-west of Swift Current, due to its array of rock types.
This was cancelled in 2020 and moved to the alternate location of La Ronge in May due to travel restrictions imposed by the pandemic.
The class was taught by professor Colin Sproat, and adjunct professors Meagan Gilbert and Emily Bamforth.
Sproat, who brought the students to La Ronge, said holding the course was urgent this year as a course on geological mapping is required for many geology jobs.
He said geological mapping is foundational to the science.
"Quite simply, it's mapping the rocks on the surface, but it's kind of the foundation of geology," he said. "Whether you're looking for a mineral deposit or if you're mapping the area for the sake of knowing what's there; it all relies on knowing where the rocks are and how they're related to one another."
Gilbert, also the resident geologist at the Precambrian Geological lab in La Ronge, said this course is important for geology students to take, echoing Sproat's take.
"Rocks are the source of all kinds of energy and natural resources, and if we can understand the rocks, we can understand what kind of resources we can extract from those rocks."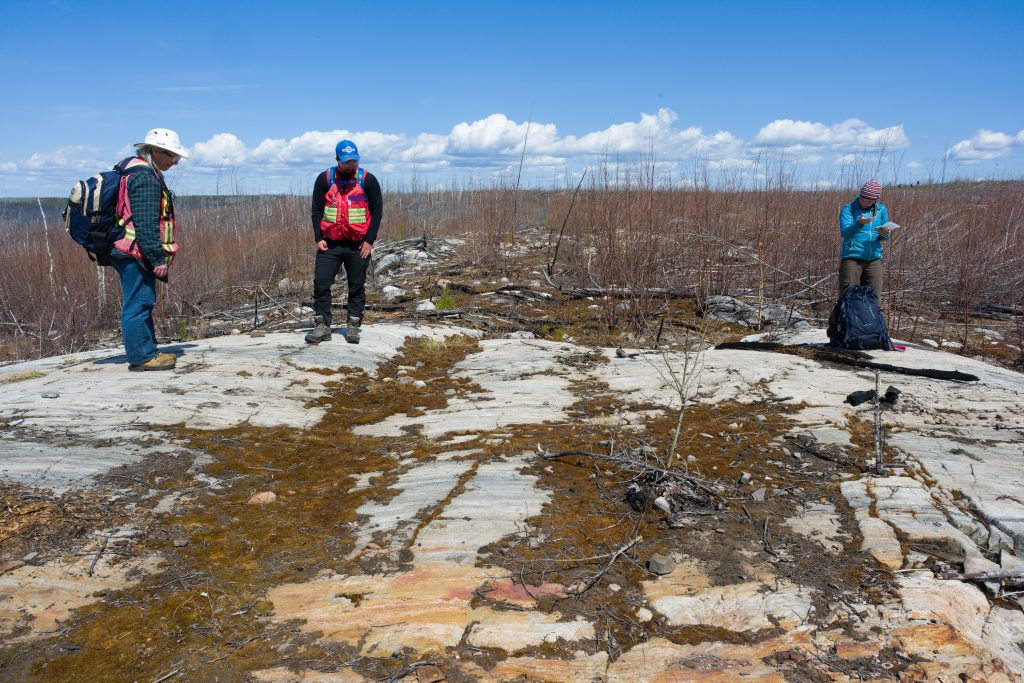 Although it wasn't Montana, Gilbert said La Ronge was a great alternate spot for students learn.
"La Ronge is a perfect fit because it is the boundary between two very different geological histories that Saskatchewan records," she said. "As you hit the bridge between Air Ronge and La Ronge, you have the Precambrian shield (which) is billions of years old rock that tells the story of earth's history billions of years ago. If you go to the south, it's basically all Cretaceous which is like 65 million-years-ago, which is obviously a lot younger."
The course was also supposed to take the students to see other types of rocks in Eastend in southwestern Saskatchewan, but that part of the trip was turned virtual due to high case counts in the area at the time.
The students looked at rock races at the Nipekamew Sand Cliffs and just off highway 2 north of La Ronge.
(PHOTOS: Top, the geology class with Sproat at the Nipekamew Sand Cliffs. Bottom, Emily Bamforth with the teaching assistants who helped with the class. Both photos courtesy of Colin Sproat.)