The New Democrats are using the death of Prince Albert teacher Victor Thunderchild to bolster the case that educators in the province need to be priority vaccinated.  Thunderchild died Saturday from complications of COVID-19, he was 55.
"Will the premier finally listen and finally prioritize teachers so that we can safely keep schools open and protect those working so hard to support Saskatchewan children," Sask. NDP leader Ryan Meili asked Monday afternoon during Question Period.
Premier Scott Moe responded by offering his condolences to the Thunderchild family. He reminisced on some of the stories he has heard regarding Thunderchild.
Yet Moe said the current vaccination program is on track, as statistics indicate that people over the age of 40 are most impacted by the virus.
"We have prioritized throughout this pandemic, those that are over the 40 have the most severe outcomes when they do contract COVID-19. 84 percent of our hospitalizations are folks over 40 and 96 percent of our fatalities are folks over 40," Moe told the Legislative Assembly.
"How many stories like this does it take, how many people have to lose their lives before the Premier will listen," Meili retorted back.
It's believed that Thunderchild contracted the virus approximately two-and-a-half weeks ago from a colleague. He tweeted the importance of getting teachers vaccinated.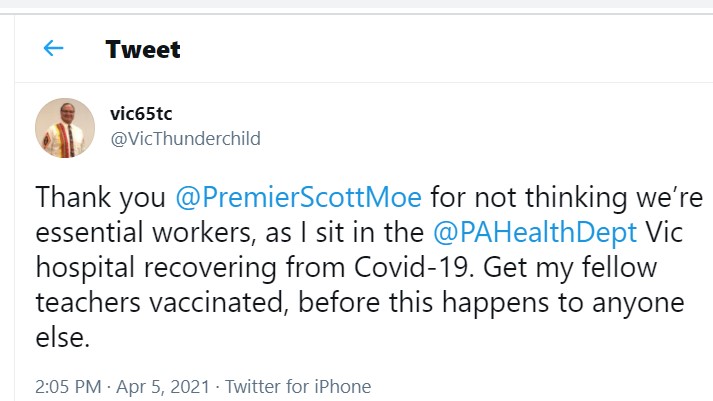 Moe hinted that his government may shift vaccine focus on those hardest hit, suggesting that an announcement could be coming this week.
Meili encouraged Moe to join him in touring a Regina ICU to get first-hand knowledge of the conditions in hospitals adding the ICU in Regina is doubling up COVID-19 patients and that Saskatoon is headed in the similar direction.
Moe countered it would not be appropriate to tour the ICU at this point.
The province recorded 243 new infections Monday with 357 recoveries. 7043 vaccinations were administered.