It's been a year since a Prince Albert couple and their seven-year-old grandson died as the result of a savage attack in their home.
On Sunday, the Lake Country Co-op released about 300 balloons into the air in memory of Denis Carrier, Sandra Henry and young Bentlee.
Henry was a long-serving employee of the Prince Albert Co-op.
Harold Mulholland is the produce manager at Lake Country Co-op and one of the organizers of the event.
"She was a beautiful person, she touched everybody's hearts," he said. "So, it's been rough on us as a team as well as a community. Especially the horrific way that herself, her husband and her grandson passed on."
Carrier and Henry were both 56 at the time of the attack.
Another grandchild, six-year-old Kendrah, was wounded but survived.
She spent weeks in an Edmonton hospital last spring requiring ongoing medical attention after suffering severe lacerations to her neck.
Nevertheless, a year later Kendrah seems to be recovering well and was helping distribute balloons at Sunday's event.
Her mother Heather Sumners said the young girl is a real source of inspiration in what has otherwise been a dark time.
"She's been our rock, our hero, she got the nickname 'one tough cookie for a reason," she said.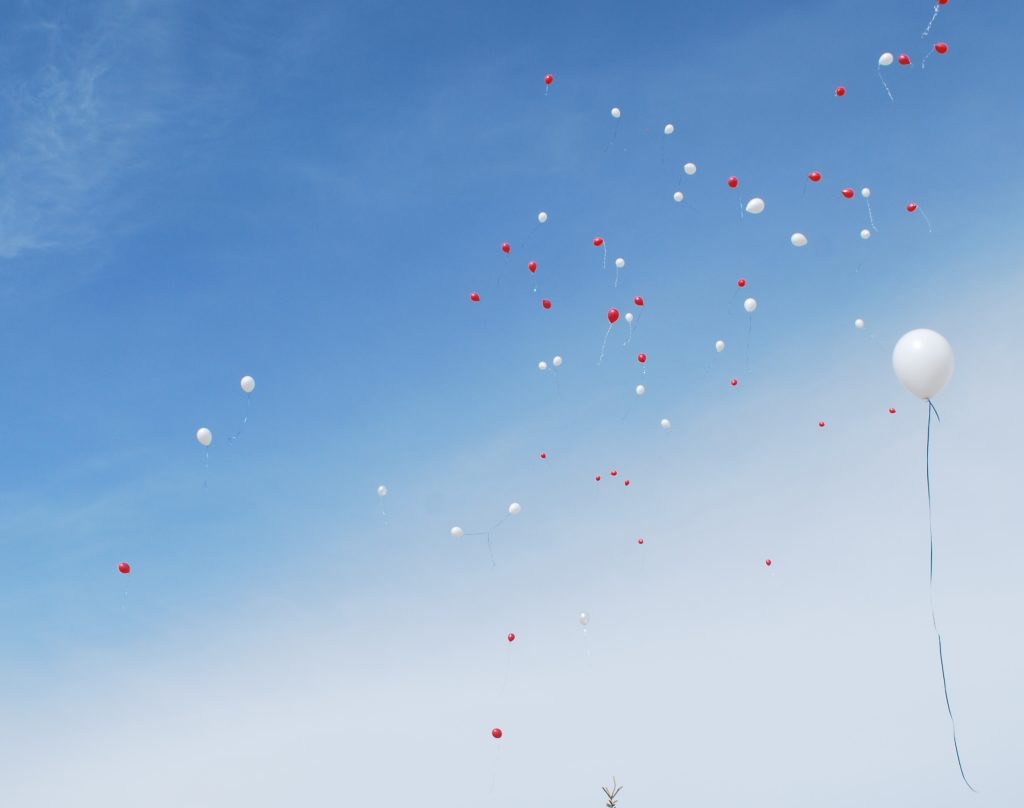 The co-op sold the balloons at $5 apiece with all proceeds going to the Carrier family.
The children's maternal grandfather, Corey Ferchoff, said the event provided some closure for family members.
"There was not much closure for that side (Carriers) of the family," he said. "The co-op members, I talked to a few of them, there wasn't much closure there either. One minute they're working with Sandra, the next minute she's not there. So, for them, it was very important for the co-op to put this on, to represent that side of the family."
The children's father and Henry and Denis Carrier's son, Nathaniel Carrier, is charged with three counts of first-degree murder and one count of attempted murder.
He was living at the home at the time of the attack.
(PHOTOS: Top, six-year-old Kendrah, right, helps her grandfather, Corey Ferchoff, left, blow up balloons at an event in Prince Albert on Sunday. Bottom, about 300 balloons were released at 1:30 p.m. in memory of Sandra Henry, Denis Carrier and seven-year-old Bentlee. Photos by Fraser Needham.)