The Black Lake Denesuline Nation is going into lockdown.
Documents posted to the Facebook group BlackLakeFNCovid-19ERT , dated Feb. 17 2021, show Chief and Council have voted to enter into a lock down due to the severity of COVID-19 and the need to stop the spread of the virus.
The documents show the lock down is to go into effect today, Feb. 18 and is set to last for an indefinite period of time. The community last went into lock down in December to reduce the spread of the virus.
The band resolution documents also show the community will be putting in place a youth curfew running from 11 p.m. to 7 a.m. The resolutions said penalties and charges could be laid if youth don't abide by the curfew.
All people looking to come into the community will be stopped from doing so and those in the community who decide to leave will not be allowed to re-enter.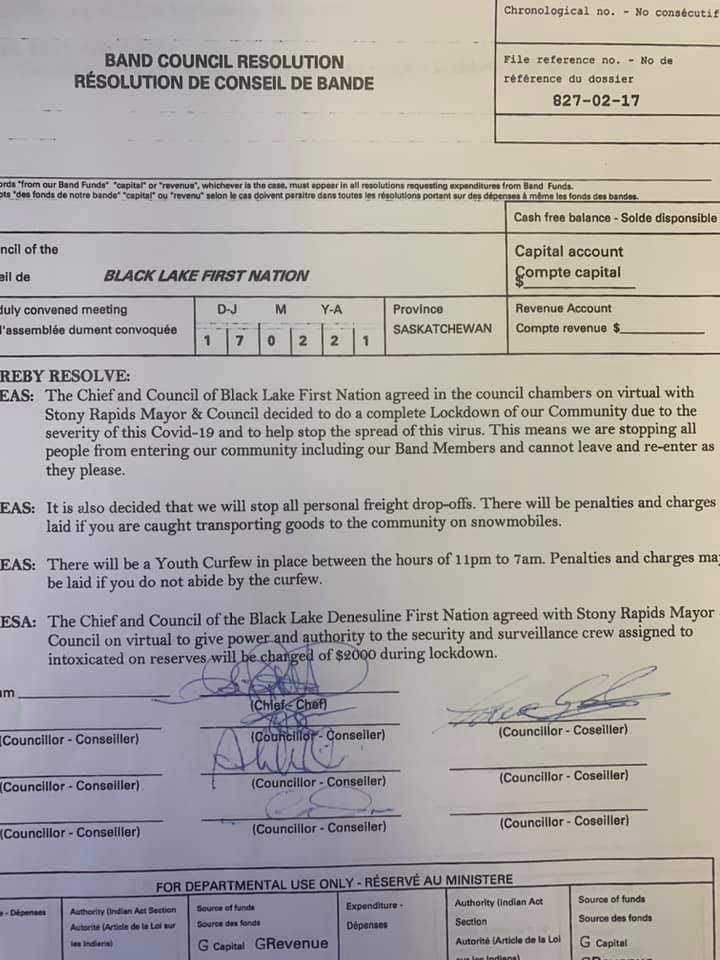 In another set of documents also dated Feb. 17 2021 entitled COVID-19 'Update from Chief and Councils ERT Command Centre,' it was revealed that on Feb 3 the command centre itself was forced to close after people working there came into contact with someone infected with COVID-19. The document said the centre was set to reopen this past Wednesday.
The same document also explained how the Joe Cook Youth Centre is currently being used as an isolation centre for the use of homeless people.
The update as well said community fishermen are putting out their nets and will be delivering fish to people who want it. Leaders are also planning a caribou hunt, the documents said meat will be provided to those most in need.
Households are set to also be provided with cleaning materials and food boxes. The Northern Store in the community is set to provide curbside service to residents.