A job fair was held yesterday, January 22nd, at the Jonas Roberts Memorial Community Centre (JRMCC)  to support the imminent construction of the Lac La Ronge Indian Band's proposed Treatment and Recovery Centre. "We all have a part to play in healing" Chief Tammy Cook-Searson said of the build, urging members of the public to attend, pass resumes, and commune with the five contracting companies who will be competing in the tender process in February of this year.
The new building will feature an updated 24 beds (up from the previous 10) + have an extra room for emergency visits, childcare, two round-earth circular rooms (for ceremony & prayer as well as presentations & celebrations), a kitchen, sweat lodge, outside play areas, and whose facade will resemble an eagle taking flight. Also present were members of March Consulting, who are handling Project Management*, aodbt architecture, who did the design and architecture work, and Lieutenant Governor Russ Mirasty, along with his wife Donna. The building will service not just La ronge, but the greater provincial north.
The process started out with 14 pre-qualified contractors, and has narrowed to the five contractor groups who were present at JRMCC on Thursday. They are:
RNF Ventures (Prince Albert)
PCL Construction (Saskatoon)
Graham Construction (Calgary)
Dunmack General Contractors (Saskatoon)
Wright Construction Services, Inc (Saskatoon)
Local contractors were also urged to attend, and communicated with the five groups to find overlaps in service(s).
A large youth cohort was present, and interacted with the contractors hoping to partake in the construction of what will be a historical and important building.
An Eagle Rising
The building will be divided into two 'halves' or wings, representing (1) inpatient services, namely the 12 rooms meant for treatment stays of up to 8 weeks, and (2) outpatient services, including support and counseling, with the option for residents to return to the building for more help after completing the program. The build is priced at 16.1 million dollars, and will be funded in a tripartite collaboration between (1) the local LLRIB (who put in $2m and the land;) (2) the provincial government (who put in $2.5m); and (3) the liberal federal government who put in $11.6m — $ 8.5m of which, says Cook-Searson, has already been received and is 'money in the bank' for the project.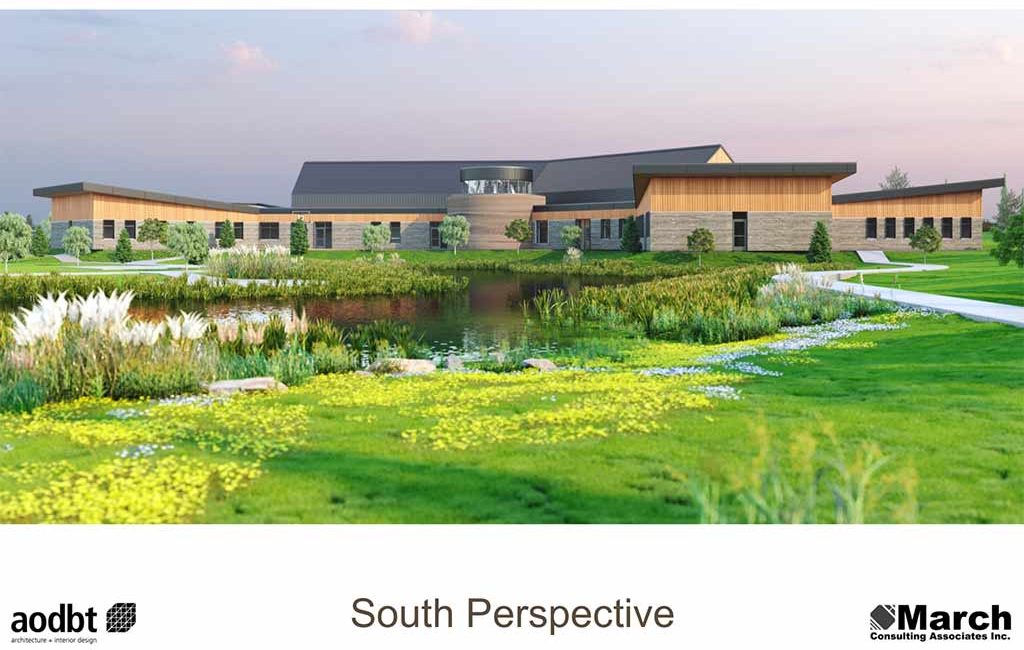 slides from Thursday's presentation courtesy of March Consulting
The south-facing rear of the building will feature a natural 'water feature', or, to put bluntly, a swamp, although as a biologist I am inclined to mention the high biodiversity of these systems.
Architectural mock-ups were on site for members of the public to peruse, and represented the build at 99% design completion. The bisected design can be seen in the mock ups: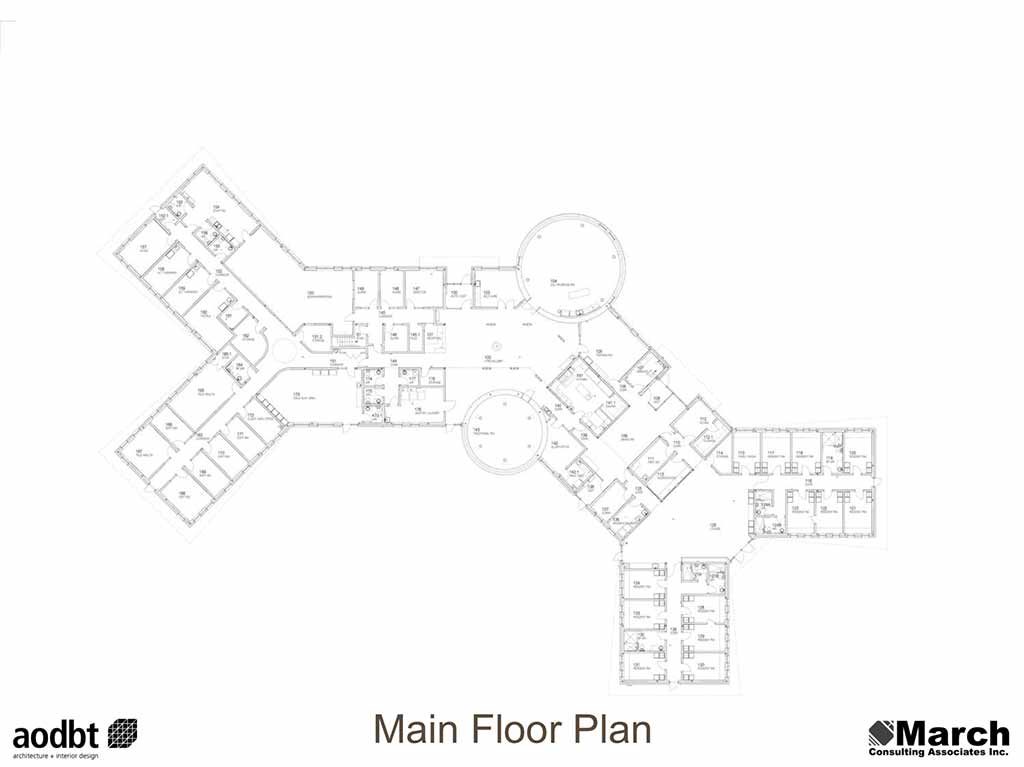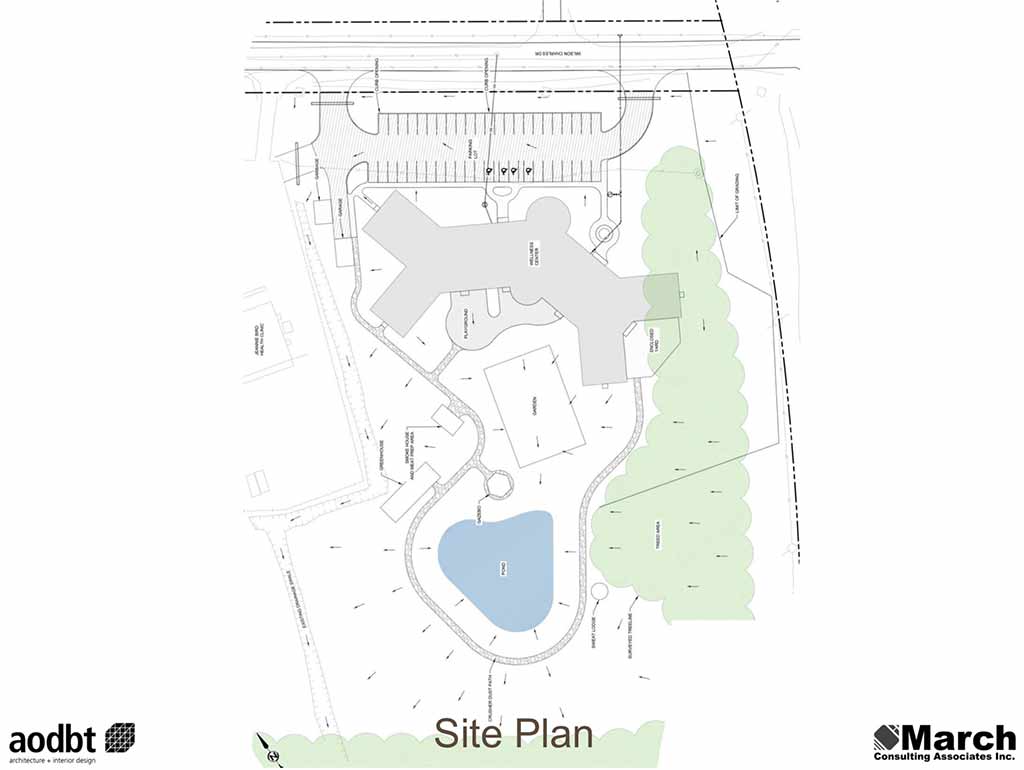 The design will utilize a high degree of natural materials including wood and stone, and will use vaulted ceilings to resemble the shape of tipis.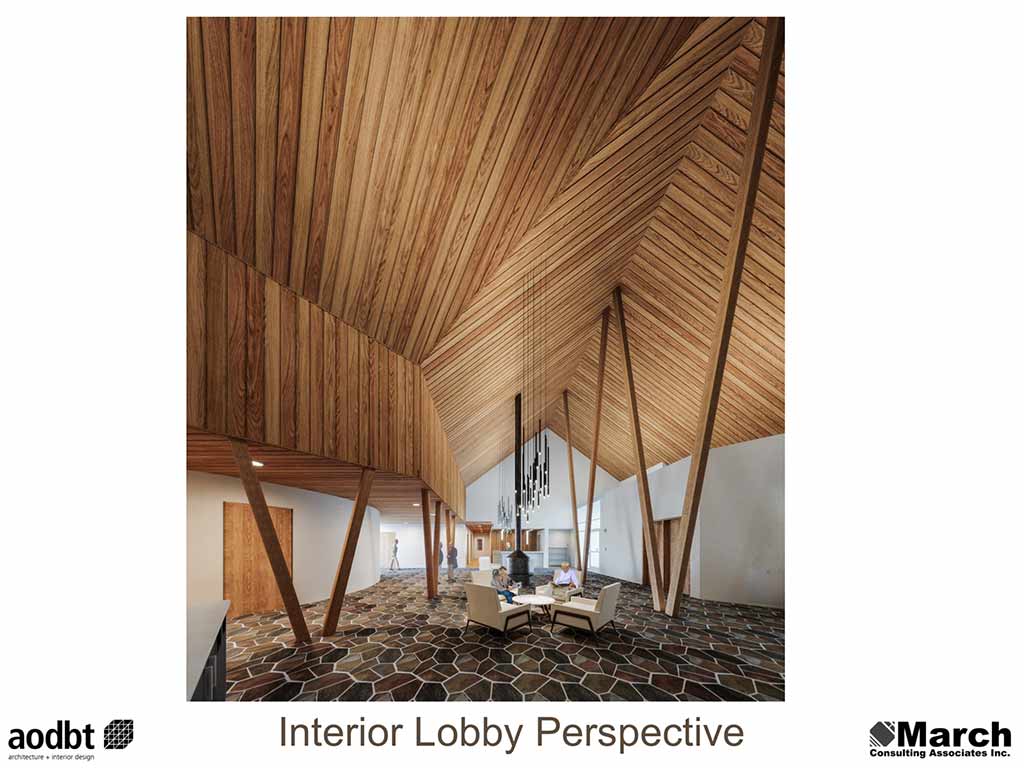 Background
The Wellness, Treatment, and Recovery Centre has been a project in the making since 2006, says Chief Cook-Searson, one that started with just $50,000.
Since the beginning, Elder Norman Charles has been on hand – along with other vital elders – to guide the project as it took form. Norman, Chief Tammy, and others began with a feasibility study to determine if what they envisioned was possible, and necessary. It was. From there they started lobbying the government, and building a network of valuable people with experience. Propelled by the suicide crisis' of 2016 they visited many locations to learn, including: many locations in northern Saskatchewan, the Thorpe Treatment Centre in Lloydminster, Fort Qu'Appelle Treatment Centre, and others.
Dr. Neal Berger (of BC) was also engaged, as he had helped start 23 treatment centres throughout Canada and the United States. It was Dr. Berger who insisted of the importance of bringing the local community into the build process as a therapeutic element.
The $16.1m in funding will cover not only the Centre, but also enable the LLRIB to expand its healing network to the five other communities that it oversees in Saskatchewan's north via the creation of 'mini lodges'. This project will not replace the existing detox centre, but instead create a better more robust system of care.
A Personal Mission
Like so many northerners, Chief Tammy Cook-Searson is unfortunately no stranger to loss: in 2003 Tammy lost her dear sister Sheila. It was that event, Tammy says, that crystalized her need to help people at vulnerable places along their healing path. "We must enable the healing of those who wish to help themselves" says Tammy, "we are not here to judge". She also stated that she was proud to see so many people seeking work, and to be involved in the creation of something that will be a positive force for our community for decades.
Those present or mentioned by Chief Cook-Searson as being part of the Project Team include (but are not limited to):
Kyla Mckenzie – Indian Child Family Services (Federal Gov.)
Gladys Christiansen – Director of Human Resources, LLRIB
Lilian Sanderson – Community Services, LLRIB
Mary Carlson – Health Services, LLRIB
Dr. Veronica McKinney – Physician and director of the U of S Northern Medical Services
Rhonda ritchie-Corrigal – Facilities Manager, Indigenous Services Canada (Federal Gov.)
William Roberts – Health Director, Stanley mission Health Services Inc
David Roberts – Public Works and Housing
*Although the LLRIB have a small stake in March Consulting via Kitsaki Management,
March was selected for Project Management via a fair and equitable process //