This Remembrance Day there is some cause for celebration for Métis veterans.
After more than 75 years of waiting, the federal government is recognizing Métis veterans for their service to Canada during the Second World War.
This includes the $30 million Canada-Métis Nation Veterans Recognition Payment Agreement out of which $20,000 is being given to each of the surviving World War Two Métis veterans.
Métis Minister of Veterans Affairs David Chartrand said although it took far too long, the recognition still means a lot.
"This is not just myself saying, 'thank you,' on behalf of the Métis Nation," he said. "It's also the Prime Minister saying, 'thank you,' for these veterans today that sacrificed their lives, and willing to sacrifice their lives, and many, many who died too young because people don't realize the horror, they saw over there."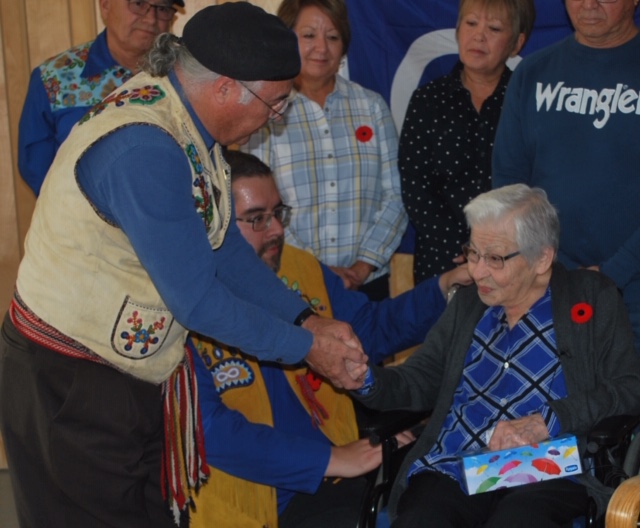 Métis National Council President Clem Chartier said the nation is now in the process of locating existing Second World War veterans to give them disbursements from the fund.
"To date, I think we've found 11 and I think there's three more in Ontario," he said. "So, I think we'll have about 14 that we've acknowledged. So that's a significant thing that was accomplished in this year's budget. And I'm very happy that I was at most of those events where the $20,000 was awarded."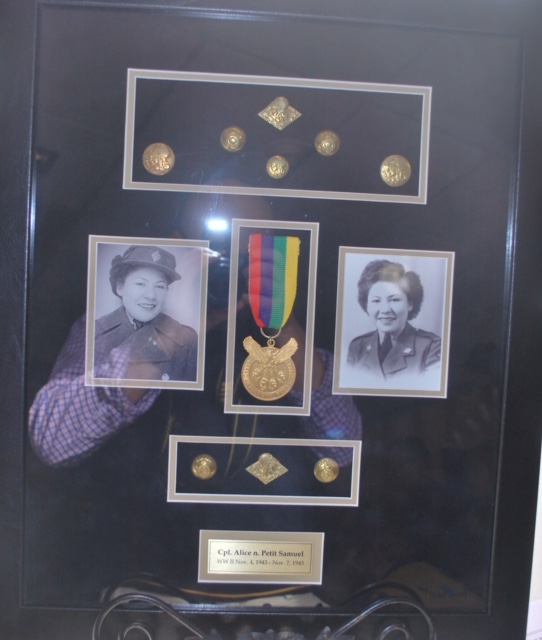 Veterans Affairs Minister Lawrence MacAulay apologized to Métis veterans earlier this year.
Chartrand and Chartier were in Saskatchewan last week to honour two Métis war veterans.
(PHOTOS: Top, Métis Minister of Veterans Affairs David Chartrand, left, with Saskatchewan veteran Alice Samuel, right. Middle, Métis National Council President Clem Chartier, left, congratulates Samuel, right, for her military service. Bottom, Alice Samuel's World War Two record of service and awards with the Canadian military. All photos by Fraser Needham.)