Despite throwing 41 shots on net and outshooting the Notre Dame Hounds 41-30, the La Ronge Ice Wolves dropped a 2-1 decision Thursday night at home to the boys from Wilcox. 
"I thought we played pretty well for the whole game, we played a full 60 minutes," said Ice Wolves Assistant Coach Gaelan Patterson. "I think everyone contributed and we're going through some changes here, and the guys stepped up and had a good game."
The Hounds would open the scoring 5:57 into the game when Jarrett Penner tipped home his seventh of the campaign past Jordan Frey, who made 28 saves in a losing cause. 
The Hounds made it a 2-0 game 6:15 into the second when Curtis Wiebe notched his fifth goal of the season. The Ice Wolves would finally dent the armour of Riley Kohonick 17:34 into the second when Steph Perreault danced around in the Notre Dame zone and beat Kohonick cleanly for his first of the season.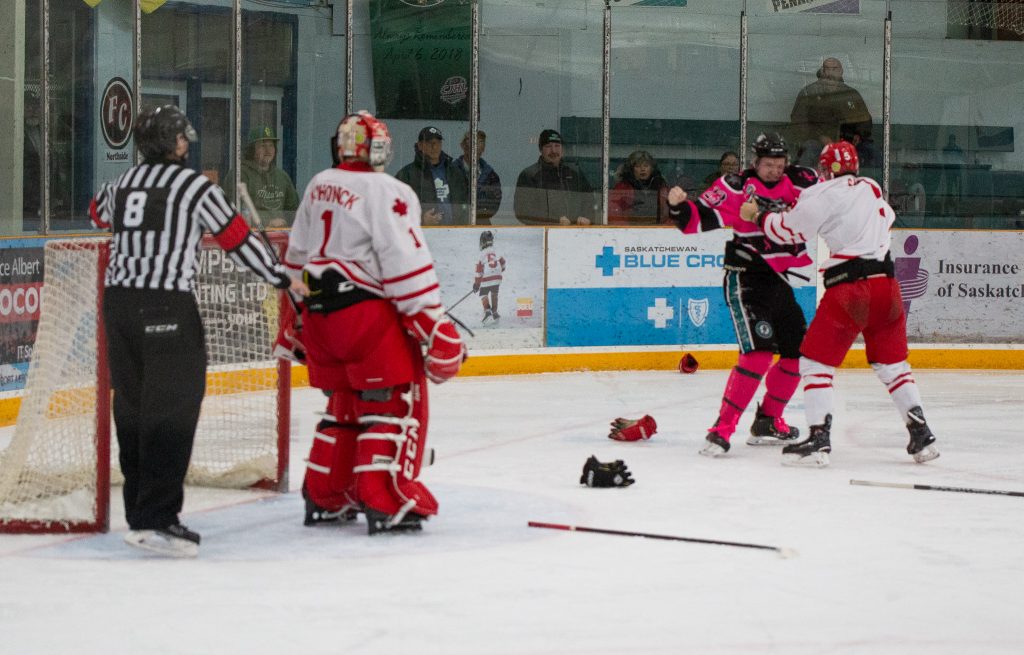 (PHOTO: Jaden Wake and Joseph Santalucia dropped the mitts Thursday. Photo by David Smith.) 
Although the Ice Wolves and Hounds only meet up four times a season, it was certainly a feisty affair Thursday. Things boiled over 7:44 into the third when Jaden Wake and Joseph Santalucia dropped the mitts. Although the Ice Wolves seemed extremely energized following the scrap, they were not able to mount the comeback. 
With the loss, the Ice Wolves are now riding a ten-game losing streak. La Ronge is currently at the basement of the SJHL with its 6-21 record. 
The Ice Wolves will be looking to rebound on Friday night at home when they meet the Melville Millionaires for the second time this season. La Ronge beat Melville 3-1 in the only other matchup of the season between the two teams. Friday's game gets underway at 7:30 p.m. from the Mel Hegland Uniplex. 
(TOP PHOTO: Curtis Wiebe celebrates his goal Thursday. Photo by David Smith.)