The La Ronge Ice Wolves hung on for their second straight win when they tamed the Estevan Bruins 3-2 at home on Friday night. 
La Ronge goalie Daniel Davidson made 47 saves his debut and was spectacular, coming up with several key stops throughout the game.
"Felt great, got a couple early saves there, got me into the game and felt good from there," said Ice Wolves goalie Daniel Davidson. 
Estevan's T.J. Irey opened the scoring 14:57 into the first when he finished off a pretty passing play. Neither team found the back of the net after that in the first, so the Bruins took a 1-0 lead into the second. 
The Ice Wolves responded with three goals before the second frame was 13 minutes old. Zach Bannister scored twice, while Mitch Zambon also tallied for La Ronge in a span of about four minutes. 
"All four lines were rolling, everyone was giving it everything they had," said Ice Wolves forward Zach Bannister. "No quit in our team right now, and we're going to make a statement to the league here."
Bannister is lighting it up at the moment. The Grande Prairie, AB product has eight points in his last four games. Wolves forward Mitch Zambon has also been red-hot, he has seven points in his last four outings. Jordan Mish, who rounds out La Ronge's top line, has five points in his last four games.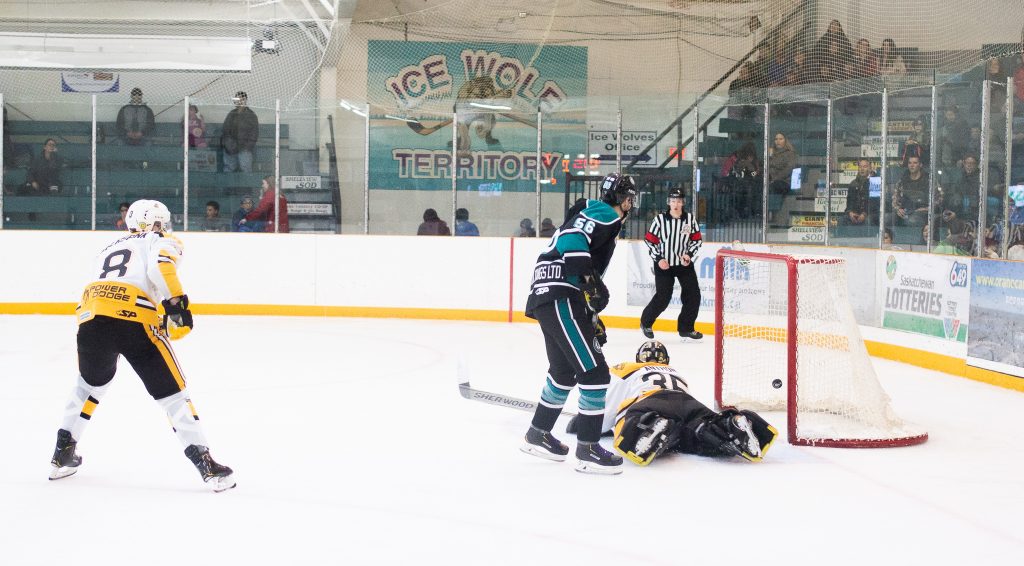 (PHOTO: Mitch Zambon scores his ninth of the season in the second period. Photo by David Smith.) 
Despite a late push, the Bruins were not able to solve Daniel Davidson in the third frame. 
With the victory, the Ice Wolves improved to 6-11 on the season, which now has them in the tenth and final playoff spot. 
The Ice Wolves will search for their third straight win on Tuesday night when they begin a short two-game swing in North Battleford against the North Stars. On Wednesday, the Ice Wolves are in Humboldt to battle the Broncos. You can catch both games on MBC Network Radio with Braden Malsbury. 
(TOP PHOTO: The Ice Wolves hung on for a 3-2 win Friday. Photo by Braden Malsbury.)