The La Ronge Ice Wolves picked up their first win of the season on Sunday afternoon at home when they slipped past the Melville Millionaires 3-1. 
Kolby Johnson led the way for the Ice Wolves with two goals. Johnson opened the scoring 8:18 into the second when he tapped the puck into a yawning cage after Melville goalie Colby Entz was caught out of position. 
Johnson's second goal, which proved to be the winner, came with just under three minutes remaining in the third when he deflected a Kevin Fillier offering past Entz. Jake Gudjonson tallied the empty-netter late in the game. 
"It is a big relief," said Ice Wolves forward Kolby Johnson. "We really wanted a four-point weekend, so it's a little bittersweet getting that two points today, but we beared down and got the job done. Hopefully this is the first step to getting out of the basement here and we can keep building off of it."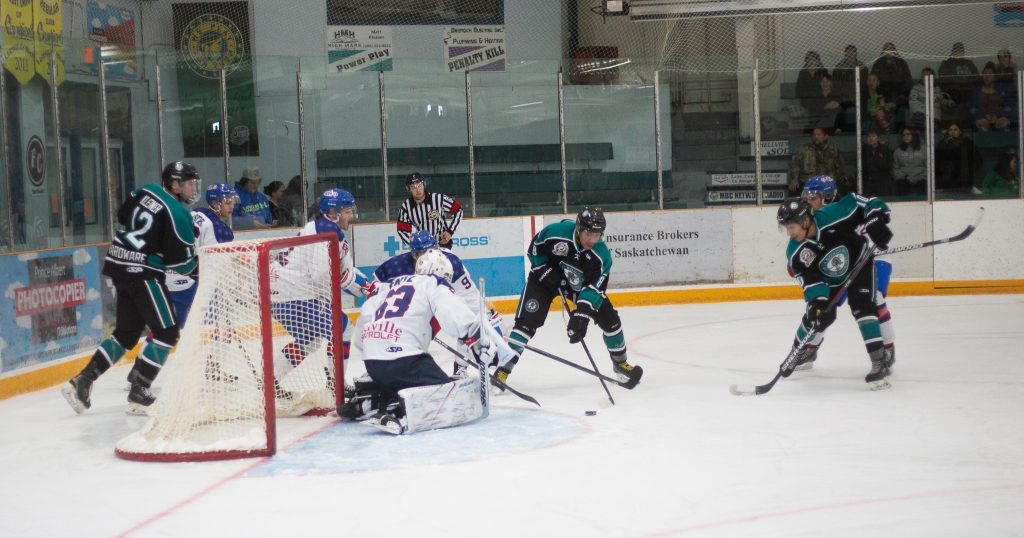 (PHOTO: Austin Bill of the Ice Wolves generates a scoring chance during Sunday's game. Photo courtesy of David Smith.)
Chad Duran made 38 saves for his first win in the SJHL. It was a big bounce back game for Duran, who surrendered eight goals in his last start against Weyburn. 
"Its been rough for both of the goalies, honestly, starting the season," said Ice Wolves goalie Chad Duran. "The team really helped me out tonight, they kept everything to the outside. It was a fun game for me to play and it is definitely a confidence booster." 
Ethan Schmor scored the lone goal for Melville, while Colby Entz made 38 saves in a losing cause. With the loss, Melville slipped to 1-6-1-1 on the campaign. 
With the victory, the Ice Wolves improved to 1-5 on the season. La Ronge is back in action on Friday when they travel to Melfort to face the Mustangs for the second time this season. Friday's game gets underway at 7:30 p.m. 
You can catch Friday's battle from Melfort on MBC. Braden Malsbury has the call, the pre-game show begins at 7:15 p.m. The Ice Wolves are back at home Saturday when Melfort comes to town. 
(TOP PHOTO: The Ice Wolves celebrate their win Sunday. Photo by Braden Malsbury.)