Thunderchild First Nation has decided to release their financial documents rather than fight the matter in Court.
This past November Harrison Thunderchild, a member of the First Nation, took his home reserve to court for refusing to comply with the First Nations Financial Transparency Act.
Thunderchild First Nation was among a handful of Saskatchewan bands refusing to comply with the Transparency Act. This act required First Nations across Canada to disclose their financial statements to the public.
The process was initially implemented by the Harper government, however, when the Liberals came into power they decided Ottawa would no longer enforce it.
This lead a few members of First Nations to challenge for compliance in the courts, a move that was backed by the Canadian Taxpayers Federation.
"Harrison showed real courage by calling on his band's leaders to follow the law and respect tradition by providing transparency," said CTF Prairie Director Todd McKay.
On Thursday morning in Saskatoon, Harrison Thunderchild and Todd McKay announced that Thunderchild First Nation had released their financial documents and the court application has been withdrawn. Both men stood with large binders of documents that they seemed eager to explore.
Thunderchild says this is a good day for peace and transparency on the reserve.
"This matter should never have occurred, however, (The court process) did have to happen," said Thunderchild. "We need our leaders and all governments to be accountable to their people."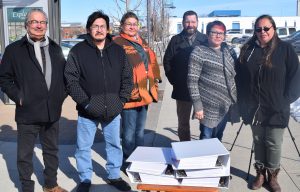 (PHOTO: Several members of Thunderchild First Nation, with CTF Prairie Director Todd McKay, posing with the financial documents. Photo by Joel Willick.)
While Thunderchild says he hasn't had an opportunity to go through the documents in detail he does say he had some initial concerns.
According to the financial documents the salary for chief and council on Thunderchild First Nation was $90,000 and $61,428 respectively. The national average is $58,856 and $35,235 for the same two positions.
"Thunderchild's leaders are getting more money than most First Nations leaders and that's something band members need to talk about in the next election," said Thunderchild. "Making these documents public makes it possible for us to have those discussions."
According to the CTF, the average income for residents on Thunderchild First Nation is $15,811.
The Taxpayers Federation recently backed a member of Onion Lake Cree Nation who won a similar court case against her home reserve. However, Onion Lake is appealing that decision.
Todd McKay is confident the appeals courts will rule in their favour.
Officials from Thunderchild First Nation were not immediately available to comment on the matter.
(TOP PHOTO: A Member of Thunderchild First Nation takes his first glance at the now released financial documents from the reserve. Photo by Joel Willick.)