A Treaty 6 medallion has taken a prominent spot inside a small Saskatoon school.
Several dignitaries, First Nation leaders, educators, parents and students gathered at St. Paul School on Wednesday morning to celebrate the installation of the medal in the Catholic school.
School officials say the medal will act as a visible recognition of ongoing reconciliation efforts, both in the school and across the country.
Principal Ted View says the community school has been working closely with the Office of the Treaty Commissioner and the Roman Catholic Diocese of Saskatoon during this process.
"After Bishop Don Bolen installed a medal at the cathedral, and St. Anne's Parish installed one last year, I started asking questions about how we could recognize treaties in our buildings," said View.
View says families have been very receptive to this idea and many of the student's parents were at the celebration.
"There's a real interest in learning more about the history of Indigenous culture and treaty relationships," he said.
Saskatoon Tribal Chief Mark Arcand told the kindergarten to Grade 8 students that reconciliation is in their hands and he says he is encouraged by that.
"This is the first our city, the first of our province, and you should be proud of that because I am proud of that," said Arcand. "We want to show the country that Saskatoon is leading the way in reconciliation."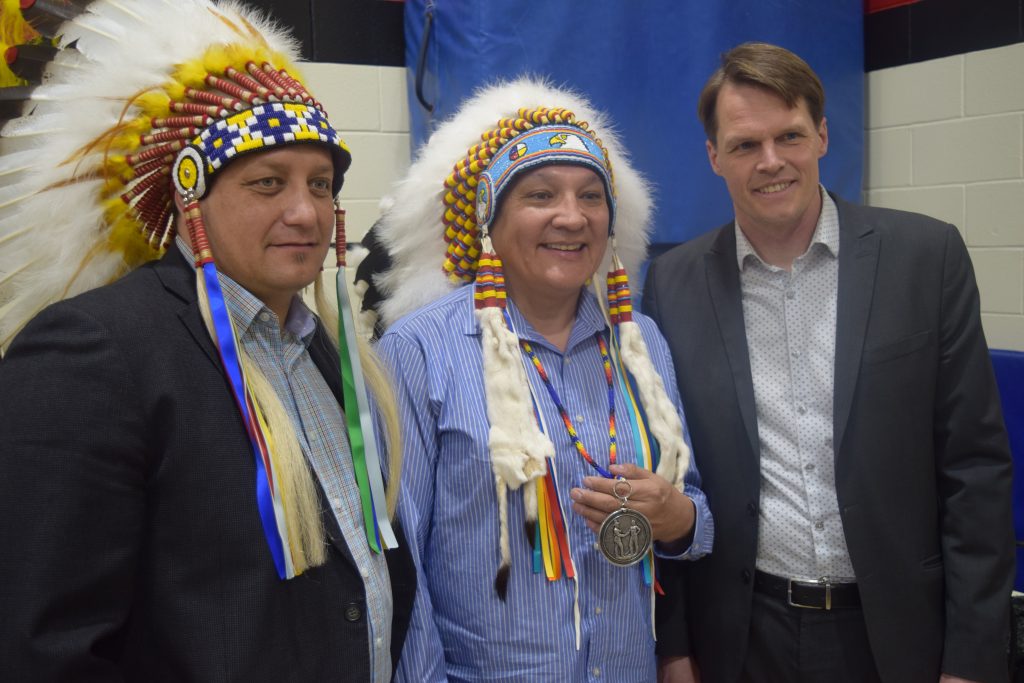 (PHOTO: Saskatoon Mayor Charlie Clark, STC Chief Mark Arcand and Mistawasis First Nation Chief Daryl Watson pose with an original Treaty 6 medallion given to Chief Mistawasis over 140 years ago. Photo by Joel Willick.)
This event comes just a day after Canadian bishops made it known that Pope Francis would not be coming to Canada to personally apologize for the church's role in residential schools. When asked about this, Mistawasis First Nation Chief Daryl Watson would only say reconciliation is a long journey.
Treaty education has had a prominent place in Saskatchewan schools since 2008, and that was on display during Wednesday's event. Many of the students were able to answer many questions on the history of the treaties and what they mean today.
The medal was blessed by Bishop Mark Hagemoen and First Nation elders at a ceremony before the event. After the event, the school hosted a round dance to celebrate.
(PHOTO: The Treaty 6 medal to be displayed in St. Paul School. Photo by Joel Willick.)