Walkers on Ahtahkakoop on Aug. 31. Photo by Chelsea Laskowski.
Ahtahkakoop's 3rd Annual Walk a Mile in her Shoes event took on a lot more symbolism this year as the community hung red dresses along the finish line as men donning red heels completed their walk.
In the past their focus was mainly on finding enough men willing to wear the heels, but for 2017 they decided to add the red dresses "so the men remember why they're walking, so it's going to be symbolic I guess," said Audrey Badger, a methodone case worker at the Cree Haven Treatment Centre, which hosted the event as the kickoff to its family day events on Thursday.
Badger said her home community of Mistawasis has been touched by the murder and disappearance of its women, so for her "it's personal.
"My daughter had said, 'they talk about our women being high risk because they're on the street or whatever lifestyle they have,' and she said 'if you're a First Nations woman, every time you leave your house you're at risk."
Cops and musicians were among the group of several dozen males struggling to find their footing in the heels, all as part of honouring victims of domestic abuse and those who have gone missing or been murdered from Ahtahkakoop and the surrounding reserves.
Ron Isbister wore heels in memory of his aunt Jean Marie LeChance, a 29-year-old mother of five who was stabbed to death in Prince Albert in 1991.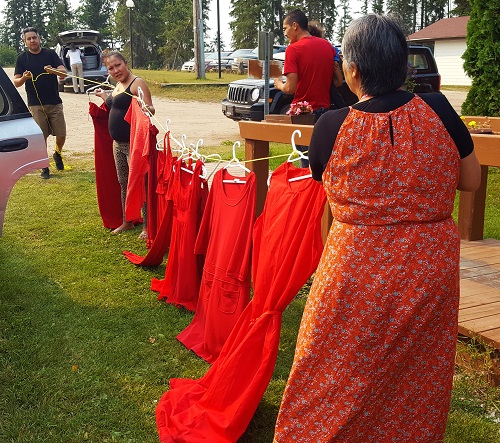 Badger and others prepare the red dresses for the finish line. Photo by Chelsea Laskowski.
"We grew up with her. She stayed with us for how many years and we miss her a lot. What happened to her, I wish some justice would come to it," he said.
Isbister said to this day, his mother stays in touch with investigators on LeChance's case. He and other family members carried pictures and posters with LeChance's name on them.
Organizer Garth Peekeekoot, also a Cree Haven Treatment Centre employee, said they started the event after seeing other communities like Prince Albert hosting the Walk a Mile event. He is unaware of many, if any, reserves in the province that host their own.
"Seeing that we work with addictions, street people, and addicts, it just kind of fit hand in hand," he said.
The treatment centre spent the rest of the day hosting kids events and live music by Constant Reminder of their annual family day.