The Thursday night vigil. Photo courtesy "Bring Happy Home," Facebook photo by Karen Sanderson.
Candle light vigils were held in Prince Albert and La Ronge last night as part of the preparation for another search for a missing woman.
Forty-two-year-old Happy Mary Charles was last seen in Prince Albert in April, and since then, a number of searches have been done, but she has not been found.
Karen Sanderson helped organize the vigil in La Ronge, and says the gathering in part was to prepare for another search.
"The family has been doing searches for the last three months, and there is another one coming up this weekend, a large-scale search, and we want to start off with a vigil," she said.
Earlier this month, there were reports that Happy Charles may have been seen in the Saskatoon area. Sanderson says nothing came of that.
"The RCMP and the city police have checked those leads, and there is no confirmation of anything, so we are still searching," she said.
Sanderson says volunteers are needed to be part of this weekend's search in Prince Albert.
More information on the weekend search can be found on the "Bring Happy Home" Facebook page.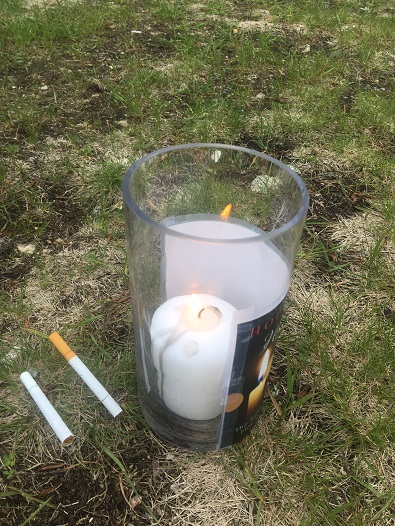 Tobacco offering and a candle at the vigil. Supplied photo.