Marilyn Poitras, a Commissioner for the National Inquiry on Murdered and Missing Indigenous Woman and Girls. Photo by Chelsea Laskowski.
Prince Albert's Honouring Our Brothers and Sisters Memorial Walk has always been about supporting Indigenous people regardless of their gender, and this year the group focused on four males who have gone missing or been killed.
The 13th annual Prince Albert Grand Council event started on Thursday morning with emotional speeches at City Hall before embarking on a walk to honour the missing Timothy Charlette, Jared Bear, 11, who was killed by an impaired driver, Evan Tylan Bear who was murdered by his fiancé, and Colten Boushie who was shot and killed in the Biggar area.
In attendance was Marilyn Poitras, a Commissioner for the National Inquiry on Murdered and Missing Indigenous Woman and Girls. Her inquiry's mandate is solely for Indigenous females.
"When we do the work at the national inquiry it can be a focus of some pretty sad stories, some pretty harsh realities, and I try really hard every day to think about the people who are leading us. I want to honour the youth who have gone on ahead of us and that we have to do this for, and I want to honour the men and women who have gone on ahead of us," she said at the mic.
Family members of people like James Smith's Gilbert McCallum, who went missing in May of 2016 and whose remains were found a month later in Rosthern, say the risk of going missing or being murdered is an issue that affects all Indigenous people – men and women alike – and are happy to see men given equal weight in the walk.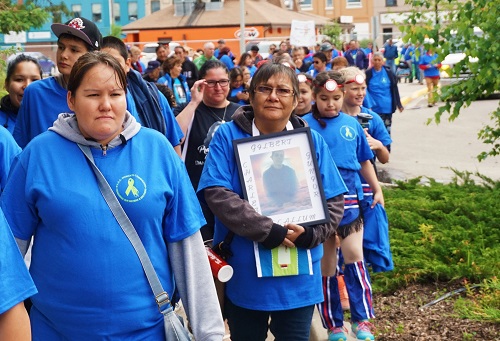 Gilbert McCallum's family walks along with more than a hundred others. Photo by Chelsea Laskowski.
In an interview with MBC after the walk, Poitras, who is currently doing her work out of Saskatoon, said they do push those bounds to discuss other genders.
"It's pretty hard to just silo women when we knew men are missing in huge rates as well. We also know that we need women to be able to go home to healthy men. We also know men need support," she said.
"Although our mandate is for women and girls, we know that everybody needs to be healthy."
Leaders from across the province were in attendance, including FSIN Vice-Chief Kim Jonathan and PAGC Vice-Chief Christopher Jobb.
In Jobb's speech, he referenced his own experience losing an aunt, whose unexplained death at residential school still weighs down his family.
"Sometimes we don't want to talk about our hurts, our pains, our sorrows. In order for us to heal, to come forward, we have to start talking about it," he said.
For Evan Bear's mother Jocelyn Kippenhuck, the walk was tearful but also provided a sense of comfort.
"It felt like a family had all come together to honour all the people that were missing and murdered. So it felt like we were a community," she said.
"You can't just forget about the person that's gone. You have to remember him or her with stories and think about the good times. Just make sure he's remembered, and that's why we're here today. We want to make sure that everybody remembers Evan the way he was, not just the way he died."
Prince Albert Police Chief Troy Coeper gave a brief history lesson from comments made years ago by former FSIN Chief Lawrence Joseph, who "didn't intend to make a big impact but it did. He said 'you promise to take care of us, but we're not safe.' And here we are 10 years later and the faces have changed a little bit and the message has not," Cooper said.
He said a person's risk to safety needs to be determined long before they go missing or are a victim of violence, and that is not only about police but also social supports.