The Canadian Challenge starting line for Steven Laviolette. Photo by Chelsea Laskowski.
The Canadian Challenge Sled Dog Race got underway with great fanfare in Elk Ridge late Tuesday afternoon.
There are 19 teams taking part in the race, which winds its way through northern Saskatchewan. The trail is supposed to be about 600 kilometres long, but is losing a bit of distance due to warm weather which forced the race to start further north from its original start location of Prince Albert.
Quebec musher Steven Laviolette said the warm weather will be the greatest challenge for his dogs, which he said is "discouraging" compared to the heavy snowfall back home.
"We excel in -30 (C), -40 so this weather just means shorter runs, more breaks, more hydration," he said. "It's hot."
Additionally, he said weather like this puts his dogs in "vacation" mode, so he needs to keep them active.
Race marshall Bart De Marie said the trails are looking good so far.
"The trail crew just went out not to long ago and the reports are up to Weyakwin seems to be, considering the season, a fairly good state," he said.
Some people have noticed puddles along the trail, but De Marie says it's not a major concern as long as the water is only a few inches, as predicted.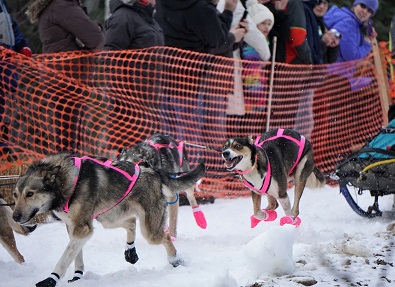 Dogs wearing booties off the Canadian Challenge starting line. Photo by Chelsea Laskowski.
The lack of deep snow cover is an additional concern.
However, De Marie said the slick surfaces could make this a record-breaking year for race times.
Three-time Canadian Challenge champion Jerry Walker from Pierceland said with conditions like that, it's important to pace yourself.
"From checkpoint to checkpoint it could be fast. In a way that could work against you. If you run dogs too fast you tend to have more little injuries, like a sprained wrist or something like that. That's where the caution's going to have to come in," Walker said.
There's a lot of temptation for Walker, who noted that no one has won the Canadian Challenge four times.
Laviolette is racing with purpose as well. This is his first long distance race, and he said he's racing in honour of a number of fathers in his family – including his and his wife's fathers – who have passed away this year, which will likely make it an emotional journey.
Walker's team and other dogs will be wearing booties at different points through the race. The purpose is to protect the dogs' feet from sharp ice.
The annual Iditarod and Yukon Quest qualifier is set to wrap up on Saturday.
The journey is live-tracked on the Canadian Challenge's website, available here.