Aaron Peck holds one of his dogs after the race. Photo courtesy of Braden Malsbury.
Aaron Peck of Grande Prairie, Alberta is the winner of the 2017 Canadian Challenge 12-dog Sled Dog Race.
He crossed the finish line shortly before 4 p.m. Thursday in La Ronge, meaning he'll be taking home the $5,500 purse. Peck also won the Canadian Challenge back in 2011.
"We set a pretty aggressive schedule to ensure that we were near the front, so that came with challenges as we tried to maintain that position," said Peck. "Just through the night last night was a difficult run — just holding everything together and keeping the dogs motivated, but they came out on top, it was good."
The race started on Tuesday at Elk Ridge Resort north of Prince Albert. Despite unseasonably warm temperatures in northern Saskatchewan, officials were pleased with how things went this year.
"We were lucky enough to get a little bit of snow right the day before the race started, before that it was pretty icy," said race president Gill Gracie. "The trail has been remarkably good given the conditions. The racers are actually just happy to be here because a lot of them are from Alberta where there is no snow."
Marcel Marin of Yellowknife/Saint James captured first in the eight-dog event.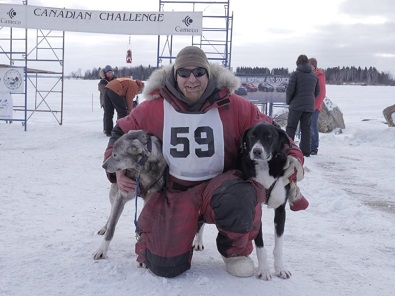 Marcel Marin. Photo courtesy of Facebook.
Meantime, Gracie said this was her last year as president because she is stepping down.
"I've been involved for 13 years, and I'm not getting any younger," said Gracie. "I think it's time for some new blood — fresh ideas and a new take on the race."
This was the 20th edition of the Canadian Challenge. Last year's event had to be cancelled due to warm weather.