Fred Ahenakew. Photo attached to Saskatoon Public Library announcement.
Saskatoon's Public Library says it's decided to rename a west side location as the Dr. Freda Ahenakew Branch as part of its commitment to the Truth and Reconciliation Commission Calls to Action.
Ahenakew was a Muskeg Lake First Nation woman who died in 2011. She left a lasting legacy after working to preserve and promote the Cree language. Ahenakew was seen by many as the pioneer of First Nations-controlled education.
Her name was selected through discussion with Elders who spoke on behalf of Indigenous people living in Saskatoon and area, according to an SPL news release.
Ahenakew was a mother of 12 who returned to school at the age of 38, pursuing a Bachelor of Education and Master of Arts. She was a university instructor, director of the Saskatchewan Indian Languages Institute, and until her retirement in 1995 she was the Director of the Department of Native Studies at the University of Manitoba.
In the SPL release, Carol Cooley, CEO and Director of Libraries said Ahenakew was a "truly inspiring woman."
Ahenakew's daughter Dolores Sand said she hopes dedicating a library in Ahenakew's name will inspire others.
The west side library branch's official reopening is set for Feb. 10, 2017.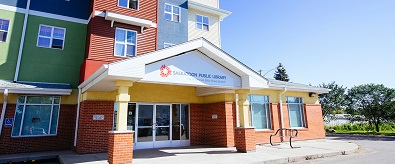 The Library on 20th Street Branch. Photo courtesy www.saskatoonlibrary.ca