La Ronge Water Treatment Plant. Still frame of SK Government Relations YouTube video.
La Ronge Town Council has fast-tracked bylaw amendments that will put an end to controversial increases in water and sewer rates.
The approval of the amendments come just in time to freeze the scheduled January 2017 rate increase, and is pending approval from the Saskatchewan Municipal Board.
The northern town first boosted its flat rates for water and sewer utilities by 30 per cent in January of 2015 and subsequently in 2016, with plans to continue over the course of five years.
The previous council's long-term goal with upping the 2014 flat rate from $53 to $170 in 2019 was for La Ronge to stop subsidizing the water utility for its residents and businesses, but new Mayor Ron Woytowich questions whether those increases were realistic.
"In this community, the big bone of contention was the water rates, and no proper explanation – that we thought anyway – for those increases," he said.
"There comes a point when you're going to be paying more for your water and sewer at your house than you are for taxes, and that just wasn't right."
Only about 50 per cent of municipalities in the province have enough water and sewer revenue to cover the cost of their operations, and none of those are northern municipalities.
Woytowich said he and all new La Ronge councillors got to work quickly this fall to see if they could financially justify following through on their election pledge to freeze the rates at their current cost.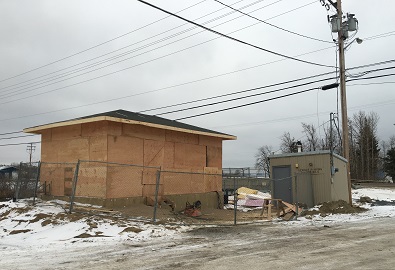 A new sewage lift station. Photo courtesy New North.
After some delays, they were able to access financials and found the Town of La Ronge is heading into 2017 with a surplus.
"Anybody can argue that there was no increase for the water rates if we were okay for this year. Now, we expect to do a lot of infrastructure work and everything else next year, but based on those finances and the chance of getting any grants, we think we're okay for at least the next before we review any water rates," he said.
He said previous financial estimates that justified the rate hike don't take into account some changes on the way. For example, those estimates predicted that a 10-year municipal operating grant with the province would expire at the end of 2016. However, that agreement and a "whole pile of other stuff" was renewed, Woytowich said.
He will be closely following the province and federal budgets for municipalities in the spring because if they "cut that out then we're back in the same position I guess."
Another longstanding issue is that La Ronge charges a flat rate for water and sewer, and does not have meters. This means residents are unable to cut their water bill by reducing use.
At a meeting last fall, former Mayor Thomas Sierzycki estimated the cost of installing meters at about $690,000.
Earlier this year, La Ronge completed upgrades to their water and sewage system.