Protesters gathered today in Regina. Photo by Manfred Joehnck.
Rallies were held around the province Wednesday in a push to get the government to rethink its plans to end funding for a program that has convocated hundreds of Aboriginal teachers in northern Saskatchewan over the past 40 years.
Protests were held in La Ronge, Saskatoon and in front of the Legislative Building in Regina. Some of the protesters came a long way to make a point. Amie Bell drove to Regina from La Ronge. She is the president of the student's association and is a third-year education student. She says losing the program would hurt the entire North.
"We are here to empower the North, we are here to give the North a voice," she said. "The redirection of funding is not just affecting NORTEP and NORPAC, it will affect the North as a whole."
Bell is in her third year, she says she plans to get a job as a teacher in the North when she graduates and that is where she plans to build her career.
Protesters were carrying signs that said "Save Our School" and "Brad Wall Leave Nortep Alone" and "Stop Taking Money From Our Classrooms."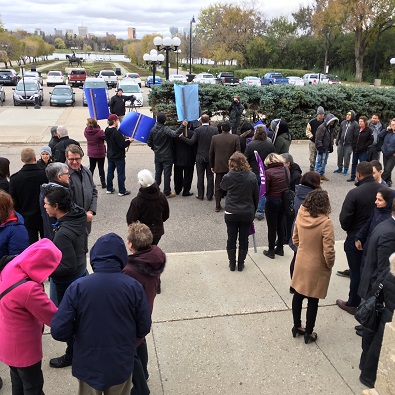 Photo by Manfred Joehnck.
The program gets about $3.4 million in yearly funding from the province, but in an unexpected move this past summer, the government announced funding would be terminated by the end of next July. The program would be consolidated into other northern institutions like Northlands College.
Athabasca MLA Buckley Belanger says the move makes absolutely no sense.
"It is actually a phenomenal program and it works — and it continues to work," he said. "I say to the Sask Party, shame on them for doing this. It's awfully silly and if I could use the word stupid — I certainly would."
The program has a 94 per cent success rate. Eighty percent of the graduates are women, and most are Aboriginal, who are now employed as teachers in northern communities.
Meanwhile inside the legislature on Wednesday afternoon, Belanger made a statement calling on all MLAs in "condemning this callous cut to the the NORTEP/NORPAC program."
Cumberland MLA Doyle Vermette presented a petition to restore that funding.
He then asked if the minister will make that change.
Advanced Education Minister Bronwyn Eyre responded, saying the province is trying to find the best northern-based way to deliver programs.
"What I find so edifying is that NORTEP council is taking the lead by self-determining to us – to me -which partner will work the best for them to deliver their programs," she said.
Eyre and others are made a connection between the recent suicides and education in the north.
"In light of what is going on in the north, we need to champion a strong north so that people can go to school, train for jobs, and live and build families in a vibrant northern community," Eyre said.
She says her meetings with school representatives have been cordial.