An Ontario community is phasing out the hockey logo that La Ronge based its senior hockey 89ers uniform off of.
The Ontario City of Thorold is forcing the move for the Thorold Blackhawks, saying the image of an aboriginal player with feathers in his hair is discriminatory. Effective June 1, 2017 there will be an outright ban on the logo on uniforms and within the community's arenas.
Kevin Roberts designed the 89ers logo more than a decade ago with his late brother Jimmy and says locally they view it as something people can identify with.
"When we looked at it way back in 2005 we though there was something positive to it, there was some strength in the image of the logo and it was a picture of a hockey player," he said.
Roberts is the head of sports, culture and recreation for Lac la Ronge Indian Band, and recalls a class he took about decolonization that has informed his view on terminology and imagery used by Indigenous people.
"For us, it's all about empowerment, about the ability to define who we are and that includes what names we choose to use, what symbols we choose to represent us."
The name 89ers is a representation of the history of the year 1889, when the James Roberts Band of Indians signed the Adhesion to Treaty Six.
The 89ers are run on a reserve facility, the Jonas Roberts Memorial Community Centre, and are welcoming of players from the band and from the nearby communities.
Back in 2014, the Assembly of First Nations chief Shaun Atleo also joined in on the debate about the Thorold Blackhawks, writing a letter to the mayor calling the use of charicatures on the uniforms "inappropriate" and "offensive." To Roberts, what matters most is what a community is comfortable and confident using as logos and names.
"People are hyper-sensitive in this day and age and political correctness is out there and we understand that, I'm aware of that. But I think it comes back down to us again but we have the power to decide what we want to do with our name, our logo. And that's what we've chosen," he said.
He stands behind the uniforms, as well as the longstanding names of teams like the Sandy Lake Chiefs and Mistawasis Warriors.
Locally, Roberts has not heard a parent or player in their system take issue with their uniforms.
A number of LLRIB teams – including minor hockey and minor sports like golf and volleyball – use the same logo.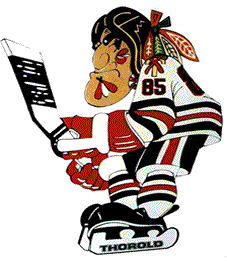 The Thorhold Blackhawks logo.