Several First Nation elders began the WIBF with a prayer.
Day one of the World Indigenous Business Forum wrapped up in Saskatoon on Wednesday and according to both organizers and attendees things are going really well.
The forum, with nearly 1000 delegates representing over 10 countries, is the largest WIBF in the event's seven year history.
Chair of the Saskatoon WIBF planning committee Milton Tootoosis has been at every WIBF so far. He says it is quite the difference planning the event, but says he is relieved to see this day come and is excited to see the many partnerships and connections already being formed.
"It's like going to a sales seminar," said Tootoosis. "You are coming here to get some information and press the restart button and hopefully go home with a a new contact or idea you can actually implement."
Tootoosis says already there is a strong sense of optimism from everyone in attendance. He says this is vital because too often the public is bombarded with negative news.
"We are hearing success stories that are the opposite of that negative news. I think the main thing is to promote this notion of sharing and connecting and inspiring one another to get over those ups and downs and peaks and valleys," he said.
Chief Cadmus Delorme of Cowessess First Nation reiterated the feeling of optimism throughout the forum.
"There's something about economic participation because it is many nations together," he said. "This is where you build partnerships, you get innovative, you have ideas, you think outside the box. You don't just look at the hole in the doughnut you look at the whole doughnut."
Chief Delorme will be moderating a panel of young Indigenous innovators during the forum on Thursday.
The nearly 1000 delegates have heard presentations from several different groups and organizations on the first day. The presentations have ranged from how to enter the global market to building relationships with Indigenous communities in the mining sector.
The first presentation of the day was from Dylan Jones of Western Economic Diversification Canada. He spoke to the delegates on creating the conditions for success for Indigenous people in the economy. He believes we are on the right track.
"We need to ensure the many successful Indigenous businesses are showcased and the momentum of these deals will draw in more investors and increase confidence in partnering with Indigenous communities," said Jones during his presentation.
Another presentation was from Chief Robert Louie of the highly successful Westbank First Nation in British Columbia. He spoke on engaging global markets and reminded the forum to be open with their knowledge.
"I think we are all here learning and sharing ideas and we can all learn from each other and that's what makes our Indigenous people strong around the world," he said.
Federated Co-op, PotashCorp, The Government of Saskatchewan and the Royal Bank of Canada were among some of the other presenters during day 1.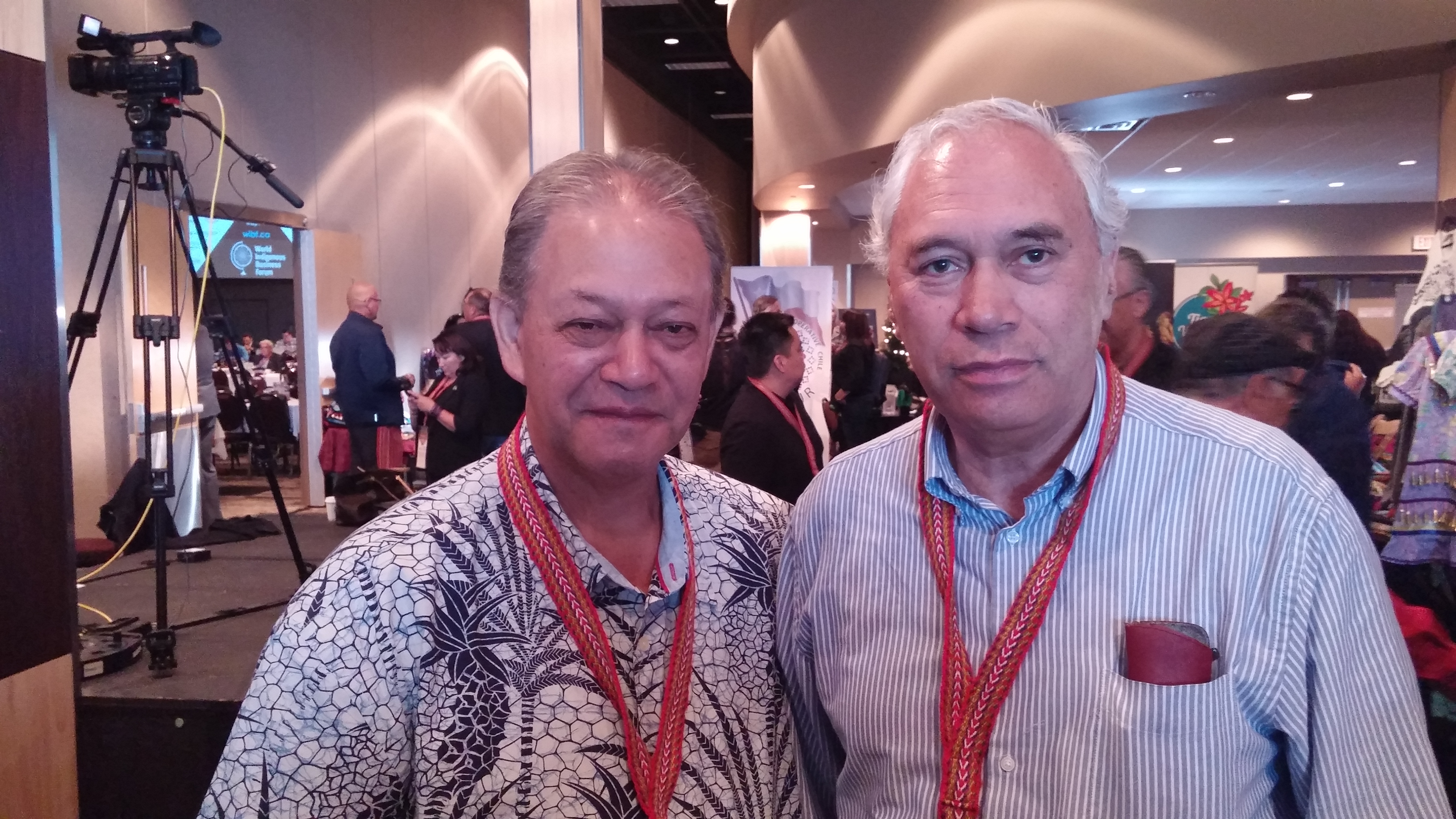 International delegates Peter Hanohano from Hawaii and Selwyn Catene from New Zealand.
Last year's WIBF was hosted in Honolulu, Hawaii and Dr. Peter Hanohano was apart of the planning committee for that event. He says it was life-changing.
"Now we have the opportunity to come here and expand Indigenous business across the world," he said. While this is his first day in Saskatchewan Hanohano already says he loves it.
His colleague Selwyn Catene from New Zealand says he is at the forum to help create a world-wide Indigenous community.
"We are living in challenging and changing times, so what's important is that we look at not only being academically equipped, technically equipped or culturally equipped, but we have to be connected and that's what conferences like this does," said Catene.
With the first day of the forum complete the attendees will now turn their attention to the first ever Saskatchewan World Indigenous Festival for the Arts, which gets underway Thursday evening.